Myanmar's democracy icon and member of parliament Daw Aung San Suu Kyi is currently visiting Australia. This historic trip is just one reflection of the broader political and legal changes currently taking place in Myanmar.
Since 2011 – under the framework of the 2008 Constitution – Myanmar has begun a transition to a quasi-civilian government. One result of its opening is that it has become the new "law and development" frontier of Asia. Many international agencies, NGOs and embassies have increased their presence and activities in Myanmar, including Australia.
Even so, there is a lingering sense of uncertainty that stems from the Constitution, which could allow for the military to take over at any time. Such political fragility has affected Australia's engagement with Myanmar in the past. For example, a human rights training workshop funded by Australia was cut short in 2003 because of deteriorating political conditions under military rule, which followed an attempted attack on Aung San Suu Kyi.
Until the 2008 Constitution is amended, all local efforts to build the rule of law, including those supported by international partners, work under the uncertainty cast by the legal framework. An opportunity for amendment to the Constitution was initiated in February 2013 when Myanmar's president Thein Sein announced that a committee to review the Constitution would be established, which was approved by the Union Parliament in July.
The committee is responsible for proposing constitutional amendments to promote peace, national unity and democratic reforms in Myanmar. This has created a welcome window for constitutional reform.
This constitutional amendment process is key to the 2015 elections, and will in part determine whether the elections are free and fair. A wide range of issues may be under discussion, such as the requirements for president, which could potentially exclude Aung San Suu Kyi from being nominated by the presidential electoral college.
Whether this amendment process will result in substantive reforms partly depends on how different the political environment is now compared to the former constitution drafting process.
Time limit
The first difference is that the current process has a time limitation. The committee is required to submit its report by the end of January 2014. In contrast, the drafting of the Constitution dragged out from 1993 to 2007, although from 1996 to 2004 the drafting process was suspended altogether.
While the current review only allows a narrow window for consultation and discussion, at least it potentially provides time for any proposed changes to be voted on by parliament, and at a national referendum, before the 2015 election.
Participants
The present committee consists of 109 members, with proportional representation of members of parliament. Most are from the military backed-Union Solidarity and Development Party (USDP), the military, or ethnic-based parties, and were elected in the 2010 election, which was not considered to be free and fair.
The committee also includes seven National League for Democracy (NLD) members, who were elected in the 2012 by-election, which was considered to be free and fair.
In comparison, the previous National Convention in the 1990s initially included over 700 participants, but these were selected by the military. Less than 100 of the 485 elected MPs from the 1990 election were allowed to participate, although none were ever allowed to take office. NLD members who initially participated later withdrew in protest.
While the number of freely elected members was higher, the political atmosphere is in stark contrast to what it is currently.
Public discussion and consultation
In 1996, the military issued a law that specifically criminalised any criticism of the drafting process or attempts to draft an alternative constitution, attracting a prison term of up to 20 years. In contrast, public discussion of the current constitutional amendment process is not a criminal offence.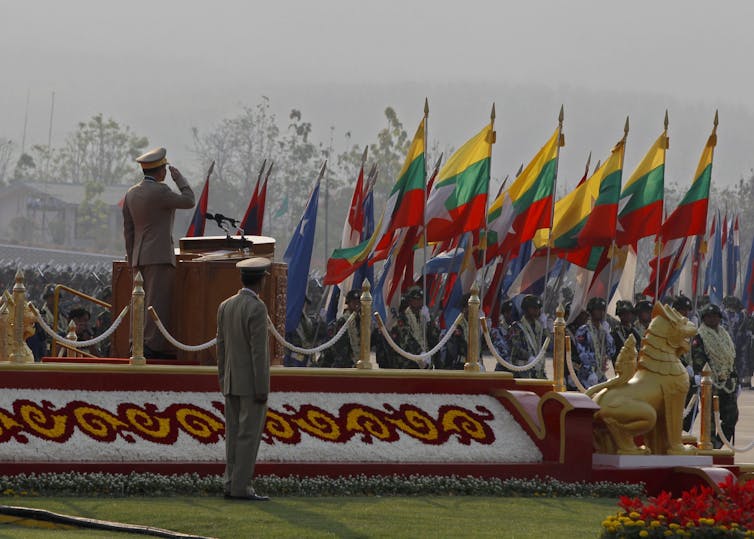 In addition, there has been frequent media coverage on constitutional and legal reforms now taking place. This is partly due to the significant media reforms that have been introduced.
Another difference is that the drafting process in the 1990s did not involve any public consultation. The core of the draft constitution had largely been scripted from the beginning, although there was some discussion among participants on its substance. In contrast, the current committee issued an official public call for submissions in October, which potentially allows some room for public engagement.
Potential for reform?
Even if the committee does recommend significant constitutional changes, any proposal for constitutional amendment requires at least 75% approval of parliament, and more than 50% of all eligible voters at a national referendum. This is a huge hurdle, and requires the full agreement of the military, who occupy 25% of the seats in parliament.
While on her visit to Australia, Aung San Suu Kyi will no doubt call for the rule of law and constitutional reform. However, this is one call that only the military can answer.