A historic general election is about to take place in Myanmar, and hopes for transition to full democracy remain high. But there are already worrying signs.
In Rakhine state, the hardline Arakan National Party looks set to win a landslide in the country formerly known as Burma. That could mean a drastic escalation in a pattern of discrimination and violence against Myanmar's Rohingya Muslims – a crisis that many observers have decried as genocidal.
On the eve of the elections, human rights groups are imploring the UN to investigate possible acts of genocide against Myanmar's Rohingya Muslims, on which we at the International State Crime Initiative have just issued a report.
As a direct result of historic and continuing systematic persecution by the (largely-Buddhist) majority, the Rohingya are fleeing Rakhine state in the tens of thousands. The UN High Commissioner for Refugees estimates that more than 120,000 people have fled from the Myanmar-Bangladesh border area since January 2012, and more than 25,000 fled in the first three months of 2015 alone.
Even once they leave the country, Myanmar's Rohingya are not safe. That much was made horribly clear in May 2015 when mass graves containing the remains of Rohingya and Bangladeshis were discovered in Thailand and Malaysia. That grisly find led to the uncovering of sophisticated human trafficking networks, which prey on the Rohingya's desperation with no regard for their welfare.
At least half of those stranded on boats in the Andaman Sea during May 2015 were Rohingya who had left Rakhine state because of the increasingly desperate and dangerous conditions they face inside Myanmar. Men, women, and children consistently claim that it is impossible for them to live in Rakhine. The Myanmar government, through its policies of persecution, is both emboldening nationalist Buddhist monks in Rakhine and essentially creating a ready supply of human slaves.
This situation did not arise overnight. Myanmar's Rohingya have been under terrible pressure for years.
Stripped of dignity
After violence between Rohingya Muslims and Rakhine Buddhists exploded in 2012, more than 120,000 Rohingya were driven into squalid ghettos and detention camps. Most remain there to this day, excluded from mainstream society. The government consistently and unequivocally denies the very existence of their ethnicity, instead classifying them as "illegal Bengali immigrants" from neighbouring Bangladesh.
Myanmar's Rohingya are subject to severe overcrowding. They are denied freedom of movement, access to decent medical care, livelihood opportunities, and education. They suffer constant physical and psychological harassment and intimidation from the authorities, including torture, murder, and arbitrary arrest and imprisonment. These conditions of "systematic weakening" make the Rohingya extremely vulnerable to human traffickers.
Sittwe, the Rakhine state capital, was once a flourishing, multi-cultural city where Rohingya Muslims and Rakhine Buddhists lived side by side, trading, attending school, and celebrating religious traditions together; it has now become an apartheid city, cleansed of all Muslim influence. Destroyed and abandoned mosques are either unrecognisable ruins or run-down structures occupied by police and military.
The consequence of decades of state-sponsored stigmatisation, institutionalised discrimination, violence, and isolation has resulted in a community dehumanised and stripped of dignity.
We ourselves witnessed the desperate existence people endure in the camps around Sittwe and Mrauk Oo and in Sittwe's Aung Mingalar ghetto, which can only be described as a form of "bare life".
One Rohingya woman we interviewed in Sittwe's sprawling camp complex begged through tears, "If the international community can't help us, please drop a bomb on us and kill all of us."
Desperate measures
Desperate to escape genocide, Rohingya people are lured onto boats in the hope of a secure life. Serious human rights abuses and often deadly criminal activity persist as people are crammed into boats, jammed up against one another and forced to sit with their knees bent into their chests for weeks and months on end, with little food and water.
En route people risk death from starvation, dehydration, and hyperthermia, as well as beatings, rape and intimidation by traffickers. Most fleeing Rohingya intend to travel to Malaysia. Traffickers lure men with promises of employment opportunities and young girls with the prospect of marriage. Many, however, never make it to Malaysia, and are instead held hostage in "death camps" buried deep in the jungle on the Thai-Malaysian border.
There, they are tortured and raped as traffickers harass their destitute families to pay ransom. Many are murdered. Those who are exhausted and sick are left to die. Men are sold into forced labour on fishing boats or rubber plantations.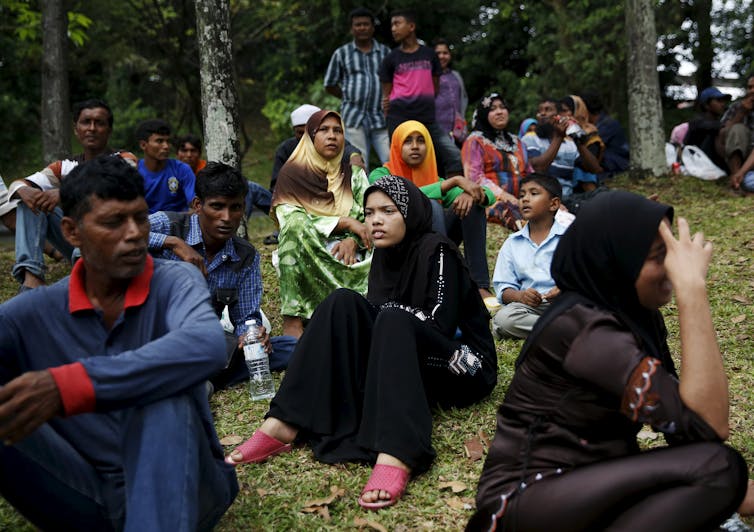 Those who reach Malaysia face the prospect of life as "illegals". Denied access to government healthcare and education, vulnerable to labour abuses, and crowded into decrepit apartments, the cycle of marginalisation continues. Nonetheless, Malaysia's level of security is preferable to the systematic persecution felt in Myanmar.
Despite clear evidence, Myanmar has repeatedly denied that conditions in Rakhine state are forcing Rohingya to flee en masse, and has instead branded the issue "just a problem of human trafficking".
In July, Hla Thein, the Rakhine state government spokesperson, raised Myanmar's routine denial to a new level of deceit: "There have been no trafficking cases in Rakhine State so far [in 2015]."
These statements echo comments from Myanmar's anti-human trafficking police who, in the spring of 2015, claimed fewer than 30 cases of trafficking occurred in country during the first three months of the year – and that not a single case was noted in Rakhine State.
This all adds up to a terrible conclusion: Myanmar is still dedicating significant energy to concealing the same state-sponsored genocidal processes that the Rohingya have endured for decades. Whoever wins the election, they must end impunity for violence and hate speech, and reduce the spread of intolerance through extreme religious and nationalist ideology.