Australia sent 417 athletes to the 2014 Glasgow Commonwealth Games – its largest ever contingent – and based on our 2008 Beijing and 2012 London Olympic Games competitors, around 40% are university students.
Life as a student athlete is challenging and striking a healthy balance is not always easy to get right. In the worst case scenario, this may mean failing at university, sport or both. So how do they do manage the demands of sport, study and life?
Luckily, Australia's tertiary system is generally very supportive of athletes, with most universities involved in the Elite Athlete Friendly University (EAFU) network, an initiative of the Australian Sports Commission. Assistance may come in the form of program planning and timetabling, extensions on assessments, deferred exams, alternate exam sittings and mentoring.
Such support is critical for student athletes dealing with the pressures of tertiary study while also training up to 30 hours a week.
For some, the university schedule may take up to 15-30 hours a week, a figure that only increases when you factor in the "rule of thumb" that, for every hour spent at university, there is an extra hour or two of additional study, revision and assignment work.
And the secret is …
Study demands don't leave a lot of time for anything else so it's understandable why few athletes take on a full-time study load.
From personal observation and as manager of the Griffith Sports College, it is common for elite athletes to enrol in two courses (or subjects) per semester, although this can vary as sporting commitments – thus priorities – change from semester to semester.
Of course, there are always exceptions: namely those extremely talented athletes who happily enrol in three Honours subjects, achieve high distinctions in them all and then go out and smash personal bests and enjoy the view from the top of the victory dais.
For the most part, the sport-study balance is guided by decisions based on an athlete's individual priorities – and the results are revealing.
While most student athletes are highly motivated and place great importance on planning for life after sport, the small number that do fail or drop out indicate those who have placed less stock in such a strategy.
There also appears to be quite an interesting correlation between elite athletes and academic success that implies that the top level athletes, perhaps university sports scholarship holders, obtain a higher grade point average (GPA) than the university average.
Research at Griffith University suggests that athletes in the Griffith Sports College have an average GPA of 4.6 and an athlete on scholarship, 5.1. This is compared to the university average of 4.0.
Don't forget the balance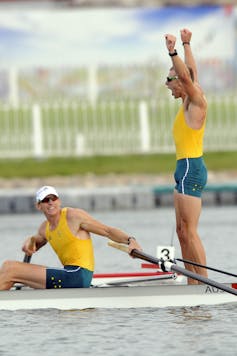 Balance is vital for an athlete, but especially so for the student athlete. This includes enjoying a healthy social life with family and friends and making time for recovery – from both study and sport – even if that just means a good night's sleep.
In my time as an elite athlete, I always strove to maintain a balanced life. While I gave everything to rowing and achieved wonderful success, I was never ruled by it.
Early on I had my own university studies to create that necessary balance. Then came a career (yes, athletes can work), marriage and children. Many of my friendships were with people who were not elite athletes.
While I always gave my all when training or competing, once the work was done I was able to leave it at the boatshed or behind the gymnasium doors and return home to where I had a life outside of my sport (and three little children to jump all over me if I needed a not so gentle reminder).
I attribute the longevity and success of my sporting career – comprising four Olympic Games and culminating in a gold medal in Beijing in 2008 – to my balance in life. It's a message I deliver regularly to young athletes just beginning their sporting journey.
Time management is not merely a key to an athlete's success; it contributes plenty to an athlete's enjoyment of their sport and, in turn, their life outside of sport.
With it, and with the support of coaches, family, friends, sports associations, institutes, academics – and universities – an athlete's life can become rewarding, fun and long-lived.