New figures show that more than half of all teenage smokers in the north-east of England have bought illegal tobacco.
The figures, from the 2017 North East Illegal Tobacco Survey, found that 55% of children aged 14 and 15 who smoke say they buy illegal tobacco from shops or "tab houses" – while 73% say they have been offered illegal tobacco at some point.
Illegal tobacco is either smuggled, counterfeit (fake), bootlegged or illegally manufactured. It is generally much cheaper than legal tobacco and can be a serious deterrent to people deciding to give up smoking.
These latest findings highlight how as well as adults, illegal tobacco harms young people too. There have even been cases of illicit tobacco being sold to children from ice-cream vans. And sometimes these sales are for single sticks – which are much easier for kids to buy with their pocket money.
Here's what you need to know about those illegal cigarettes.
1. Illegal cigarettes are just as harmful as normal ones
All cigarettes are harmful to health. And all tobacco, whether legal or illegal, contains over 4,000 chemicals. A High Court judgement in 2016 recognised there is no difference in the harm presented by any brand of tobacco. In this way, tobacco control advocates often liken any differences between legal and illegal tobacco to the choice between jumping out of the 12th or 13th floor of a burning building.
2. Tobacco smuggling has been linked to terrorism
Although the illicit tobacco market in the UK is complex and fast-changing, many cases that come to the courts are linked to other activities such as drug dealing, alcohol and even people trafficking. Illicit tobacco has also been linked to organised crime and even the funding of terrorism. In this way illicit tobacco sales bring criminal activity right onto people's streets and doorsteps.
3. Normal cigarette factories can be in on the act
On top of well-known brands smuggled from one country to another, there can also be counterfeit (fake) tobacco products and so-called "cheap whites. These are" new brands of cigarettes manufactured in one country but intended mainly for illegal sale in another. Illegal manufacturing of tobacco often takes place in either regular factories out-of-hours, or in secret operations capable of producing millions of cigarettes a day.
4. Tobacco firms have historically been complicit in smuggling
There is plenty of evidence to show that tobacco companies have been complicit in tobacco smuggling. This is a situation that appears to persist in many low and middle income countries. After all, it doesn't matter to tobacco companies whether their products are sold "tax paid" or "tax free" – and if the latter means they sell more, then that's so many more people hooked.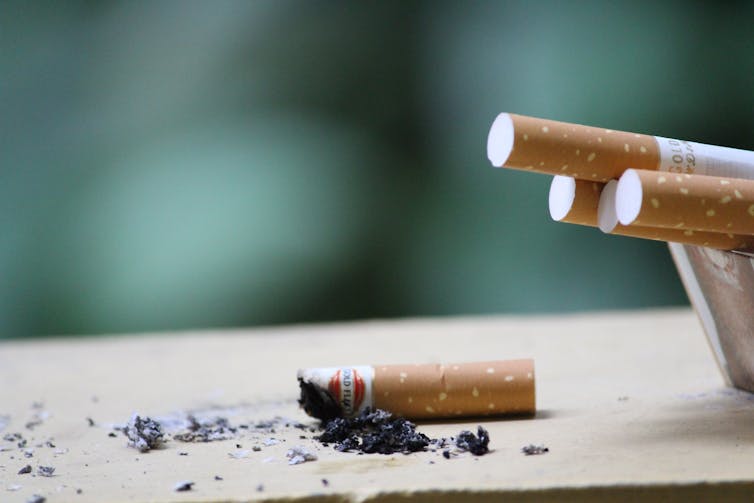 5. But the good news is that illegal tobacco use is declining
Despite some spurious reports, statistics from HM Revenue & Customs show that the illegal tobacco now makes up just 13% of the overall tobacco market – compared to 21% in 2000. Latest estimates also show that just 10% of cigarettes in Britain today are sold illegally, though the figure is higher at 39% for hand-rolling tobacco.
An EU products directive, which came into force in 2016, includes a "tracking and tracing" system that will make it much easier to identify supply chains and the legal status of tobacco on sale in the UK. But of course, that won't immediately help the teenagers getting hooked on illegal tobacco.