Benjamin Netanyahu will become the first sitting Israeli prime minister to visit Australia when he arrives in Sydney today. Yet the significance of this is likely to be overshadowed by a protest from a group of prominent Australians.
Calls for the Australian government to recognise the Palestinian state, as well as an ambiguous response from the local Jewish community are also a hot topic of discussion.
All this is unlikely to faze Netanyahu. His objective will be to shore up Australian support at a time of increasing international opposition to Israel's actions in the occupied Palestinian territories.
In December, the UN Security Council unanimously passed a resolution demanding a halt to all Israeli settlements in occupied territories. This infuriated Israel and provoked immediate retribution against the countries supporting the resolution.
Israel can count on only a handful of friends on the international stage. Australia is one of them. Foreign Minister Julie Bishop declared Australia – which isn't a member of the Security Council and so didn't get a vote – would have dissented. She said the government was opposed to "one-sided resolutions against Israel". It is the kind of support Israel needs.
Australia's relationship with Israel
Relations between the two states have been buoyant for nearly seven decades. Australia has been famously described as a midwife at the birth the State of Israel in 1948. Doc Evatt, the head of the Australian delegation at the San Francisco conference in 1945, played a critical role developing Article 80 of the UN Charter. This paved the way for Jewish settlement in what was then known as Mandatory Palestine.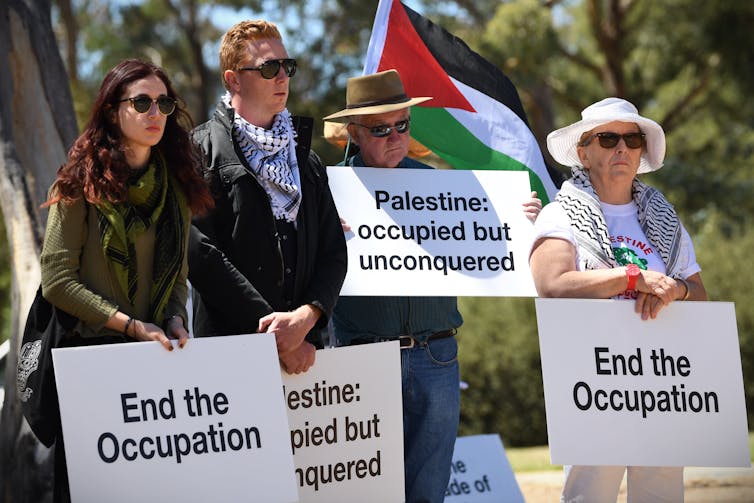 It hasn't always been amicable. There have been ruptures in diplomatic ties. Gough Whitlam took a lukewarm position towards Israel during the Yom Kippur War of 1973 that angered Israel. And more recently, the use of forged Australian passports by Israel's spy agency Mossad resulted in a temporary souring of relations.
For the most part, however, diplomats and politicians from both countries have spoken of an abiding friendship and shared values. After his diplomatic posting concluded in Australia in 2010, the departing Israeli Ambassador Yuval Rotem wrote:
When it comes to values, we are you, and you are us. While our countries may be separated by great oceans and continents, with the spirit that binds us we will always be neighbours and friends.
We should expect similar platitudes to be voiced this week. Prime Minister Malcolm Turnbull, whose seat of Wentworth is home to a sizeable portion of Sydney's Jewish community, will be close by Netanyahu's side.
Turnbull has promised to discuss "expanding co-operation in cyber-security, innovation and science, agritech, energy and resources, and the environment". Israel's recent decision to expand settlements in the West Bank and East Jerusalem will be a more difficult conversation - if it occurs at all.
Palestinians in Australia
Netanyahu's impending arrival has highlighted not only Australia's relations with Israel, but the recognition of Palestine too.
Four Labor statesmen – Bob Hawke, Bob Carr, Kevin Rudd and Gareth Evans – have in recent weeks called for Australia to join 137 other states in granting diplomatic recognition to the State of Palestine. Hawke and Carr are two longtime Israel supporters, but have come to reconsider this in recent years.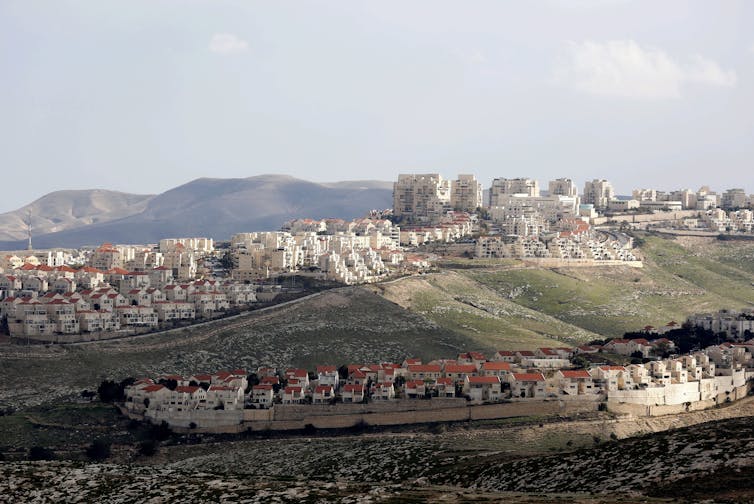 On Monday, more than 60 prominent Australians, including business leaders, academics, senior legal and church figures signed a statement opposing Netanyahu's visit and the Israeli government's policies towards Palestinians.
Meanwhile, pro-Palestinian activist groups will hold protests throughout the week in Sydney, Canberra and Melbourne. The Australia Palestine Advocacy Network has also launched an online page where people can voice their protest.
Australian Jewry
On the flip side, the Australian Jewish community's response to Netanyahu's arrival has been vexed.
Australian Jewry has long been described as among the most Israel-centred of global diasporas. A 2009 study by the Monash University Centre for Jewish Civilisation found that 80% of Australian Jews regarded themselves as Zionists and 76% felt a special fear if Israel was perceived to be in danger. It also found over 70% had family in Israel.
Annual Israeli fundraisers are supported in the tens of millions of dollars. Israeli and Zionist education forms an integral part of the Jewish school system across Australia. And leading Australian Jewish community and political organisations have long provided unconditional support to the Israeli government and prime minister of the day.
Yet few Israeli prime ministers have polarised Australian Jews quite like Netanyahu. New Israel Fund Australia, a liberal Zionist organisation, while supportive of the visit has called on:
… the prime minister to resume peace negotiations urgently to ensure the establishment of a Palestinian state as the only way to safeguard Israel as Jewish, democratic and secure.
Jewish community website Plus61J has urged the Jewish community leadership and the Australian government to "seize this opportunity to speak truthfully and clearly". In particular, they want the Australian government to confront Netanyahu about the Israeli government's accelerated undermining of the two-state solution.
Would an Australian prime minister be prepared to speak so pointedly? And would Israel's prime minister be prepared to listen to the concerns of a close and abiding friend? Perhaps not this week, but in years to come neither may have a choice.