The anti-immigration rhetoric of the Leave campaign in the Brexit debate has brought to the fore the question of further enlargement of the European Union.
Justice secretary Michael Gove recently raged at the amount of money being directed at the five current candidates – Albania, Macedonia, Montenegro, Serbia and Turkey – warning that "another 88m people will soon be eligible for NHS care and school places for their children".
While Albania bore the brunt of Gove's supposedly "piercing logic and passionate eloquence", Turkey was very much in his sights as well. Gove railed against EU plans to grant visa-free travel to 77m Turks and "to absorb this Muslim state" adding:
How can it possibly be sensible to allow Turkey, in its current straits, and with Islamic State on its border, to become a full member of the EU?
Gove's assumptions about the prospects for further enlargement, and especially Turkey's prospects for joining the EU in the foreseeable future, reflect a fundamental lack of understanding of the current state of the EU enlargement process and the dynamics underpinning it. They also fail comprehensively to appreciate what little progress Turkey and the EU have made in negotiating the former's accession.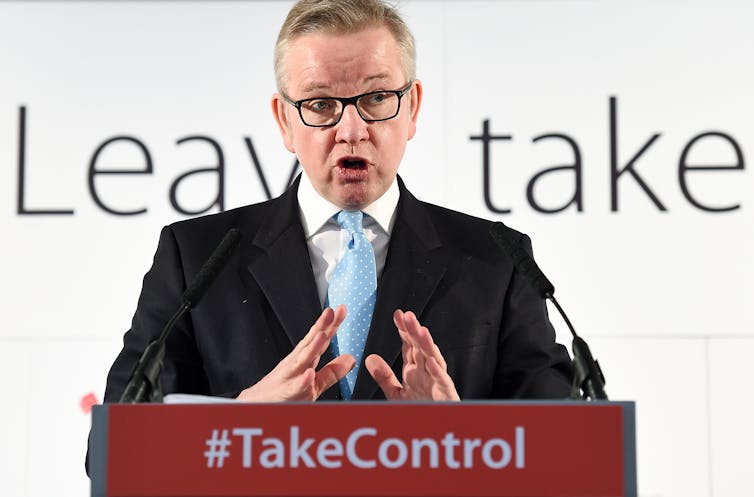 Negotiations on Turkey's accession opened more than ten years ago, in 2005. That was when talks began on the various conditions Turkey needed to meet to become a member. These feature in 35 so-called chapters, covering areas such as free movement, environment and competition policy and justice.
Of these 35 chapters, negotiations have been opened on just 15, and only one has been closed – in June 2006. At this rate, it will be several decades before Turkey completes its accession negotiations.
Mismatched priorities
Many of the reasons for the snail-like progress lie in Turkey's failure to meet the political and economic conditions of entry to the EU. There is also the question of whether the current Turkish government really wishes to join anyway.
Formally, it is committed to eventual membership, but the enthusiasm for European integration that existed when negotiations were launched has long since faded. And there appears to be little appetite to rekindle the enthusiasm. For president Recep Tayyip Erdoğan, Turkey's future is far more as a regional actor than as a member of the EU. This was reflected in his recent challenge to the EU: "we'll go our way, you go yours" and the forced resignation of the country's more pro-EU prime minister, Ahmet Davutoğlu.
But the EU has played a major part in the slow progress of Turkey's accession negotiations, too. The threshold for meeting the accession criteria is higher than it has ever been and the EU is imposing strict conditions on Turkey.
It decided in 2006, for example, to bar negotiations on eight chapters until Turkey opens its ports and airports to traffic and trade from Cyprus. It, of course, has not done so, meaning talks haven't even begun in those areas.
What's more, EU countries are clearly divided about letting Turkey in anyway. France, Germany and Austria, have been highly sceptical about (if not openly opposed to) Turkey joining the EU.
France declared in 2007 that it was vetoing the opening of five negotiating chapters, only one of which was among the eight already being blocked (although it should be noted that it has since lifted its block on two chapters). Cyprus followed in 2009 with an announcement that it was unilaterally blocking the opening of a further six negotiating chapters.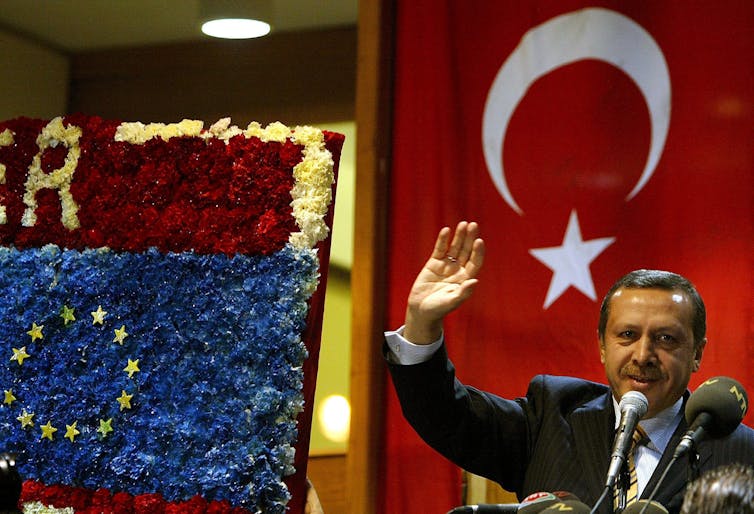 This is a timely reminder that member states determine whether and when applicants join the EU. Just as negotiations cannot be progressed against the will of France or Cyprus, so the UK, like all other member states, has a veto over Turkey's accession. Turkey will not be joining the EU without the agreement of the UK.
And with significant opposition among the general public across Europe, the governments involved are hardly likely to change their positions. Even if accession negotiations were concluded, each member state has to ratify each and every application to join the EU. That normally involves a parliamentary procedure. France changed its constitution in 2005 so that the norm now is to hold a referendum. In other member states, for example Austria and the Netherlands, a referendum is also likely.
Snail's pace
Procedurally, there are many obstacles that Turkey will have to overcome if it is ever to join the EU. Accession negotiations have not been abandoned, but the rate of progress is so slow as to be negligible. The EU's 2015 promise to "re-energise" the accession process as part of a deal to get Turkey to help it manage the migration crisis has delivered little. The EU has so far been unable to secure consensus on opening more than one new negotiating chapter; and the Turkish government is far more interested in securing visa-free access for its citizens to the EU and securing financial support to help deal with refugees from Syria.
Formally, the door to Turkish membership of the EU remains open, or at least ajar. There are voices in the EU that want to keep the door open. Others, however, would prefer to see it closed. The resulting tensions keep the door half open. Equally, it may be stuck. What is clear is that there is very little, if any, appetite among EU member states to admit Turkey.
To infer that Turkey may one day soon join the EU is to reveal a fundamental ignorance of the political and procedural realities of the EU and of its enlargement process. Turkish membership of the EU is at best a distant prospect.