Traditional owners in Western Australia's Kimberley region have formed a new organisation to help manage the Fitzroy River. The Martuwarra Fitzroy River Council could set a precedent in WA for collaborative planning between government, industry and the native title holders of an entire river catchment.
The aspirations of Kimberley traditional owners to safeguard the future of the Fitzroy are consistent with those of many other Aboriginal groups, who have long been dissatisfied with mainstream approaches to managing Australia's major river catchments. Statements such as the Echuca Declaration and the Mary River Statement make it clear that rivers are essential to life and traditional owners have a responsibility to protect them.
Large rivers flow through many different Indigenous lands. To comprehensively represent traditional owners' rights and interests, alliances constituted at the catchment or basin scale have been formed. For example, the Murray Lower Darling Rivers Indigenous Nations and the Northern Basin Aboriginal Nations both aim to uphold traditional owners' rights and interests in the management of the Murray-Darling Basin.
---
Read more: Deal on Murray Darling Basin Plan could make history for Indigenous water rights
---
The new Martuwarra Fitzroy River Council wants to ensure that lessons are learned from experiences in the Murray-Darling Basin, where the environment has been severely degraded and Aboriginal nations were previously excluded from land and water management.
A 12-member delegation from the new council met with WA departmental heads in Perth this week, to advocate for support for the new management structure and the peoples who share custodianship of the river, known as Mardoowarra or Martuwarra in the Nyikina language. The council also called for a moratorium on all future water allocations until a catchment-wide management plan is in place.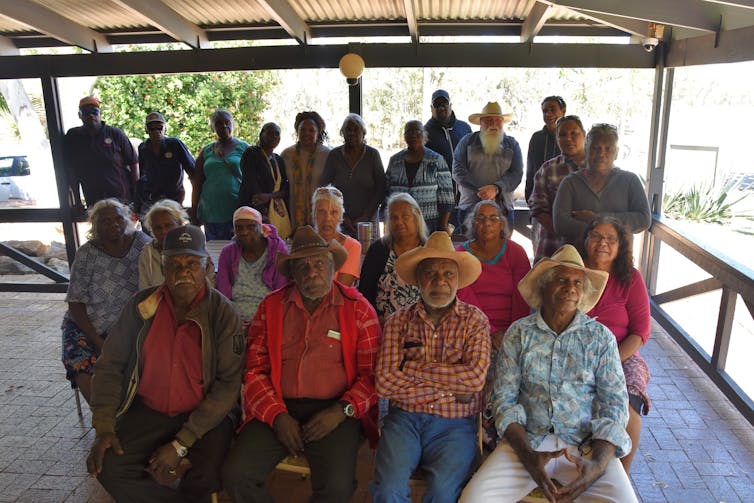 The Fitzroy River region exemplifies the kind of social and cultural complexity that significantly challenges standard approaches to catchment management. It is home to at least 30 Aboriginal communities living on lands recognised under seven native title determinations. The river crosses seven ethno-linguistic areas with a complex array of longstanding cultural affiliations. Narratives, beliefs and practices reflect and reinforce deeply held cultural connections to lands and waters.
The river and its 20 tributaries drain 100,000 square kilometres of savannah that support almost 50 pastoral stations and a rich diversity of plant and animal life. It is home to at least 37 species of fish, including the critically endangered large-tooth sawfish, as well as many species valued by recreational and customary fishers. Tourism is significant to the economy, particularly during the warm, dry months that coincide with southern Australia's winter.
For traditional owners, these beautiful landscapes and valuable fishing grounds also bear the imprint of ancestral beings who brought the world into being and continue to enliven it with their actions. All of these outstanding heritage values won the West Kimberley and the Fitzroy River national heritage listing in 2011.
Water for all
The Fitzroy River is facing more water extraction and intensifying land use on its floodplains – concerns that were highlighted by traditional owners in the 2016 Fitzroy River Declaration. It is imperative to plan and manage the competing demands on the river. But managing an entire river system in an integrated way is challenging.
The WA government has stated its commitment to the long-term health of the Martuwarra Fitzroy River catchment via integrated land and water planning. It has affirmed the "unique role of Indigenous people in making policy decisions about the future".
But Indigenous governance systems do not align with the boundaries of existing natural resource management organisations, or with the stakeholder model of political representation. Advisory committees and catchment management authorities often seek just one or two representatives of the many Indigenous groups that are typically affected by management decisions.
The Daly River region of the Northern Territory illustrates this model's shortcomings. The river is a "significant ceremonial track" – meaning that sacred site protection is a crucial consideration – and its catchment is home to 11 different language groups with rights and interests in the river. Traditional owners formed the Daly River Aboriginal Reference Group in 2005 to give all custodians a voice in land use and water allocation planning.
---
Read more: New law finally gives voice to the Yarra River's traditional owners
---
If endorsed as a planning partner by the WA government, and accordingly resourced and supported, the new Martuwarra Fitzroy River Council could perform three important tasks.
First, it could support the government's catchment-wide planning process by bringing together representatives of every group that can speak for, and has knowledge of, sections of the river and its hinterland.
Second, it could facilitate the inclusion of Aboriginal governance principles, ecological knowledge and socioeconomic objectives in land and water policy.
And third, it could contribute to adaptive management by developing long-term relationships with all stakeholders in the catchment.
Like similar models in other parts of the country, the Martuwarra Council prompts us to think about the vital role of water in mediating not only ecological and hydrological connections, but social, cultural and political relationships too.