New Zealand's opposition National Party is embroiled in a rolling controversy that erupted last week when former National MP and senior whip Jami-Lee Ross accused his leader Simon Bridges of corruption. Bridges has vehemently denied these accusations, and the evidence released does not support any allegations of illegality.
One dimension of the controversy that has attracted less attention is the connected issues of political party donations and foreign influence on New Zealand's democratic system.
---
Read more: New Zealand's Pacific reset: strategic anxieties about rising China
---
Foreign influence
The discussion of foreign influence in New Zealand politics plays out mostly in terms of the activities of the People's Republic of China. The local debate was initiated by Professor Anne-Marie Brady's "Magic weapons" paper last year. Despite her warnings that China's foreign influence activities have the potential to undermine the sovereignty and integrity of the political system of targeted states, the dominant view among New Zealand's main political parties might best be described as "nothing to see here, time to move on".
Reactions in New Zealand contrast sharply with the situation in Australia, where there has been a much more open democratic debate on the issue of China's influence, as well as law reform designed to mitigate foreign interference.
---
Read more: Soft power goes hard: China's economic interest in the Pacific comes with strings attached
---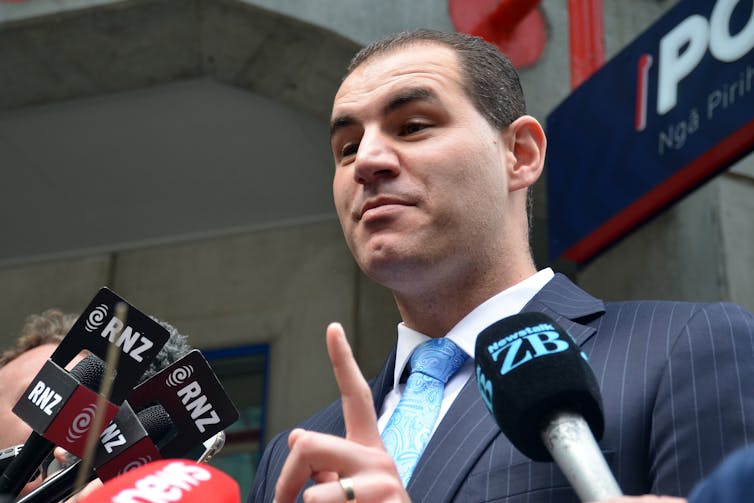 Last week, Jami-Lee Ross released a recording of a conversation he had with opposition leader Simon Bridges in June (full transcript). The transcript alleges that Zhang Yikun, a wealthy Chinese immigrant and a former member of the People's Liberation Army with ongoing links to the Chinese state, made a donation to the National Party of $100,000. The conversation then turned to new candidates for the National party list, and the possible candidature of Colin Zheng, manager of a construction company owned by Zhang.
Keeping track of political donations
At a national level, there are rules under the Electoral Act 1993 regarding political donations to both candidates and to political parties. For candidates, a donor's name and address must be reported for donations of more than $1,500. For party donations, the name and address of the donor must be reported where donations exceed $15,000.
For both candidates and parties, foreign donations (defined as from people who are not citizens or residents on the electoral roll or from incorporated or unincorporated bodies outside New Zealand) exceeding $1,500 are forbidden. Each registered political party must file an annual return of party donations with the Electoral Commission, which are then made public. In terms of party donations which hit a $30,000 threshold, a return must be filed within ten working days, as opposed to annually.
There are also restrictions on how much can be spent during a general election period, which also effectively constrain donations. Political party spending is capped at just over $1.1 million, plus $26,200 per electorate contested, for a total election spend of just under $2.7 million if all 60 electorates are contested.
Spending limits also apply to persons or groups who are not contesting the election directly but seek influence. They can spend up to $12,600 on election advertising during the regulated period without having to register with the Electoral Commission. A person or group whose spending exceeds that amount must register and they can spend a maximum of $315,000 on election advertisements.
Who raises what from whom
In 2017, National raised $4.6 million in party donations, vastly exceeding Labour's $1.6 million, as well as busting the limits of what they could spend in that year's election. $3.5 million of the National's donations (76%) were anonymous under the $15,000 threshold, compared with 0.7 million of Labour's (44%). The Green Party raised $0.8 million, with 72% under the disclosure threshold, and New Zealand First raised $0.5 million, with 84% under the threshold.
There is no requirement for political parties to report the amounts of overseas donations under $1,500. Consequently the public does not know how many foreign donations come in under that amount.
It would be easy for a foreign state to funnel money into a political party from a large number of foreign donors, all under the $1,500 threshold. Equally, if that state had access to local actors, it could funnel money into the system at amounts above or below the $15,000 threshold.
What donors get for their donations is unclear. At its least malign, donors seek to passively promote a political ideology which they consider to be beneficial. Where donations are part of developing a long-term quid pro quo relationship along multiple dimensions, donors' and receivers' motivations and exactly what is traded is very difficult to pin down from the outside.
Transparency International reports that New Zealand political parties are one of the weakest pillars supporting local transparency and good governance. Within this weak pillar, one of the weakest strands involves political finance and donations.
They argue that with the demise of mass political participation, parties are increasingly dependent on donations to function. This weakness means that local politicians are more likely to seek to "supply" influence, or at least dangle the prospect of influence, in front of wealthy bidders.
The "demand" to buy political influence has also risen. With the increase in worldwide inequality and kleptocracy, there are more rich people for whom buying influence is the norm. Specifically in New Zealand, there has been an influx of wealthy expatriates from China, where buying influence is an accepted practice. They often retain close links to the Chinese Communist Party, which runs an authoritarian, anti-democratic and oppressive regime. It is thus not surprising that issues of donations and foreign influence are increasingly entering into domestic political debates.