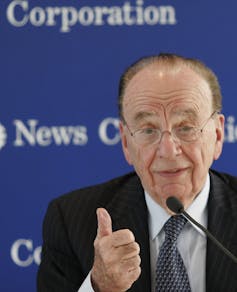 Media giant News Limited will charge for online access to its broadsheet paper The Australian after October and for certain parts of the Daily Telegraph and the Herald Sun after that, the company has announced.
Debate has raged across the newspaper industry about how best to cope with a readership that is drifting away from the traditional newspaper-read-over-breakfast model toward a habit of reading news online for free.
Some have argued that paying for online access is the only way to survive, while others are adamant that pay walls drive down circulation and make newspapers less attractive to advertisers.
News will adopt a Wall Street Journal-style 'freemium' model for the three newspapers, under which general news will remain free but premium content – such as investigative journalism, work by specialist writers and certain columnists – will be locked behind a pay wall.
It will cost $2.95 a week for a digital subscription to The Australian for an iPad or Android tablet app, website and a mobile site. This package, plus a six-day print subscription, will cost $7.95 a week.
Fairfax, the publisher of The Age and The Sydney Morning Herald, is expected to follow suit and eventually charge for some specialist content online.
Industry analysts say it's too early to say if pay walls can save newspapers in Australia.
"I don't think this is coming from a business model that is 'We are pretty sure this will work.' I think it's driven more by the sense that the existing strategies are unsustainable in the long term," said Terry Flew, Professor of Media and Communications at the Queensland University of Technology.
"They are taking a punt that the iPad and the tablets offer a new opportunity for the subscription model, a variant of the model of getting the newsagent to throw the newspaper over the fence – except now it arrives in your inbox or your iPad."
The Wall Street Journal model was seen as pretty successful but many other attempts to charge for material that was previously free had ended in failure, he said.
"The number of readers of the UK Times online fell by almost 90% when the pay wall was introduced," Professor Flew said. "The _Financial Review _has not made a real success of its online subscription strategy and many would argue that the price points have been set far too high."
"Subscribing to the AFR online costs four times as much as does getting The Economist and whether the AFR gives you four times the value for money is a moot point," he said.
Charging for general material that was freely available on the ABC or the BBC was pointless but News could be banking on the idea that readers of The Australian will pay for access to beloved columnists.
"But thinking about tabloids like the Telegraph and the Herald Sun, are people going to pay a premium to get Piers Akerman online? I don't know. It's hard for me to envisage but then I haven't been a successful newspaper publisher and Rupert Murdoch has so maybe I am missing something."
Louise Wiliiams, Senior Lecturer at the Australian Centre for Independent Journalism at the University of Technology, Sydney, said readers may be willing to pay for previously free content on a tablet or a phone, but not at their workstation computer.
"We started the internet with an expectation things would be free. We started phones and iPads with an expectation you pay," she said.
"You will be able to put a costed app up for those devices because people expect to pay."
She described putting tabloid content behind a pay wall as "nuts".
"What you have at the other end of the market is this move to free TV (such as Freeview), right across the board."
She pointed to the Guardian, which has grown its readership to 49 million through innovative reporting techniques such as data mining, crowd sourcing and visual reporting.
However, Professor Flew said the Guardian was still struggling.
"If you look at the losses the Guardian Media Group is having, that would be a cautionary tale. They are not making much money out of that 49 million readership."