The world is collectively grieving again after a man driving a lorry killed at least 84 people in an attack on the Promenade des Anglais in Nice on Bastille Day. This tragedy, which follows similar attacks in Paris, Bangladesh, Istanbul and Baghdad, has provoked a wave of terror, shock, sadness and frustration internationally.
But what about those more intimately affected – those families and friends currently dealing with the immediate aftermath of the attack in Nice and the loss or injury of a loved one.
Individuals will enter different "phases" to deal with their loss. While this will be different to each person as they follow their own path of grief, there are also patterns and stages that most people pass through at some point.
Research has demonstrated that when a death occurs in "normal" circumstances, such as from old age or a long illness, around 45% to 50% of bereaved loved ones tend to respond resiliently and adjust over time. In that instance, grief symptoms typically decrease in one to two years, which represents a "normal grieving process".
Less is known about the traumatic bereavement that occurs when violent circumstances are involved, such as the events that have occurred in Nice. Traumatic bereavement through homicide and terrorism attacks seems to comprise a unique form of grief that can be particularly severe and persist for many years.
Research has shown that family and friends who have experienced a loved one being murdered tend to be left with a profound level of distress and are more likely to develop traumatic stress responses alongside or as a component of their grief. These can include dissociative reactions, avoidance of places and stimulus associated with the event and negative alterations in mood.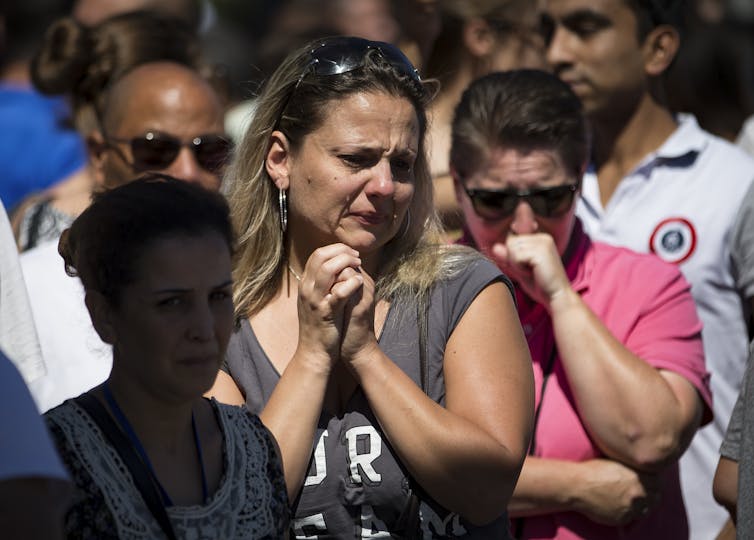 After the traumatic death of a loved one, family and friends can suffer from physical and mental health issues, social and interpersonal difficulties, as well as financial economic problems arising from their own ability to work. In addition, the unexpected, wilful and violent nature of the event sparks feelings and perceptions of unfairness anger, rage, disbelief and shock in families who have been bereaved by a trauma. Following the event they ask questions such as: "What happened? Why has it happened? How did it happen? Will I move on?"
When a traumatic event occurs, there is a tendency for bereaved family members to search for both formal and informal support. Of course, everybody deals with grief in their own way and the strategies that will be appropriate for them will vary. In general, the following can offer some help.
Informal support
Informal support mechanisms that involve support from the family, friends, neighbours or other relatives can be crucial. These can be the offering of empathy and comfort, as well as helping to deal with day-to-day practicalities which are often forgotten by those left behind after a traumatic experience.
But sadly this support is not always perceived as helpful or supportive by the bereaved because those trying to help might also be dealing with their own reaction to the loss and can be uncertain what to say or how to show support.
Informal support can even sometimes be perceived as unhelpful if the traumatic event is avoided as a topic of discussion or inappropriate body language used. Bereaved family members can also feel pressure from social norms about the appropriate expressions of grief and the length of time over which it is "appropriate" to grieve.
A good way to approach the issue is to directly, but tactfully ask the bereaved person how to help – rather than avoiding them.
Professional help
Individual or group clinical or psychological interventions can help provide family members and friends a better understanding of the traumatic event, skills to cope with ongoing reactions, and the chance of "moving on" over time. This is already happening in Nice, where survivors and victims are getting psychological support.
Crisis interventions are usually helpful in the immediate aftermath of the tragedy, as a person's coping mechanisms are overwhelmed by the intensity of the situation or experience and individuals have the opportunity to receive short-term, intensive support to deal with practicalities. These models of intervention have become common place after major catastrophes, such as after the 9/11 attacks in New York.
Individuals also potentially have the opportunity to address some of their concerns and get information that might be crucial during the grieving process, such as when their family members' body will be released. Many communities have support groups established through hospitals, churches or social service agencies that lend an atmosphere of support and empathy, and help bereaved people come to terms with their reactions, responses, thoughts, feelings and fears. For the majority of them, these reactions are new, so getting information about the "normality" of feeling the way they do it is a very powerful tool. The vast majority of their responses are normal reactions to an abnormal and unexpected experience.
Longer term psychological or clinical interventions can be a useful resource to help individuals find "new avenues" in their lives where a "post-traumatic growth" might be a possible outcome. This is a positive psychological change experienced as a result of adversity. My own ongoing research suggests that people bereaved by homicide see their ability to manage emotional distress reinforced and improved.
In the longer term, some bereaved family and friends will find their own path to grief and successfully adjust to their new reality. But they may need additional formal support in order to help adjust and deal better with their loss.