Japan's "greatest upset ever in World Cup rugby" against South Africa was a signal moment for minnow nations, but highlighted the fluid nature of world rugby representative eligibility rules.
Japan's "Blossoms" named 11 overseas-born players in their official RWC2015 squad. Players like Hiroshi Yamashita and Keita Inagaki were joined by those like Luke Thompson, Michael Broadhurst, Michael Leitch and final-try hero Karne Hesketh. The obvious question is how they qualified for Japan.
The answer is the same way Italy includes players like Quintin Geldenhuys, Wales like Taulupe Faletau, England like brothers Mako and Billy Vunipola and Australia like Henry Speight: international rugby policies interacting with an increasingly globalised, multicultural world.
That is where it becomes difficult for World Rugby (formerly the International Rugby Board). As the game becomes more professionalised – for which read lucrative for players – policy boundaries become stretched and aggravated by a now socially complex workforce, especially from the South Pacific.
What are the eligibility rules?
The World Rugby rules governing eligibility essentially fall into two parts.
The "heritage" one allows the sons of parents from different countries to become eligible for one or other of the parents' "home" countries in addition to the one in which they are resident. That has enabled several New Zealanders, for example, to turn out for Scotland, Ireland and Wales.
Mako Vunipola and his brother Billy provide wonderful examples. Mako was born in New Zealand, Billy in Australia, to Samoan parents who then went to live in Wales. Scholarships to Millfield and Harrow schools resulted in Mako and Billy entering the English rather than Welsh rugby system. Both now play for England. This has some complications: they are related to Taulupe Faletau of Wales.
The 2015 Australian squad demonstrates this cultural mix. Henry Speight was born in Fiji but lived with his family in New Zealand before going to Australia. Matt Toomua was born in Melbourne to a Samoan father and a New Zealand mother. Quade Cooper was born in New Zealand and shifted to Australia with his family when he was 13. Tevita Kuridrani was born in Fiji and shifted to Australia in 2007, having attracted attention playing underage rugby. Joseph Tomane was born in New Zealand to Samoan and Cook Island parents who shifted to Australia where he became involved first with rugby league before switching to rugby only in 2011.
That demonstrates another other angle in the eligibility debate. The code-switching permitted in modern professional rugby age saw players like Brad Thorn switch back and forth across the Tasman to represent Australia in league and New Zealand in rugby.
The current stars there are Sonny Bill Williams from New Zealand; Israel Folau from Australia (of Tongan descent) who has played league, Australian Rules and now rugby; and the wonderfully named Craig Wing, former NRL star now one of Japan's imports despite his mother being Filipina.
Tommaso Allan demonstrates the social and eligibility complexities. While having a Scots father and Italian mother, he early on played for Western Province in South Africa. Scotland sought clarification on his eligibility there, but he now plays for Italy alongside Geldenhuys and Luke McLean. McLean is of Italian and Australian descent but played for the Sale Sharks in England before going to Italy in 2007.
Much of this, then, comes from the global movement of families, especially from Pacific rugby centres like Fiji, Samoa and Tonga. New Zealand schoolboy rugby is littered with Pasifika scholarship holders at the beginning of the supply chain.
The critics consider that the reliance on those supply lines determine Australia and New Zealand's reluctance to develop a Pacific Islands franchise in Super Rugby, the elite southern hemisphere competition.
Team integrity vs development
The second World Rugby eligibility provision is even more problematic. It allows anyone who has not played internationally for his "home" nation to turn out for another one after serving a three-year eligibility period, which more precisely means three rugby seasons.
The attraction here for players in the Pacific, New Zealand, South Africa and Australia, especially, is twofold. There is the chance to make good money playing for countries like Japan, while at the same time playing internationally when that was unlikely at home.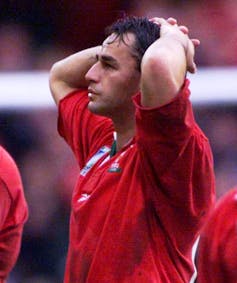 That has led to eligibility issues in the past. Shane Howarth, for example, played for the All Blacks in the 1990s before going to league then back to rugby in Wales. He played several internationals by virtue of having an apparently Welsh grandfather. It later emerged his grandfather was New Zealand-born.
For Japan, though, this has been an obvious way to build a national side in the absence of a strong local supply line. In 2011, for example, Murray Williams played for Japan having been a good New Zealand player but an unlikely All Black. He is now a key player for Mid-Canterbury, reigning premiers in the Heartland competition, New Zealand's third level behind Super Rugby and the ITM Cup.
World Rugby faces a dilemma. Like most sports it aspires to be global (hence the change of name), but has a minority of powerhouse playing nations. Having the excellent Fumiaki Tanaka as second-string halfback to Aaron Smith for the Highlanders in the Super Rugby competition is one way of doing that, but a slow one. The easier solution is for Japan to "hire" big forwards like Broadhurst and world-class players like Wing.
World Rugby is reportedly about to reconsider the second provision, but somehow has to develop the game more globally for both playing and commercial reasons while balancing national team integrity. The two are not easy correlates.