It was choreographed to make a statement. Athletes from North and Korea entered the Olympic stadium together as a unified team at the opening ceremony of the 2018 PyeongChang Winter Olympics. They wore the same outfit and marched behind the Korean unification flag, which was carried in tandem by a North and South Korean athlete.
Later on, two Korean women ice hockey players, one from each country, carried the torch together on its final leg up a block of steep stairs to reach the Olympic cauldron.
In a short speech, Thomas Bach, the president of the International Olympic Committe, said: "We are all touched by this wonderful gesture." This was a fair reflection of the emotional atmosphere in the stadium.
The South Korean president, Moon Jae-in, could not have hoped for more powerful images and supportive responses to his courageous approach to dealing with North Korea. He had got the ball rolling back in June 2017 when he invited North Korea to attend these Olympic Games.
The opening ceremony was attended by dozens of high-profile politicians from all over the world. The presence of Kim Yo-jong, the sister of North Korean leader Kim Jong-un, was unexpected and momentous. She was suitably seated next to the German president, Frank-Walter Steinmeier, who is twice her age and has lived half of his life in a divided society.
She was also right behind Moon Jae-in, who found himself sandwiched between Kim Yo-jong and Mike Pence, the US vice-president – a symbolism which was very likely unintended but succinctly captured his current political position and dilemma.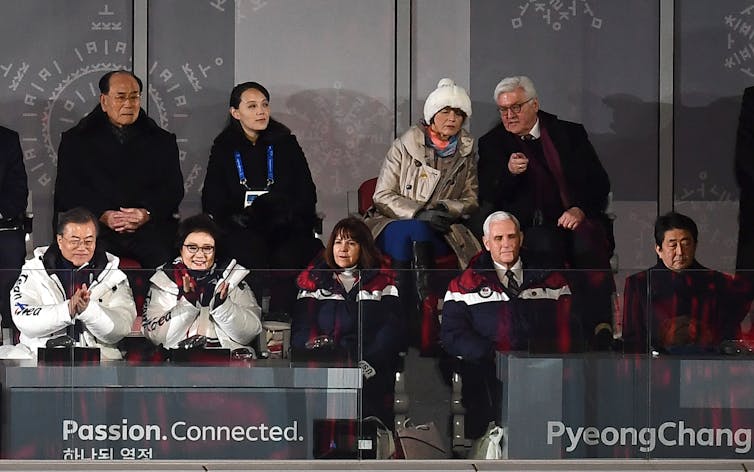 Although Pence is unlikely to talk to Kim Yo-jong or any of her high-ranking entourage, there is a strong likelihood that members of the South Korean government will have official meetings with them during their visit.
An agenda for these may have been set at the lunch meeting with Moon Jae-in on February 10 in the presidential Blue House in Seoul. Kim Yo-jong delivered a personal letter from her brother to the South Korean president, which contained an invitation to visit Pyongyang, North Korea's capital, for a political summit as soon as possible.
After the historic handshake between Moon Jae-in and Kim Yo-jong at the opening ceremony, such a visit would be an extremely significant moment in inter-Korean relations with possibly far-reaching consequences. While the US president, Donald Trump, has so far been opposed to dialogue with North Korea, after his visit to South Korea, Pence indicated that talks were not out of the question.
Global branding exercise
Opening ceremonies of mega sports events, in particular Olympic extravaganzas, traditionally serve two main functions. They provide the citizens of the host country with a sense of self and contribute to their national identity and pride. And they are a high-profile marketing opportunity to portray a positive image of the host country to an international audience and are often part of a wider nation branding strategy.
These cultural spectacles have also become prominent public forums for the hosts to communicate explicit political statements to the rest of the world. At the 2008 Summer Olympics, Beijing's impressive and colourful but, in parts, also intimidating opening ceremony was widely celebrated as a political "coming-out party". It stressed that the country was ready, and keen, to embrace global society.
Guests also use these opening ceremonies as a platform for profound political statements. Between 1998 and 2008, North and South Korea marched together behind the unification flag at the opening ceremonies of the Summer and Winter Olympics in Sydney, Athens and Turin, and at the 2002 Asian Games in Busan and the 2003 Aomori Winter Games. This symbolism was meant to emphasise that while Korea remains one of the very few politically divided countries in the world, reunification remained on the agenda of their respective governments.
Symbols and statements in Pyeongchang
Pyeongchang's colourful and entertaining opening ceremony used several symbols to stress some fundamental political positions of the recently elected South Korean government. Moon Jae-in's foreign policy towards North Korea will be framed by the principles of engagement and rapprochement.
In comparison to the Beijing spectacle, the ceremony came across as a more low-key, more modern, less rigid and more vibrant performance. It celebrated past and present achievements of individual Korean athletes and did not hesitate to add an element of K-pop, Korean pop. It also repeatedly praised South Korea's massive and continuous contributions to the digital revolution, and growing global interconnectedness. In comparison to other mega sports events that the country has hosted, it showed an unprecedented degree of self confidence.
The show – entitled Peace in Motion – was both inward and outward looking. It covered South Korea's past and present achievements, and consolidated and promoted the country's sense of national and pan-Korean identity.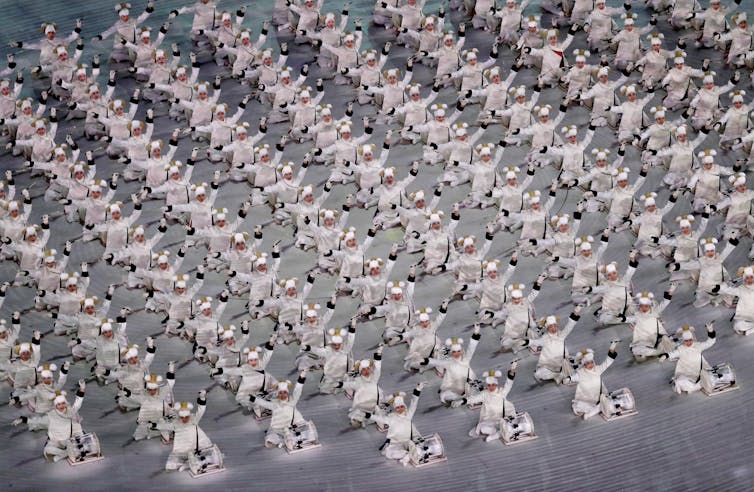 Similar to Beijing, the overarching themes were harmony, peace, and unity. Peace was rather simplistically portrayed as the inevitable outcome of connection and communication: five children went on "on a quest for peace" and spectators heard John Lennon's Imagine, performed by four South Korean singers. There were also doves and a combination of candle light and water, which marks peace in Korean mythology.
The remainder of the 2018 Winter Olympics will show whether this event is indeed an important stepping stone in resuscitating serious political talks between the two Korean governments or, as some commentators have suggested, a meaningless, short-lived North Korean charm offensive.