Efforts to curb invasive mink are taking a modern turn in Scotland, where a project is providing spotters with an app to log the movements of their targets.
MinkApp enable volunteers to upload information when they spot signs of mink in their local area. Their efforts are part of the biggest volunteer-based invasive species management project in the world.
American mink have been a problem in Scotland for decades. They were brought over to be bred in fur farms in the 1930s and trade continued until the early 1990s. Some escaped the farms and others were deliberately released by animal rights activists. Now their descendants roam the countryside preying on native species. Endangered water voles, salmon, trout and ground-nesting birds all make a tasty snack for mink so nature conservation organisations have been trying to stop the species from spreading for many years.
The government-funded Scottish Mink Initiative relies on volunteers to report sightings of the animals on special rafts set up on rivers around the countryside. Fisherman, gamekeepers, local residents and many others all report back when they spot one of the pests in the flesh or just make a note when they leave their muddy paw prints on dedicated rafts placed on rivers to detect mink.
But to organise such activities over a large area with 450 volunteers and dwindling resources, is a struggle. The initiative spans 29,000km2 of land and volunteers are widely dispersed. Some report from remote locations and their level of involvement varies. Until now, information was gathered at irregular intervals and bringing it all together in one place was a struggle.
"The project is really about local volunteers. In order to be successful you have to do it on a very big scale," Koen Arts, a research fellow at the University of Aberdeen's dot.rural research hub said, who helped develop MinkApp. "Many volunteers work in very remote places and because it is such a huge project in terms of geographical area, until MinkApp communication between all those involved in the project could be challenging. Some volunteers record on a daily basis, while others don't check in for six months."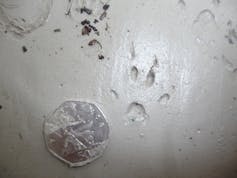 The app, developed at the University of Aberdeen, allows volunteers to upload data about their activities so it can be gathered in a central database. They can include information about spotting signs of mink on specific rafts as well as signs of water voles, rats and otters. Images of mink prints are provided to help volunteers. They can also report mink sightings around the countryside by uploading coordinates in the app.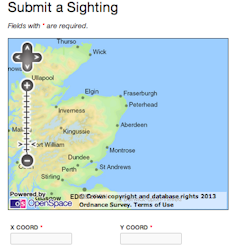 This information can then be used to help trap the mink as well as provide information to ecologists and conservation groups about how the mink spread.
What makes MinkApp different though, is a feature that feeds information back to volunteers instantly using natural language generation. When the volunteers submit mink-related data, they can receive instant personalised feedback about the progress of the project. Large amounts of data are collected by the volunteers about where the mink are located and this is combined with seasonal information and knowledge about mink ecology to provide them with meaningful information every time they submit a contribution.
"Users can feed in information when there is evidence of a mink on their raft and can get feedback that explains why there might be more mink in their area at a certain time of year or whether there have been other sightings nearby," said Gemma Webster, the research fellow at dot.rural who developed the natural language generation tool. "That way they learn about what their impact on the project has been. It's unique in the world in that you get instant feedback on the project."
"This kind of information was previously only something the volunteers would read about in a three-monthly newspaper about the project and it wouldn't be complete as the coordinators didn't have all the information held by the others," Arts said.
As well as making life difficult for menacing mink, the project has a second goal. Only half the volunteers will be given access to the instant feedback service that comes with the app. This will help researchers monitor whether providing incentives like information about their contributions makes them more inclined to submit data regularly. More and more conservation projects are turning to digital means to improve efficiency so feedback like this could help others decide if it's worth producing an app of their own.