When the final siren sounds at Sydney's Olympic Stadium on Sunday night either the South Sydney Rabbitohs or Canterbury-Bankstown Bulldogs will be crowned as 2014 National Rugby League (NRL) Premiers. So who will win?
Souths have not appeared in a Grand Final since winning their 1971 premiership. This year represents the culmination of several years of steady progress since a tumultuous period including their exclusion from the competition and eventual private takeover spearheaded by actor Russell Crowe.
For the Bulldogs, their Grand Final appearance comes at the end of an up-and-down season, but is only two years removed from their last visit when they tripped at the final hurdle against the Melbourne Storm in 2012.
Finals Series are always a good time for clichés, hunches and sporting misconceptions to come to the fore. As both a lifelong rugby league supporter and an applied mathematician, I thought it would be a good time to step back from the usual hype, guesses and dubious "conventional wisdom".
Instead, I thought I'd see what a brief analysis of how recent results compared to pre-match expectations might tell us about how Sunday's game might pan out.
At this point, I should probably add the disclaimer that I am a member of the Bulldogs and will be at Sunday's match casting anything but a neutral eye over proceedings.
A look at the bookies
Thanks to Australia Sports Betting, my starting point for analysis is historical data from bookmakers for all NRL games from 2009 to 2014 inclusive.
Bookies' odds are a good measure of how each team is expected to perform. Before each game, betting agencies first run some prediction model of their own to decide upon a starting price and this is adjusted upwards or downwards depending on how much money is placed for or against each possible outcome.
As such, each final pre-match price is a balance between expert and popular opinion. The end result is generally an excellent predictor of future results. (Tom Waterhouse doesn't get his slick ads, shiny dentistry and overpriced suits without at least being good at what he does.)
When I last checked, South Sydney were A$1.38 favourites and Canterbury were A$3.15 underdogs. In other words, the betting agencies think that there's about a 70% chance of a Rabbitohs premiership and about a 30% chance of the Bulldogs taking home the crown.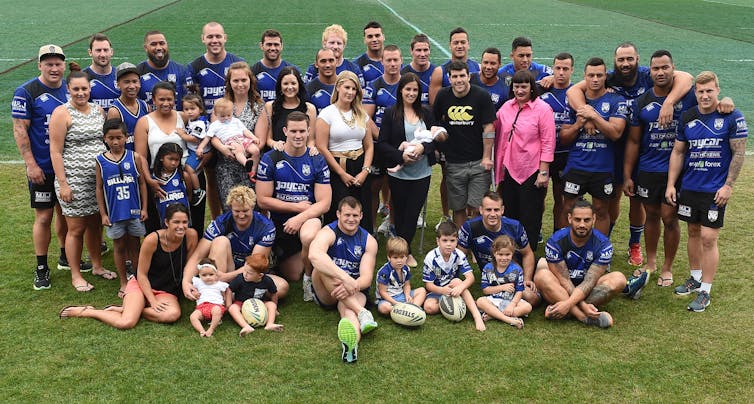 In short, it's looking good for the Rabbitohs.
So is there any hope for the Bulldogs? Well, sports journalists and ex-professionals love to tell us that "anything can happen in finals football".
Aside from the obvious truism that yes, of course either side can win, the simple fact is that history tells us that finals games are in general more predictable than regular season games.
Good for the favourites
This might seem counter-intuitive given the gaps in quality should be much less; all teams involved finished in the top half of the ladder. Nonetheless, the simple facts are that, since the start of the 2009 season, the bookmakers' favourite has won 38 of the 53 (72%) finals games played. Over the same period, the favourites won only 65% of regular season games.
Even more incredibly, the NRL Grand Final itself has been a bastion of predictability. You have to go back to 2004, when the Bulldogs upset the narrowly-favoured Sydney Roosters for the last time an underdog lifted the trophy.
Few sporting competitions in the world have such a long run without a surprising premier. The bookmakers have been correct for ten consecutive Grand Finals. Again, it really doesn't look good for the Bulldogs.
What about the regular season form? Well, that too points to the same outcome. No side has finished outside of the top four and gone on to win the Grand Final since 1995. With South Sydney's third placed finish and the Bulldogs' seventh placed finish, recent history is firmly on the Rabbitohs' side.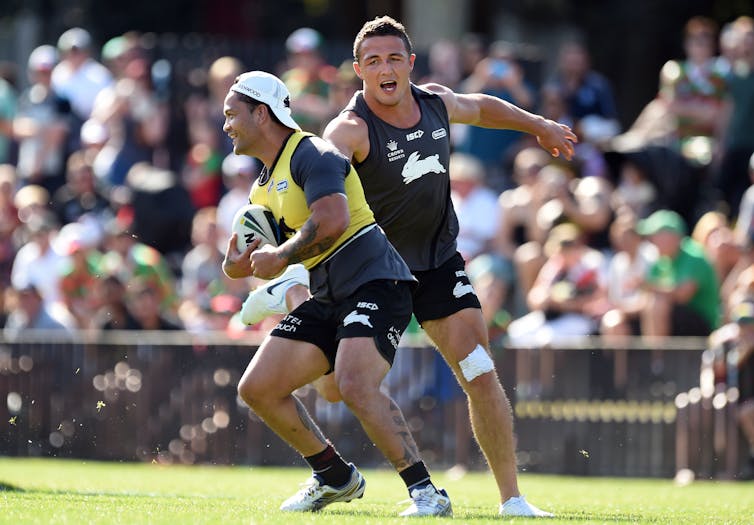 Much has also been made about the NRL judiciary's decision to suspend South Sydney hooker Issac Luke for a dangerous throw of an opponent last week. Several experts have discussed how important he is to his side and how their chances of winning are diminished in his absence.
Recent data really does not support this viewpoint at all. Between 2007 and 2011, the side won only once from the nine games he missed (11% win rate) compared to 48 wins from the 101 games he played (47% win rate).
Since 2012, his presence or absence hasn't seemed nearly as critical – this season they won 7 of the 11 games he missed (64% win rate). Like much often-quoted sports wisdom, this statement has seemingly lingered for longer than the data can supports its claims to be true.
Any hope for the under Bulldogs?
Is there any hope for the Bulldogs? To clutch at straws (and unreasonably small sample sizes), the data suggest that teams priced at over A$3 will win less than 25% of the time, yet this year's finals series has already seen two such long-shots win out of three occasions, including Canterbury's first week victory in Melbourne.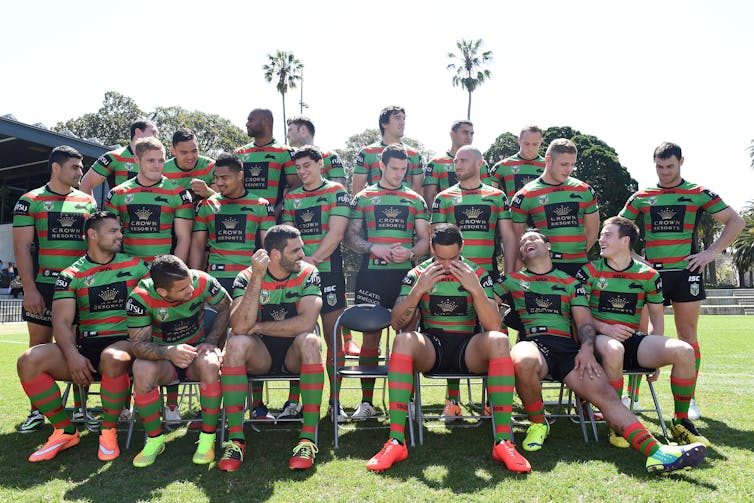 Furthermore, only once previously since 2005 have both the first and second ranked sides on the ladder – this year the Sydney Roosters and the Manly Sea Eagles – been watching the Grand Final. So maybe this year is different?
So that's that. Rugby league sentimentalists, Hollywood royalty, the betting public and most of Redfern will be backing a long-awaited Rabbitohs premiership.
History and the recent dataset suggest that my wife and I have just spent A$300 which we can ill-afford on tickets for a pretty miserable Sunday evening for us.
As strange a note as it is to end on, I genuinely and sincerely hope that the trends in the dataset turn out to be utterly misleading and that most of this article is completely wrong. Go the Bulldogs!