Tilikum was born in the eastern North Atlantic Ocean in 1981 to an extended family travelling the waters around the sub-arctic islands. He was captured and taken from his family while still a baby and sold to the entertainment trade.
Tilikum faced many challenges throughout his life. He first came to Victoria, British Columbia and then moved to Florida in 1992 where he stayed until his recent death, aged 35. The cause of death is still unknown but he was battling a bacterial lung infection for some time.
Where Tilikum was born, a male does not leave his mother. Ever. Until he dies. Consequently, he had many problems creating social relationships with his fellow captives who were not part of his native family. While they may have been part of the same population, and therefore shared cultural traits with him, a male just does not spend much time away from his close family.
When he first arrived in British Columbia, he shared facilities at Sealand of the Pacific, which closed in 1992, with two females of similar age, Haida and Nootka. The three individuals had trouble getting along and Tilikum had a hard time adapting to his new life. He was also trained to perform shows for public entertainment and the techniques used in this training programme probably did not help Tilikum's psychological trauma.
Family ties
Tilikum had his first offspring, Kyuquot, with one of the captive females when they were both still pre-teens. He had impressive physical attributes which led him to be selected to be more active in the breeding programme once he moved to SeaWorld Florida, where he became a regular sperm donor. He sired at least 21 sons and daughters.
People that interacted with him regularly remembered him as a disciplined, gentle, and enthusiastic performer. But the difficulties Tilikum faced meant that he had trouble dealing with some situations and that led to some terrible tragedies, including the deaths of some of the trainers he worked with. The fact that he could still function at all is simply remarkable.
Everyone who attended Tilikum's shows will remember him because they had never met anyone like him. For this, Tilikum did a lot for all others of his kind. We will remember him for his unintended advocacy role, championing the cause of others held captive, in the documentary Blackfish which presented to the world the tragedies to which he was party.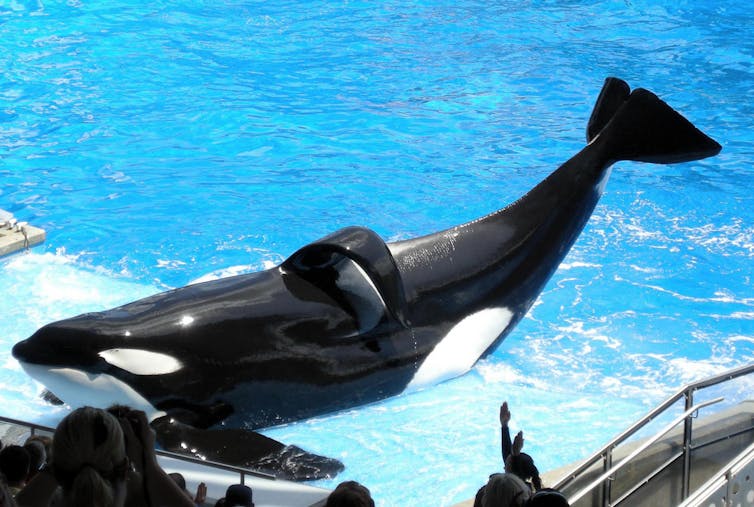 He leaves after a illness from which he could not recover. He is survived by at least ten children and four grandchildren, who do not know him and will not remember him.
But this remarkable killer whale also leaves a hole in his family back at home in the eastern North Atlantic, where his mother is probably still alive (females typically live longer) and wondering what happened to the son she lost more than 30 years ago.