Conditions in Australia's detention camps on Nauru and PNG's Manus Island have reached intolerable levels of violence and abuse committed with apparent impunity. The Australian government disclaims responsibility for such events, which have attracted criticism from the UN Special Rapporteur on Torture.
As academics who have studied the "war on terror" in detail over more than a decade, we feel that the parallels between the US extra-legal prisons at Guantanamo and elsewhere and our Pacific equivalents have become acute and must be exposed.
Offshoring, outsourcing, indefinite detention and extreme and arbitrary violence, including sexual violence, by the officials in charge are among the key characteristics of these detention sites. These centres operate outside of effective state jurisdiction.
Avoiding accountability for sexual violence
We begin by juxtaposing two recent incidents of sexual violence at the shadowy border between Australia and its Pacific gulags.
The first relates to an incident in mid-July. Local PNG police apprehended three male Australian citizens and a PNG woman who were employed by Wilson Security at the Manus Island detention centre.
According to an ABC report, all were naked and appeared intoxicated and disoriented. In ensuing days, the woman reportedly told police she was given pills and sexually assaulted. Police initiated an investigation of "attempted rape, indecent exposure and sexual assault".
Before the local police could complete their investigations, the three men were flown back to Australia with the co-operation of the Department of Immigration and Border Protection (DIBP). PNG authorities publicly expressed their chagrin. Commander Alex N'Drasal of the PNG provincial police stated:
They [DIBP] are concealing a lot of information from us.
What this incident reveals is that Australian employees in the camps enjoy the status of an occupying force who are not properly accountable to local law. The incident exposes the legal sleights of hand by which the Australian government claims that it is not responsible for sexual violence in the camps, even as its citizens are shielded from the consequence of their actions there.
This incident, and other similar incidents, evidences the creation of Australia's version of the secretive US "black sites" that operated during the war on terror.
As one Australian reporter observes:
We have … created a distant exclusion zone for mandatory reporting; a black site whose governing legislation is a repudiation of our own laws.
The Pacific black sites also blur the distinction between those recognised as refugees and "settled" in the local community and those still in detention: both groups are subject to unsafe, xenophobic and threatening conditions. Yet Australia refuses to accept responsibility) even as it expends millions of dollars in Australian public funds for their maintenance.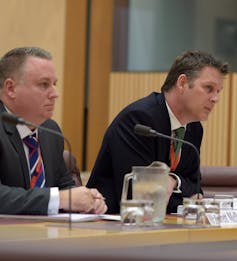 The swift removal from PNG of the Australians accused of rape is in striking contrast to that of a young woman reportedly subjected to a brutal rape on Nauru. The 23-year-old Iranian refugee was allegedly raped as she made her back to the family camp after a day release. She was traumatised and severely depressed, but was left on Nauru for three months.
Last week, after a chorus of protest, she was reported to have been flown to Australia. But there are no indications of her condition or the treatment made available to her. According to reports last week, the woman is in grave danger of kidney failure.
This case is not unique. There is a documented history of sexual abuse and violence against refugees and asylum seekers on Nauru and Manus Island. Those in need of urgent medical treatment have been brought to Australia only after they have reached a critical stage.
Last year, a 22-year-old Iranian asylum seeker, Hamid Kehazaei, died of a heart attack after contracting septicaemia in the squalid conditions of Manus Island. Only once his life was in the balance was he airlifted for urgent medical care.
When black sites redefine torture
We cannot but understand these events in light of the guidelines on the allowable thresholds between life and death that could be reached during torture, which the US Office of Legal Counsel issued to the then US president, George W. Bush. Known as the Torture Memos, these guidelines licensed the culture of torture that pervaded the gulags of the war on terror.
The memos meticulously mapped the allowable threshold that could be reached before a prisoner could be said to have been tortured. Any violent act up to that point was allowable within the legal obfuscations of these infamous documents.
A particularly salient section from the Bybee Torture Memo states:
These [US anti-torture] statutes suggest that "severe pain", as used in Section 2340, must rise to … the level that would ordinarily be associated with a sufficiently serious physical condition or injury such as death, organ failure, or serious impairment of bodily functions – in order to constitute torture.
In other words, any violent action inflicted on the victim that fails to produce potentially fatal results is quarantined from qualifying as torture. While we understand that the comparison we are making would seem shocking to many, based on our long-standing research in this area we see no option but to identify practices in Australia's own Pacific gulags as tantamount to torture.
Recently, a whistleblower who worked in the Nauru detention centre went public with allegations that waterboarding took place in the compound and that cable-ties were used to chain asylum seekers to beds and fences.
His allegations, and the delays in providing medical treatment for asylum seekers and refugees until their condition becomes critical, lend weight to our argument that that there seems to be little or no distinction between care and punishment, or between asylum seekers and those identified as "enemy combatants" in the war on terror.
The Nauru whistleblower claimed some detention centre staff, including several former military personnel, harbour hatred toward asylum seekers "who they perceive to be the enemy, [though they are] the people they are supposed to be providing care for".
A growing number of voices are recognising that we have crossed a threshold. Official policies have converted people seeking refuge into the enemy, leading to the logic that they deserve not care but punishment and abuse from the state and its agents.
This has been an incremental process. In the 14 years since the arrival of the Tampa at a critical juncture in the war on terror, we have witnessed an institutional creep whereby governmental responsibility has been outsourced and dubious forms of law have licensed extra-judicial violence against people accused of no crime.
The recent release of the US Senate's torture report revealed, all too late, the damage such practices caused to US claims to be a nation of just law and ethical practice. Australia is now well down this same road.
---
This article has been amended since publication to correct the nationality of Hamid Kehazaei.