The yellow oBikes are set to leave Melbourne, with the Singaporean company reportedly breaking the news to Melbourne City Council on Tuesday morning. The decision came around two weeks after the Environmental Protection Authority issued new rules and fines around stranded bikes.
But while oBike crashed quickly (less than a year into its operation), this doesn't mean Melbourne just isn't cut out for bike sharing schemes. It's likely that others will survive – as long as they aren't dockless.
---
Read more: They know where you go: dockless bike sharing looms as the next disruptor – if key concerns are fixed
---
oBikes take Australia by storm
oBike was Australia's first dockless (or stationless) bike sharing scheme. Born in Singapore, it started operation in Melbourne in June 2017, with support from the City of Melbourne, City of Port Phillip and City of Yarra.
By October 2017, it had rolled out more than 1,250 bikes, achieving more than 150,000 sign-ups and more than 100,000 rides.
As a smart scheme, oBike centered on technology. In an attempt to maximise flexibility and convenience for users, but also minimise investment and hard infrastructure, the scheme didn't offer specific docking stations. Instead, prospective cyclists could reserve the nearest bicycle using a smartphone app, after which an individualised map would lead the user to the bicycle's location.
The bicycle could be unlocked by scanning a QR code on its body. At the end of the trip, it could be left in any designated bike parking area - or an otherwise safe and legal spot where it would not obstruct pedestrians or other transport. The rental fees were low: A$1.99 for half an hour (plus A$69 membership fee).
Short honeymoon
Its simple premise notwithstanding, oBike ran into difficulties from the outset. Within a few months of its Melbourne launch, discarded oBikes were reported to be strewn all over the city. People were dumping them in rivers and lakes, on footpaths, bus stops and private lawns.
Similar instances of vandalism and obstruction were recorded in other cities in which oBike rolled out operations, including Munich, Taipei, London, Kuala Lumpur and even Amsterdam, the world's bicycle capital.
Singapore – oBike's birth country and arguably one of the most law-abiding – wasn't immune from controversy either. In fact, one year into the scheme it had to resort to geofencing. This is technology that creates a virtual boundary around a bicycle to ensure it is parked in designated areas.
In Chinese cities, dockless bike sharing - provided by other companies, including Mobike and ofo - was suffering the same fate.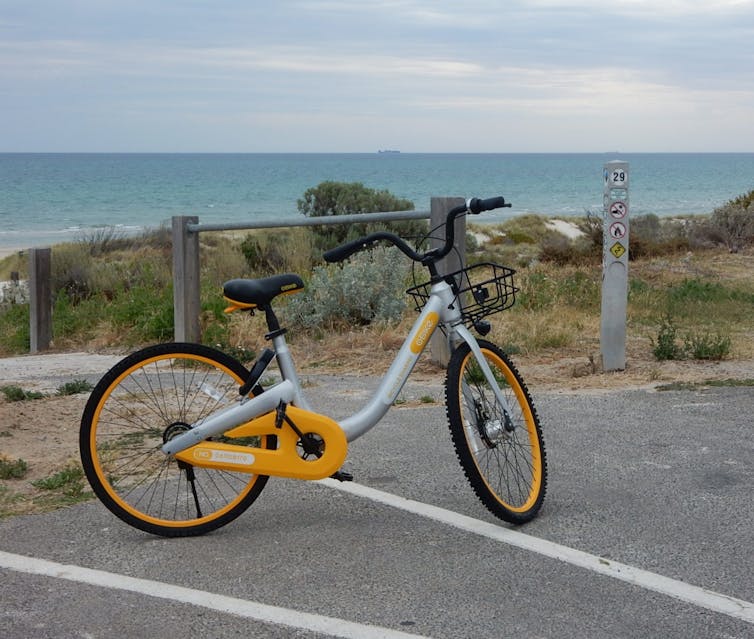 Back in Melbourne, local councils began impounding improperly parked oBikes to appease public uproar and reduce visual pollution. In early June, the Environmental Protection Authority escalated the battle by imposing a A$3000 fine on the company if an abandoned bike blocked a public space for more than a few hours. This is apparently what has led the company to halt its Melbourne operations.
Different interest groups have had different reactions to this announcement.
Different reactions
Cycling advocates have depicted the oBike scheme as a welcome urban amenity which Melbournians lacked the civic culture to appreciate and handle. As one commentator put it: "There is something about these bicycles that just doesn't click with Australians."
According to such views, insofar as it encourages cycling and provides last mile connectivity for commuters, dockless bike sharing is extremely beneficial – in socio-economic, environmental, and livability terms.
Technology enthusiasts have framed dockless bike sharing in a positive light too. They see it as another way to support the new economy, based on start-ups, sharing, and IT innovation. But the view is that, in oBike's case, it failed to gain traction with the Melbourne public because of the latter's shortsightedness.
By contrast, technology haters (or Luddites), cast oBikes as a "disruptive technology", which isn't necessarily in the public's best interest. They say, the fact we can adopt a new technology or shift travel mode doesn't imply that we should. All new transportation technologies have a "dark side" and, as such, require scrutiny, public criticism, and government control.
Critiques by anti-capitalists centre on the commercial nature of oBike operations. To this group, dockless bike sharing creeps into, and consumes, public space for private gain.
A recommendation for oBike's successors
It is unlikely the demise of the oBike has killed the bicycle sharing concept in Melbourne. New companies are likely to step into the market to fill the void that oBike will undoubtedly leave behind - despite the criticism that it attracted - seeing as Melbourne's cycling market is hardly saturated. And a publicly run scheme, Melbourne Bike Share, which employs docks, continues operation.
---
Read more: Here's what bike-sharing programs need to succeed
---
Melbourne and other Australian cities can and should do much more to promote cycling - whether through privately-owned bicycles or public bike sharing. A key ingredient for bike sharing schemes to succeed are docking stations.
International experience with the grand experiment of dockeless bike sharing – which is far too prone to vandalism – has demonstrated the world is not ready for it yet. This concept is, perhaps, ahead of its time. Or, indeed its time may never come.