Musicals have long depicted utopian worlds, offering an escape for audiences, if only for a few hours. When Richard Rodgers and Oscar Hammerstein's "Oklahoma!" premiered in March 1943, the musical was a perfect reprieve for audiences immersed in the day-to-day anxieties of World War II.
It offers a classic narrative: Two men, cowboy Curly McLain and farmhand Jud Fry, fight for the affections of one woman, farm girl Laurey Williams. This love triangle is played out against the backdrop of westward expansion at the outset of the 20th century. In the end, Curly prevails, and the musical closes with a rousing celebration of unity, statehood and nation-building.
"We know we belong to the land / And the land we belong to is grand! … " the cast sings. "You're doin' fine, Oklahoma! Oklahoma, O.K."
It's the sort of all-American story that connects audiences to our collective past – one of the same appeals that has made "Hamilton" a huge success today.
But as we celebrate the 75th anniversary of "Oklahoma!," I wonder, as a scholar of American music, if the favorite musical of high school drama teachers no longer resonates as it once did.
Said another way: Whose America did "Oklahoma!" depict? And is the musical's vision of the nation relevant today?
"Oklahoma!" was Rodgers and Hammerstein's first time working together as a team, and the duo based their musical on "Green Grow the Lilacs," a 1930 play by Lynn Riggs.
That story is also about white Americans and westward expansion, but there's a key difference: References to Native Americans and African Americans appear in Riggs' play. Characters talk frequently about "Indian Territory" and acknowledge the dangers of living there.
When Rodgers and Hammerstein adapted this narrative, their characters became blissfully unaware of the racial realities of their setting. Even though one in four cowboys were black, they didn't incorporate African-Americans; and while the show is set in Claremore, Oklahoma – smack in the middle of Cherokee Nation – there's no mention of the violent conflict and division of tribal lands that had been taking place since the 1887 passage of the Dawes Act.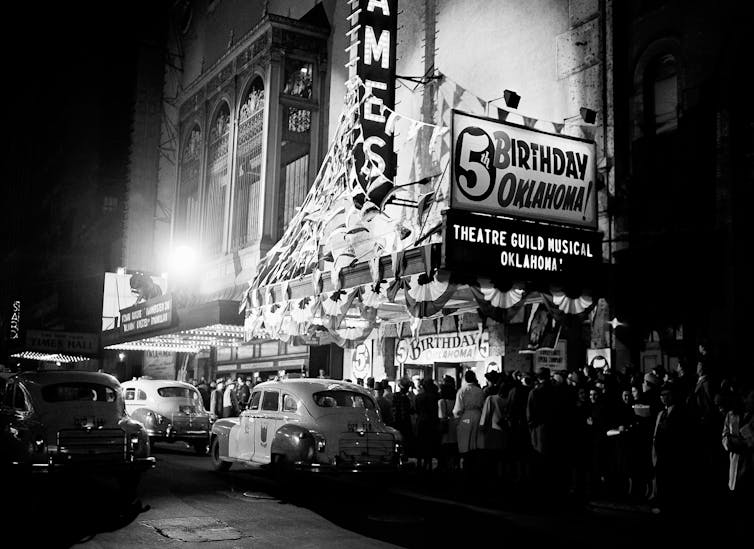 So where did they go? Musical theater scholar Andrea Most argues that the non-white figures find a home in the antagonist, Jud Fry.
In the musical, Fry is the embodiment of all things dangerous and dark, a brute who consumes copious amounts of alcohol and lives in a squalid shack plastered with pornography. At the time, in American entertainment, whenever writers wanted to set a character apart from proper, white society, it was common to deploy this trope. The symbolism isn't reserved for African Americans and Native Americans. Jud's character also embodies the looming danger of Imperial Japan and Nazi Germany.
When Curly sings "everything's going my way" in the opening number, he's not just talking about their collective prosperity; he's also referencing military victories abroad. Jud's continued presence threatens the forward motion of Claremore. According to Most, after Jud dies from falling on his own knife during a fight with Curly, he becomes "a sacrificial scapegoat … whose death cleanses the community of darkness."
The death of Jud is Manifest Destiny and a new world order two-stepping its way into the 20th century.
Of course, real life isn't so black and white: The day "Oklahoma!" premiered, Allied forces killed hundreds of civilians when they accidentally bombed a neighborhood in Rotterdam.
"Oklahoma!" ignores all of this. It favors a nostalgic vision of America's actions in the world, a necessarily reductive spin for theatergoers of its day.
But audiences of 2018 are more culturally sophisticated. Does "Oklahoma!" have a place in this America?
Musicals – then, just as now – offer an important window into American culture. And "Oklahoma!" can be seen as a work that captures an optimistic vision of America at a moment when its future remained very much up in the air.
But treating "Oklahoma!" as a museum piece – a work frozen in time, performed with full fidelity to the original version – doesn't feel quite right to me. At the same time, neither does removing it from the regularly performed repertoire of American musical theater. It remains an important show.
Perhaps it's on modern audiences to read between the lines when they watch classic musicals – to think about what's not appearing on stage, and why that might be the case.
But directors and performers can also play a role and can make creative choices that open up the narrative a bit. What if the cowboys were all dressed as police officers? What if Laurey was played by a Native American actress? What if Curly actually drove the knife into Jud, rather than Jud falling onto it on his own?
Creative re-envisioning doesn't need to only apply to "Oklahoma!" Any Broadway classic, from "Show Boat" to "A Chorus Line," should be eligible. Doing so can allow American actors, directors and audiences alike to reclaim the narratives of the past, while maintaining dialogue with the realities of our present moment.