The cinematic experience continues to be dominated by digitally led projects and audiences who increasingly expect more and more technical innovation. So it is refreshing when a mainstream cinema release consciously chooses to place traditional, artist-led techniques at its very heart. Hailed as the first "fully painted feature film" Loving Vincent – the story of Dutch post-impressionist Vincent Van Gogh – does just that.
Recreating Van Gogh's vivid impasto brushstrokes (where the paint is applied thickly to create texture and convey feeling), the film resembles the struggling artist's paintings come to life – and to mesmerising effect. But hidden beneath the beautifully painted flowing surface of animated oil paint and canvas, lie a number of sophisticated digital processes that helped bring this project to the screen. The result is a groundbreaking hybrid that perfectly bridges the space between a traditional artform and cutting-edge animation technology.
Loving Vincent was co-directed and co-written by husband-and-wife team Dorota Kobiela and Hugh Welchman – the Academy Award-winning producer of the 2006 stop-motion animated short Peter and the Wolf – and was produced jointly by Breakthru Films and Trademark Films.
The genesis of the film came from a very human place when, during a time of personal crisis, Kobiela, a trained painter and filmmaker, turned to the letters of Vincent van Gogh for comfort. It was in response to these letters that she developed the idea, originally intended to be a short film that would be a personal project.
Evolving Loving Vincent into a feature film was a six-year journey that allowed Kobiela to combine her passions for filmmaking, painting and the art of Van Gogh – bringing Van Gogh's tragic story and his distinctive art to life.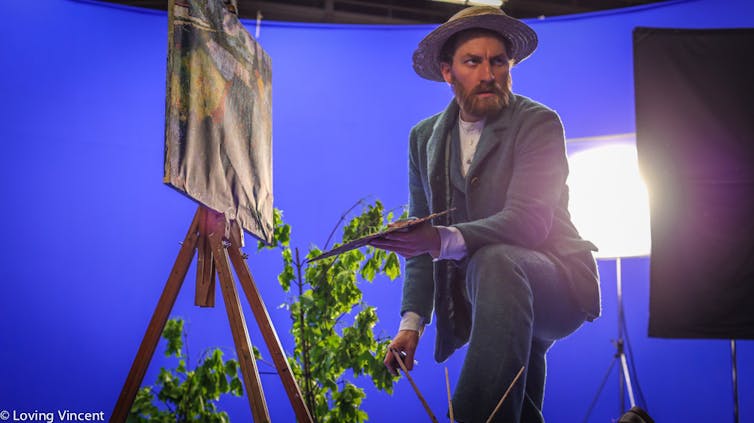 Inspired by more than 100 of his paintings and 800 of his letters, the film explores the final months of the then little-known post-impressionist painter and his untimely death in 1890 at the age of 37 – an event that remains shrouded in mystery and speculation. The story is visually interpreted through his paintings, including many of Van Gogh's most iconic portraits and landscapes, told in his own words and those of the people who knew him, from his brother Theo to his friend and fellow painter Paul Gauguin.
Naturally in this digital age, it was assumed that the film would be made using computer-generated techniques. But Kobiela and Welchman felt strongly that painting was the only way of bringing Van Gogh's work to life, remaining faithful to the essence of the original works and to Vincent himself. It would be a labour of love.
Bringing art to life
In 2014 following a year-long phase of painting design, computer generated layout and "previsualisation" – a method used in live-action and animated film making to get an idea of complex scenes before filming starts – the film was then shot with real actors. The cast included Robert Gulaczyk, Douglas Booth, Chris O'Dowd, Helen McCrory, Saoirse Ronan and Aidan Turner performing in a combination of green-screen studio stages and sets built in Van Gogh's style to replicate elements of the painted scenes.
This live-action footage was then combined with computer-generated visual effects such as digital backgrounds, buildings, clouds and animals, which would serve as key reference material for the animators. This footage, merging the actors and their surroundings was "rotoscoped" – a traditional method of projecting individual film images that are then traced frame-by-frame – by the painting animators in oil paint on canvas. It was a painstaking and meticulous process and a true testament to all the artists involved. The finished film has 65,000 frames and used more than 1,000 canvases and 4,500 litres of oil paint.
But it is one thing to paint a still image – a single moment frozen in time – like Van Gogh, it is quite another to animate in his style for a 94-minute feature-length film. So the production team set out to recruit a crew of artists – painter-animators – who could transform the live-action footage into painted form and yet remain faithful to Van Gogh's distinctive style. This meant capturing the same technique and spirit of the original work.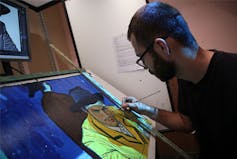 These painter-animators also required an essential understanding and feeling for the movement required – the ability to literally animate every brushstroke. Following applications from more than 600 artists, painting auditions were held and the successful artists received six weeks of training delivered by Kobiela herself. A total of 125 painter animators worked on the final film.
Based in the production's three studios at Gdansk and Wroclaw in Poland, and one in Athens, the painter-animators worked on PAWS (painting animation workstations) a new technology devised and patented specifically for the project by Breakthru Films.
These special workstations allowed the artists to focus on the creative processes of recreating the reference footage in painted form and then digitally capture the completed frames. Each PAWS unit housed a painting desk, a projector that allowed the live-action reference footage to be beamed on to canvas for rotoscoping, a customised lighting rig and a 6K resolution digital camera to capture and record each frame.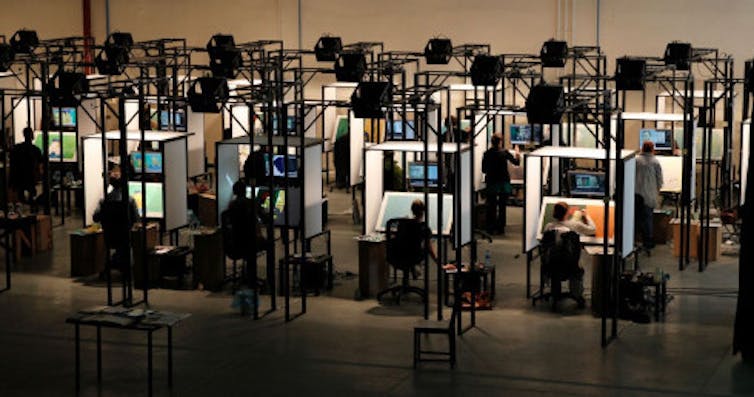 The end product is an exceptional, ground-breaking film. You cannot help but wonder how Van Gogh himself would have felt to see his extraordinary visceral paintings recreated as a moving film. For us lesser mortals, Loving Vincent is a rich visual feast that captures the spirit of a great artist who burned to receive recognition for his talent while he was alive.