Just before the London Olympic started, I wrote an article for The Conversation about predicting medal success. Now, with the Games behind us, it's worth considering how well these predictions turned out.
To recap, data from The Herald Sun and Infostrada predicted the following order for total medals received:
China
USA
Russia
Great Britain
Germany
Australia
France
Japan
Italy
South Korea
Kenya
Brazil
PriceWaterhouseCooper's analysis – based on a range of factors including population and average national income levels – had the same ten nations at the top of the table, but in a slightly different order:
USA
China
Russia
Great Britain
Australia
Germany
France
Japan
Italy
South Korea
Ukraine
Cuba
So how did these predictions stack up? Well after sixteen days of competition the final tally for the top 12 nations in the total medals table was:
USA
China
Russia
Great Britain
Germany
Japan
Australia
France
Republic of Korea
Italy
Netherlands
Ukraine
The 12 leading gold medal winners were: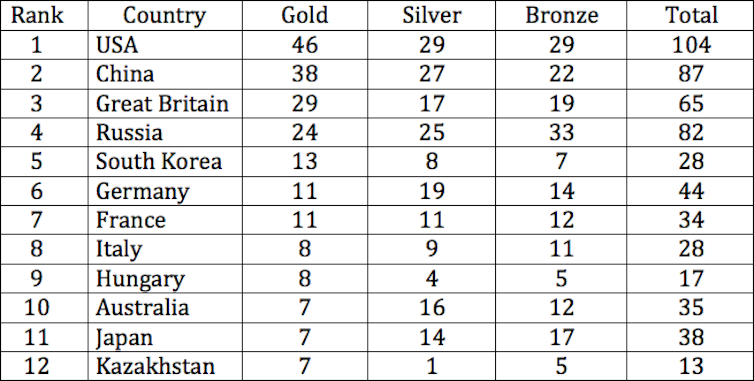 The performances of the USA, China, Russia and Great Britain are largely unsurprising, but there are a number of notable entries in that list.
For a start, it's the first time since 1996 that Hungary has appeared in the top 12 gold medal-winning nations. At the same time it was Khazakstan's most successful Olympic Games ever thanks to gold medals in four sports (athletics, boxing, cycling and weightlifting).
New Zealand, Jamaica, Iran and the Democratic People's Republic of Korea had a very successful Games too. They won eighteen gold medals between them (three of them by Usain Bolt).
The following graph shows how the top nations accrued gold medals throughout the Games: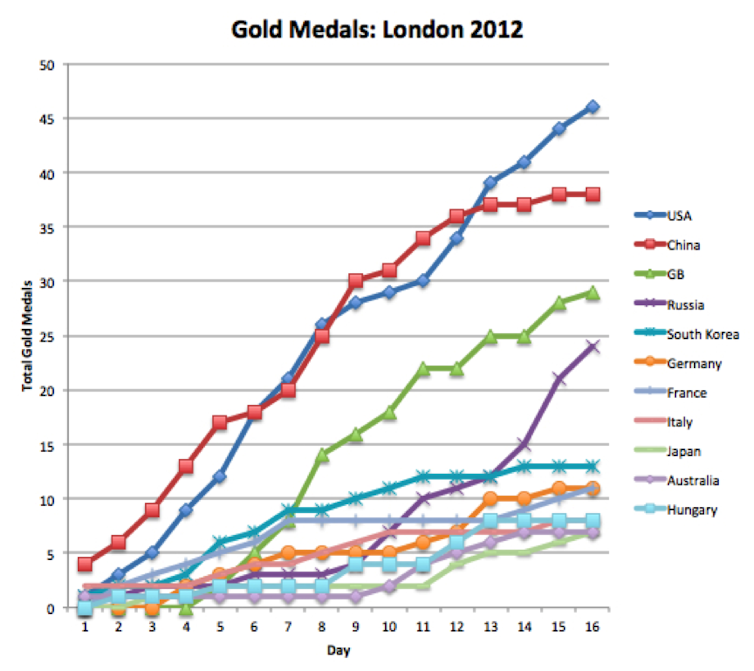 This graph shows overall medal success for the ten top medal-winning nations: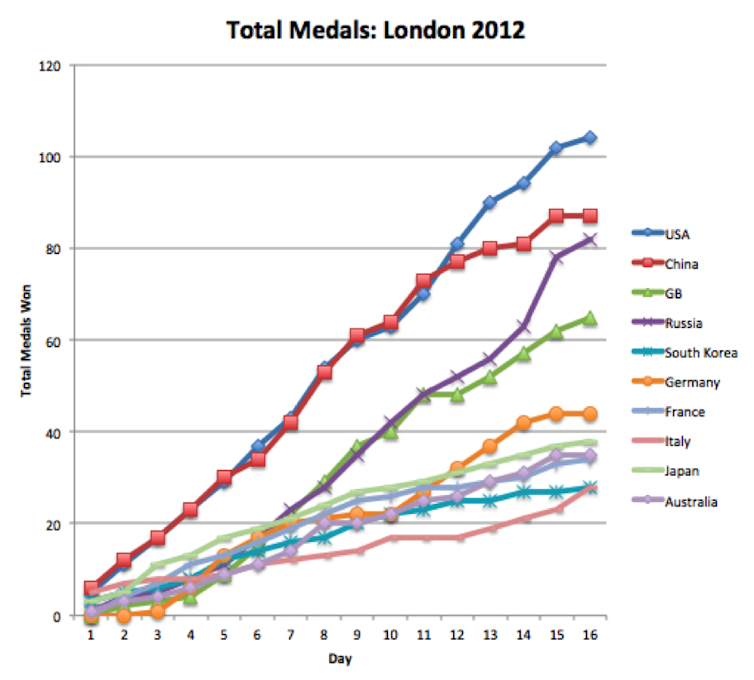 Prior to the Games, performance data from Infostrada and the Herald Sun suggested Great Britain would win 63 medals in total (17 gold, 27 silver, 19 bronze medals), finishing fifth in gold medals won and fourth in the overall medal table. They weren't far off the mark with Team GB managing 65 medals.
The biggest difference between the Herald Sun/ Infostrada predictions and reality was that Great Britain inverted the gold medal to silver medal ratio and won 29 gold medals to 17 silver medals. This conversion rate put the host nation into third place on the gold medal table (behind USA and China) and fourth overall in the total medals won (behind USA, China and Russia).
New Zealand computer scientist Craig Nevill-Manning has compiled a list of the most successful medal winning nations per capita of population at the London Games. Grenada topped his list, Bahamas were second, Jamaica third and New Zealand fourth. Professor of Economics Bill Mitchell compiled a list of medal-winning nations ranked against gross domestic product and found that Mongolia came third thanks to five medals in boxing, judo and wrestling.
Socio-economic and demographic models of performance from Professor Dan Johnson of Colorado College underestimated Team GB's performance, suggesting a total of 45 medals (compared with 65). He also underestimated the number of gold medals Great Britain would win: 20 gold medals versus the 29 they ended up with.
Dan Johnson's other predictions were more accurate: he predicted Russia's 82 medals and was one off Korea's total.
PriceWaterhouseCoopers were correct with their prediction of 87 medals for China and were one off the totals won by Korea and Italy. Dan Johnson picked up on Hungary's improvement and was within two medals overall and one gold medal (he predicted seven; Hungary won eight).
It would come as no surprise that all medal predictions overestimated Australia's performance at the Games. It was noticeable that while Great Britain were transforming silver into gold, Australia was fifth on the table of silver medal winners: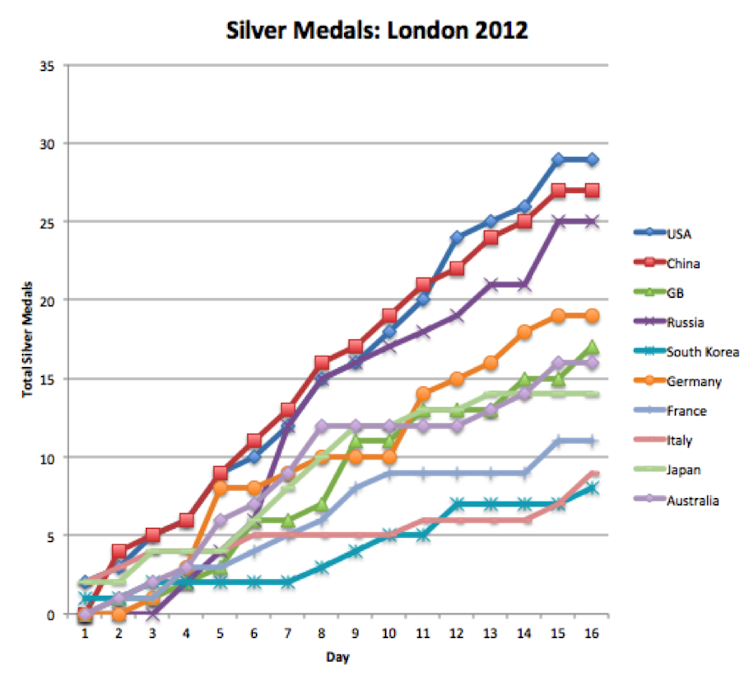 Russia was the leading bronze-medal-winning nation and had a strong second week at the Games that moved it to third on the overall medal table: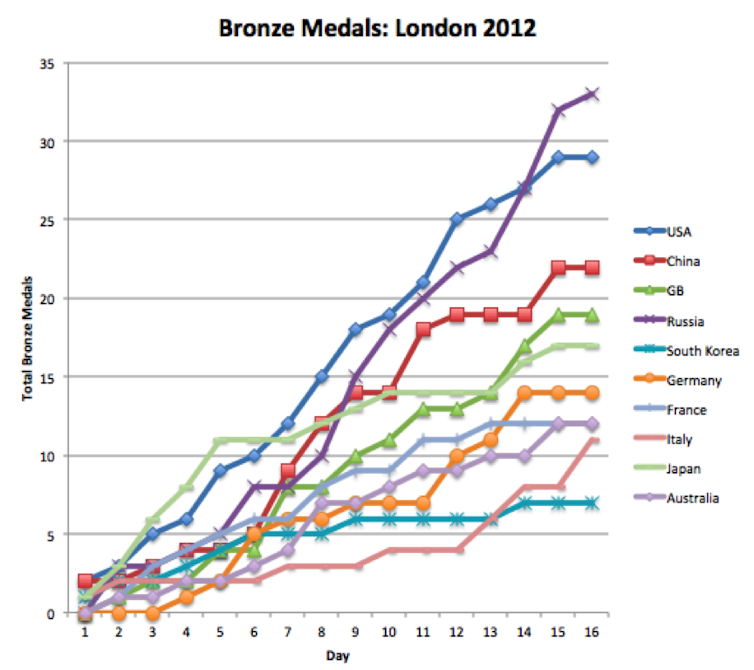 This was the first Olympic Games with a very public betting market and prior to the Games, I checked on the odds being offered by a leading United Kingdom bookmaker, William Hill.
Of the 310 favourites in their markets there were 137 winners. If you were using the bookmaker's guide to success – backing the favourites – you would have had a 44% strike rate.
You would have been able to back the four teams that won basketball and handball gold. Swimming (67%) and Athletics (55%) gave you a better-than-chance opportunity to pick winners. But if you were keen to make money on the outcome of the canoe slalom events then you should have avoided the market (0% success).
As is ever the case at the Olympics, many nations performed above expectations (Kazhakstan and Grenada, for instance), other nations performed below expectations (including Australia) and others did much as expected (China and the USA).