Decoupling people from their culture is a perennial tactic in war. The millions of Syrian refugees now seeking asylum across Europe retain little of their material culture, and within Syria cultural material is targeted for destruction. But people's stories, songs and music do not need suitcases to survive, and it is worth being reminded that war is transient, regimes pass, but culture and identity are shared, enduring and powerful constructions.
In March, I was part of the audience invited to a screening of an extraordinary film, On the Banks of the Tigris (2015) – the product of 10 years of vision, belief, and sheer hard work by documentary filmmaker Marsha Emerman and Iraqi-Australian writer and actor Majid Shokor. The film chronicles Majid's journey to reconnect with the music he loved as a child and which he heard in coffeehouses, on the radio and in the markets of Baghdad.
Last month, the film was awarded Best Documentary Film at the Baghdad International Film Festival. The award celebrates the resilience, in the face of relentless attack, of the people who create, nurture and preserve cultural identity.
On the Banks of the Tigris is, at its heart, the story of culture triumphing over regime. It presents Iraq as a significant multicultural centre, where Jewish, Christian, and Islamic traditions were welded together in a unique Iraqi culture that today appears almost utopian.
It explores the influence of Iraqi Jewish musicians in the cultural life of Iraq, charting their passage from Baghdad to Israel, from celebrity to anonymity. And it reflects on Majid's own journey as a refugee from Saddam Hussein's tyranny, and the journeys of so many like him.
In Australia, the memory of the music of his childhood leads Majid to explore its history and to uncover the extraordinary truth that much of this music, still loved by Iraqis, was composed and performed by Iraqi Jews. This revelation takes Majid from Australia to Israel, Europe and Iraq to meet Iraqi-Jewish musicians, and other great Iraqi musicians, and to learn their stories.
Kawkab Hamza, one of Iraq's most famous songwriters in the 1960s, explains how the then Vice President, Saddam Hussein, contrived to erase the names of Jewish composers and other musicians unsympathetic to the regime. Refusing Saddam Hussein's "invitation" in 1973 to join a committee to "review Iraqi musical heritage", Hamza fled the country, with devastating results for himself and his family.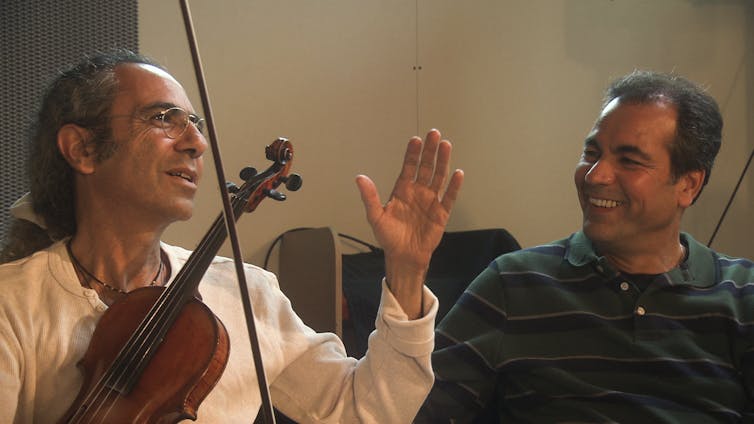 In Israel Majid hears acclaimed composer, violinist, oud player, and singer Yair Dalal. Born in Israel to Iraqi-Jewish parents, Dalal performs traditional Iraqi music as well as his own compositions and teaches Iraqi music to young Israelis. "Arab" music, once dismissed in Israel, is now all the rage, an irony not lost on Dalal or those students from Arab-Jewish backgrounds.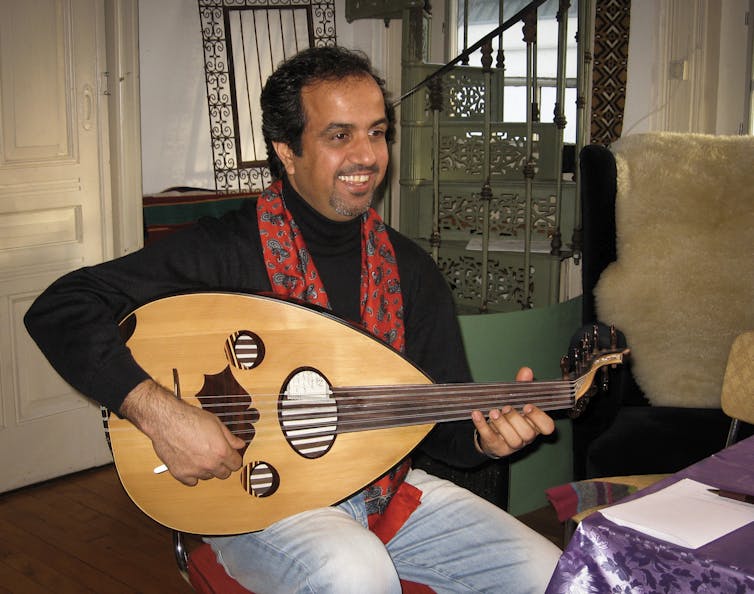 In the UK, Majid meets master oud player Ahmed Mukhtar, a composer and recording artist, born in Baghdad but a political refugee in the UK where he teaches oud and Arabic music theory at the University of London.
In the Netherlands, Majid watches Farida Mohammad Ali, the first woman teacher at the Baghdad Institute of Music and considered the greatest living interpreter of Iraqi maqam singing, perform with the Iraqi Maqam Ensemble.
The film culminates with a celebratory and jubilant concert at London's Barbican Centre, thus realising Majid's ambition to bring Iraqi musicians of all faiths together again.
Regimes dislike culture that is not theirs to own. They dislike the contradictions inherent in cultural production: the mercuriality and immutability of cultural identity, the recklessness and cautiousness of cultural activity.
Regimes also dislike culture that is presented in a language they cannot understand. This dislike often manifests in attacks on the people who create, nurture and protect culture: the murder of the great Chilean singer Victor Jara; of Oromo musician and poet Ebisa Adunya; or more recently of the traditional Syrian folksinger Ibrahim Kashoush, or the great Palmyra archaeologist, Khaled al-Asaad.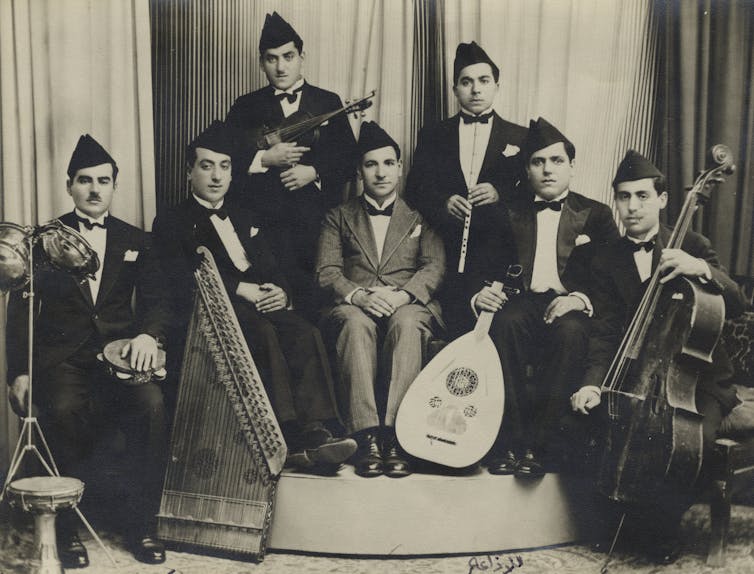 Asylum and relocation are leitmotifs that run throughout the film. In the 1930s, Jewish Iraqis comprised a third of the population of Baghdad. By the late 1960s most had fled. As a young aspiring actor, Majid was forced to flee Saddam's regime with his wife and two young daughters in 1995. In Australia singing songs from his childhood helped retain his links to the Iraq he loved.
A world away in Israel, elderly diasporic Iraqi-Jewish musicians meet regularly to play this music for the same reason.
On the Banks of the Tigris is an extraordinary story of cultural resilience and identity. When war and conflict dominate the news, this film reminds us that real heroes play music, tell stories, and, in this case, make films.
On the Banks of the Tigris will screen in Sydney on November 8 and in Melbourne on November 12 and 15 as part of the Jewish International Film Festival. Details here.