This was supposed to be the most political Academy Awards in history. One man was expected to overshadow the ceremony: and not the gold one that stands 8½ inches tall.
If one thing was certain, it was that US President Donald Trump by no means felt it beneath him to wade into Hollywood politics. Trump had already engaged in a social media spat with 20-time Oscar nominee Meryl Steep, whom he deemed "over-rated" after she denounced his mocking of a disabled reporter at a campaign rally in her Golden Globes acceptance speech in January.
And President Trump's executive order banning travel into the United States for citizens from seven countries had also affected the ceremony as it applied to some of the nominees. Khaled Khateeb, cinematographer of Best Documentary (Short Subject) winner, The White Helmets, was blocked from entering the United States. And Asghar Farhadi, the Iranian director of Best Foreign Language winner The Salesman, boycotted the ceremony.
Only 72 hours before the show began, the six directors nominated in the Best Foreign Language Film category released a joint statement about the "climate of fanaticism and nationalism" engulfing the contemporary world.
This tone continued into the ceremony itself. Various comments about "immigrants", "politically charged times", "walls that want to separate us" and that tolerance is "more powerful than fear of the other" all featured in the four-plus hour ceremony, not to mention host Jimmy Kimmell's various jabs at Trump, including tweeting him during the telecast.
The individuals who did not pepper their speeches with calls for love and acceptance became more notable than those who did. First winner of the night, Mahershala Ali, who delivered a stirring speech at the Screen Actors Guild awards last month about acceptance, didn't replicate this for the Oscars; nor did Casey Affleck say anything remotely political (this may have been due to recent controversy surrounding him and sexual harassment allegations). But from animators to make-up and hair stylists, everyone else added their personal voice to the crowd cheering for inclusivity and tolerance.
But, then, Warren Beatty was given the wrong envelope (the envelope for Best Actress, won by Emma Stone from La La Land earlier in the evening), looked a bit confused, and handed it to co-presenter Faye Dunaway, who announced that La La Land won Best Picture. Cue the la la music, hugs, cheers, and the entire La La Land team up on the stage. But then, after a few minutes of speeches, it was stated on-stage that Moonlight had actually won. To clear up any doubt, the correct envelope and card was displayed for a crucial close-up.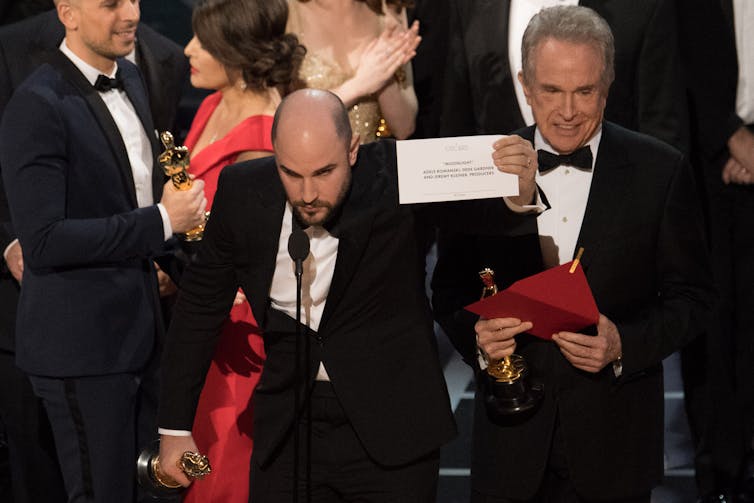 La La Moonlight
There have been Best Picture surprise winners in the past (this was especially the case in 1998 when Shakespeare in Love triumphed over Saving Private Ryan). But never has there been a gaff as momentous as presenting the wrong people with an Oscar. There has been a persistent rumour that Marissa Tomei, Supporting Actress winner in 1993 for My Cousin Vinny, was incorrectly given the award by Jack Palance. But this was denied by the Academy, and if a mistake had been made, a representative from PwC, who count the votes, would have stepped on stage and cleared up the confusion, as we found out on Sunday night.
The slip up was particularly apt considering the two films. Expected Best Picture winner, La La Land, has become a lightning rod for debates about its merit in these politically charged times. Some defend the musical love story as a welcome return to old-fashioned musical nostalgia, an invocation simply to feel, while others thought the film indicative of the posturing and posing, the fakery of the age.
Moonlight was the opposition to La La Land: complex, arty, diverse. While it may not be unique for an American film to explore the life of a African-American boy in a poverty stricken environment, it is unusual to produce a film that presents an African-American gay male, focusing on his vulnerable masculinity. La La Land suffered under the weight of the inevitable backlash against frontrunners and crowd-pleasing films.
Both films, I would argue, were worthy Best Picture winners. Both took risks. It should not be overlooked that La La Land's budget was US$30m dollars, considered a small to medium budget in Hollywood. And although the death of the musical has been overstated for decades, films that evoke classical musicals like Singin' in the Rain or European pastiche musicals like The Umbrellas of Cherbourg are not generally produced in Hollywood.
But Moonlight has been, so far, immune to criticism and is groundbreaking as the first queer film to win Best Picture – and at a snip (various figures have been quoted, from US$1.6m to US$5m). A truly political victory.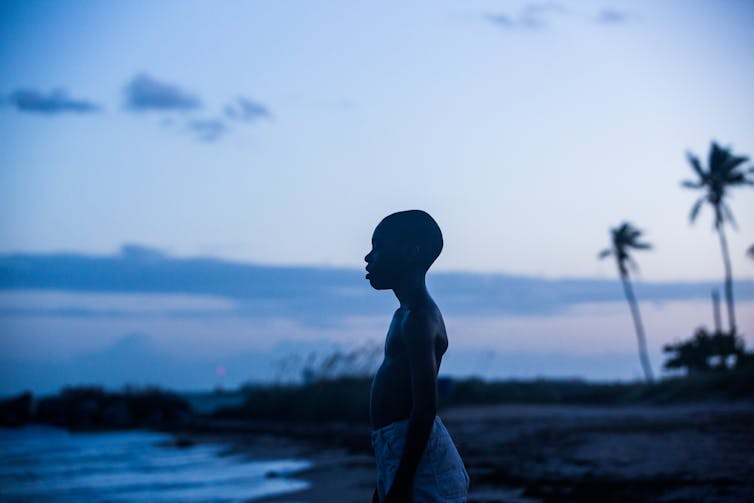 A ceremony for our times
Despite this, the overwhelming politicism of this year's awards were drowned out by the slip up.
The annual Hollywood event has not been immune to political sentiments or speeches in the past. Most point to Marlon Brando's 1973 refusal to accept his Academy Award – sending actress and president of the National Native American Affirmative Image Committee, Sacheen Littlefeather, in his place to discuss the plight of Native Americans – as the point when the Oscars and politics really came together.
But since then, each political speech has generally been met with widespread criticism, eliciting comments about the inappropriateness of Hollywood elites remarking on political contexts that rarely impact their own lives. The glittering fantasy of the ceremony certainly appears at odds with the socio-political reality of countless viewers.
This year, something seemed to have shifted. Politics was no longer an aside at the end of a self-congratulatory speech, or deemed difficult to swallow given the privileged audience in the Dolby Theatre (although it did feel slightly patronising when Kimmell paraded in "real people" from a Hollywood bus tour and had them, awkwardly, interact with the celebrities in attendence). This year, politics suffused the lead up to the awards, and the ceremony itself. So it is somehow appropriately ironic, given the political climate, that this has been overtaken by a blunder from an accounting firm.
This year's Oscars provided audiences with both glitz and glamour, and sombre reality, just like the two films that were announced as Best Picture winners. These two films accurately reflect the paradoxes our times.