Women and girls living in Syria and Iraq have been subject to gross sexual violence, economic strife and the psychological trauma of a war that, to them, seems endless. But women in these countries are not just victims of violence, they are also great agents for change. These women should be our best allies in the fight against Islamic State.
We have seen reporting on female Kurdish fighters; women who were university students, mothers and grandmothers. But women are not just taking up arms. Though missing from the news, women in Syria and Iraq are also working towards peace. For example, in the suburbs of Damascus, a women's group negotiated a 40-day ceasefire between regime and opposition forces to allow the passage of essential supplies.
The US-led international coalition needs to go beyond seeing women as passive victims of this war. Instead, it needs to connect with these women, whose work is central to long-term stabilisation and peace in Syria and Iraq.
What is the world doing to help these women?
Nearly eight in ten of the 6.8 million people who have been displaced by the conflict in Syria are women and children. The United Nations has appealed for more than US$2.2 billion to meet critical humanitarian needs of displaced people, but the international community has committed only one-third of what is needed.
Gender concerns are being integrated into humanitarian planning and programming, but women and girls still face huge challenges.
The International Rescue Committee recently completed a large survey of Syrian women and girls. When asked "what are the biggest challenges you are facing?", the most common responses related to the daily reality of sexual exploitation and harassment:
Constantly fearful, women and girls told us about extreme levels of harassment.
Islamic State is using sexual violence as a weapon of war. The United Nations in Iraq has said that:
… some 1500 Yazidi and Christian persons may have been forced into sexual slavery.
When sexual violence is used as a weapon of war, the social fabric needed to recover from conflict is threatened. Even the UN Security Council has stated in the past that sexual violence:
… can significantly exacerbate situations of armed conflict and may impede the restoration of international peace and security.
The women leaders we could be supporting
There is increasing acknowledgement that victory against Islamic State will take more than just dropping bombs. We know from recent experiences in Afghanistan that violent extremism thrives in places where governance and the rule of law are virtually non-existent. There, military analysts knew that coalition forces were being out-governed by the Taliban.
Local community leaders in Syria now fear that people will become radicalised in places where there is no employment, education or other opportunities. But there can be no stability if we do not address the security concerns of half the population.
October 31 marks the 14th anniversary of the landmark UN Security Council Resolution 1325 that formalised women's participation and protection as a priority of international peace and security. It was the first in a suite of seven resolutions to acknowledge the disproportionate impact of conflict on women and girls.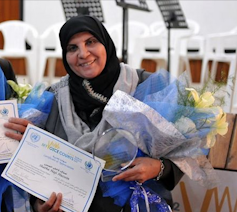 That resolution obliges member states not just to protect women from sexual violence, but also to increase their participation in prevention, mitigation and resolution of conflict.
In Iraq, women like Shatha Naji Hussein work to secure the right for women to build a safer future. It's a two-way process between civil society and government to empower women to bring about positive change in their communities. It's women like this that the international community need to support in the fight against Islamic State.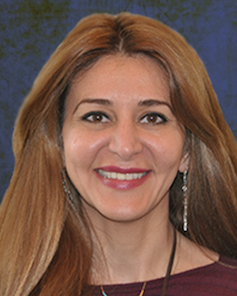 We need to support women like Honey Al Sayed, who is promoting leadership and tolerance in Syria by communicating positive messages at the grassroots level, particularly to youth groups. She co-founded the online radio station Radio SouriaLi, which promotes civic engagement, community development and responsible citizenship, under the motto "Unity in Diversity".
Only with local leadership can there be effective conflict resolution and transition. Women like Afra Jalabi, who started The Day After Project, have developed plans for a post-conflict, democratic Syria.
The Syrian Women's League has conducted a comparative assessment of constitutions in the region to establish a set of guiding principles for a new Syrian constitution.
What Australia and our allies can do
At the Annual Civil Society Dialogue on Women, Peace and Security on September 23, Australia's Minister Assisting the Prime Minister for Women, Senator Michaelia Cash, said:
… there are countless other women who have the skills and capabilities to participate in peace-building and peacekeeping. But they are denied the opportunity. This must be remedied.
Having made military commitments to the conflict with Islamic State, the Australian government now needs to prioritise the commitments made in the Australian National Action Plan on Women, Peace and Security 2012-2018. It is a whole-of-government policy, which has bipartisan support.
One of the strategies of the National Action Plan is to "take a co-ordinated and holistic approach" to women, peace and security.
Of course, Australia and our allies need to invest in the protection of women and girls affected by the conflict in Syria and northern Iraq. But as Cash rightly pointed out, women are not merely victims in this conflict: they also have vital skills and local knowledge.
To defeat Islamic State in the long run, the world needs to support Iraqi and Syrian women to be more actively involved in conflict mitigation, resolution and peace processes. Australia could be doing more – and we need to be pushing our allies to do the same.