Traditional Christmas and winter food and drinks such as mulled wine, eggnog, ginger bread and fruitcakes often call for more than a dash of what Jamie Oliver calls "festive spices" – cloves, cinnamon and nutmeg.
These spices may give us more than just a taste of Christmas: they may be helping to bring on the Christmas cheer with subtle intoxicating effects. Could it be that these aromatic spices – especially nutmeg – are actually getting us high?
Spices that are are good to think (with)
Most of us don't often reflect on what are, after all, commonly found ingredients on our spice racks.
But, with apologies to French anthropologist Claude Lévi-Strauss who said that animals are "good to eat" but they are also "good to think", spices aren't just good to eat, they are good to think (with).
Spices and other aromatics have been a driving force in human history, with economic, political and religious significance. The aromatics frankincense and myrrh were, after all, brought by the Three Wise Men to the baby Jesus.
In addition to their use for flavour and food preservation, many spices and aromatics were used as drugs. First introduced to Europeans by Arab traders in the 12th century, nutmeg already had a long history of medicinal use around the Indian Ocean and in Asia, including as an aphrodisiac. Recent research suggests this aphrodisiac effect may have a clinical basis.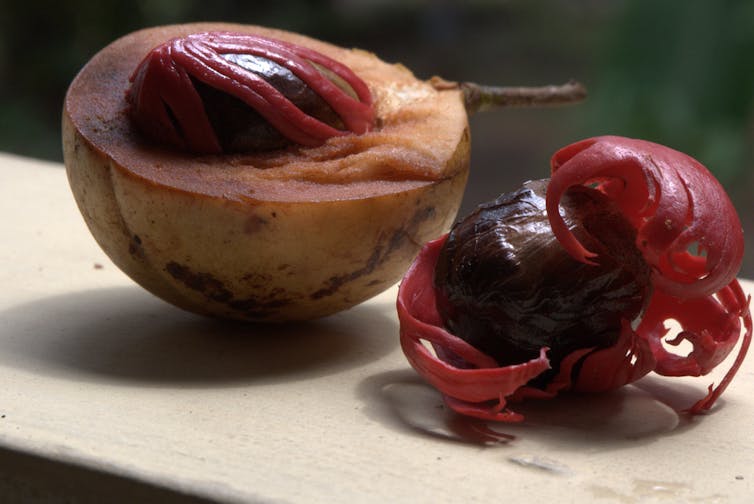 Nutmeg and cloves were once grown only in their native islands of the Moluccas or "Spice Islands", within Indonesia. According to the Chinese traveller Wang Duyuan Chinese merchants were visiting the Moluccas as early as 1350 in search of cloves, which were valued medicinally.
Marco Polo, famed Venetian traveller and also an astute observer of international trade and marketing, wrote of Java in his Travels (c. 1300):
Pepper, nutmegs … cloves, and all the other valuable spices and drugs are the produce of the island; which occasion it to be visited by many ships laden with merchandise that yields to the owners many profits.
The role the "Spice Islands" played in Indian Ocean history and successive waves of Portuguese, Dutch, French and English colonialism has filled the pages of many history books. More recently this history has featured in Kate Humble's culinary travel documentary by the BBC.
In what is often called Portugal's national epic, the Luciads (1572) in which Vasco de Gama's historic voyage by sea to India in 1498 is a central part, the poet Luís Vaz de Camões wrote:
Dry'd in its flower, the nut of Banda's grove,
The burning pepper, and the sable clove;
The clove, whose odour on the breathing gale,
Far to the sea, Molucca's plains exhale.
Nutmeg's hidden lift
But let's return to Christmas cheer, and the possibly intoxicating effects of the festive spices – especially nutmeg.
In Europe, reports of nutmeg intoxication date to the 1500s. It was also widely used as a medicine for stomach ailments, as a stimulant and as an (unsuccessful) abortifacient.
In The Canterbury Tales (1390), Chaucer mentions nutmeg being added to ale, and it is possible that this was for more than flavour.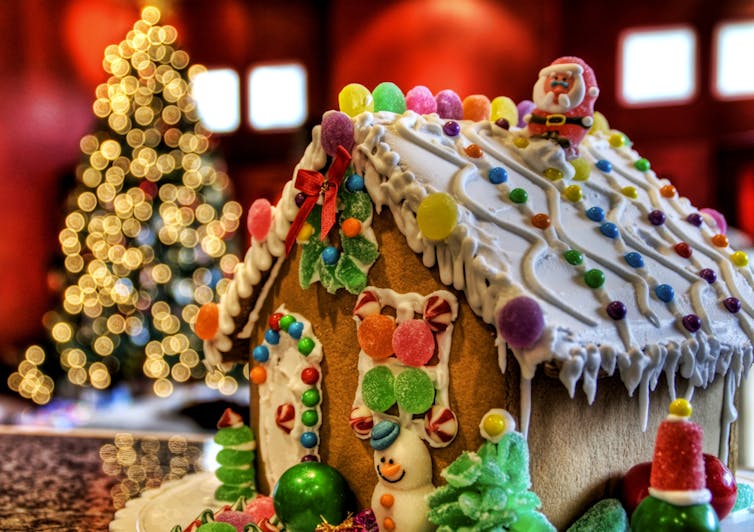 Nutmeg is still widely used in Indonesia, added to milk as a calming drink for children. In the Moluccas, nutmeg oil is used to soothe headaches and abdominal pain by rubbing it into the stomach or forehead. Nutmeg and mace (also from the nutmeg fruit) were also used to treat diarrhoea and other ailments.
In the 19th century, the mind-altering properties of nutmeg were described by Czech physiologist Purkinje in the form of dream imagery and an inordinately long walk to the Royal Theatre in Berlin.
More recently nutmeg has been considered something of a prison drug with cannabis-like effects. In his autobiography, African-American human rights activist Malcolm X wrote about his prison experience with nutmeg:
a penny matchbox full of nutmeg had the kick of three or four reefers.
Large doses of nutmeg or nutmeg extract often also produce unpleasant results including headaches, nausea and in some cases hallucinations. In two extremely rare cases fatality has been reported.
But the best documented case also involved the ingestion of a potentially lethal does of Rohypnol. In any case, the need to take large doses, the limited potency and the unpleasant side effects have limited the abuse of nutmeg, so we are unlikely to see a craze of nutmeg intoxication on our streets any time soon.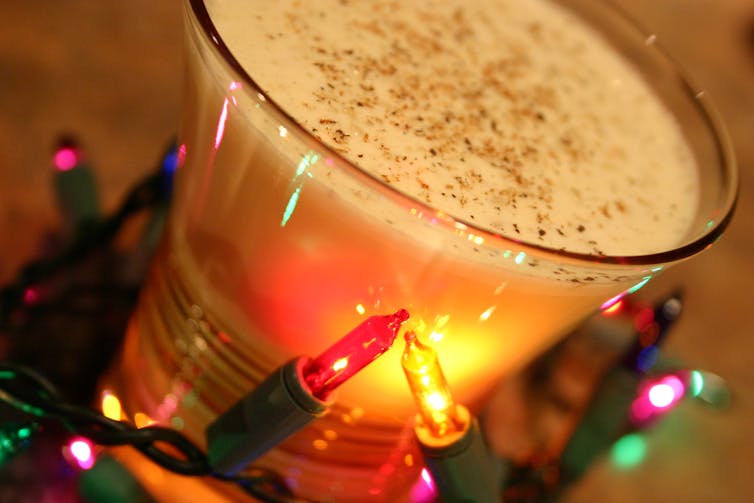 Still, the question remains – is that warm glow we feel after indulging in nutmeg and spice-laden food the result of an unexpected chemical pick-me-up?
In 1966 pioneering American chemist Alexander Shulgin proposed that the essential oil myristicin present in nutmeg might be transformed within the body into amphetamines, thus explaining nutmeg's psychotropic effects. But this remains unproven and speculative.
According to Czech chemist Professor Jeffrey Idle, it is also plausible that small quantities of these amphetamines are produced in cooking of traditional recipes such as gingerbread which call for healthy dashes of nutmeg and other essential oil rich spices.
It is possible, regardless of the mechanism, that small quantities of chemical substances in nutmeg and other spices might be contributing to our holiday cheer. But Idle also points out another, perhaps more likely, scenario – the smell of these spice that stimulates pleasurable memories.
So rather than some subtle and slightly illicit buzz, that holiday cheer may just be a Proustean madeleine effect – an involuntary memory – as those aromatic spices bring back the happy holiday memories of Christmas past.


This article is part of The Conversation's End of Year series.