When the US Congress finally agreed in June to give the president fast-track negotiating authority, many trade supporters hoped that the final obstacle to completion of the Trans-Pacific Partnership (TPP) had been breached. This agreement, currently in the final stages of negotiation, would create a massive trading bloc among the United States, Canada and 10 Pacific countries, including Japan.
Two challenges now make that prediction appear overly optimistic. First, there remain a number of serious disagreements that need to be hammered out before any agreement can be concluded. And, second, these disagreements are pushing future negotiations into the election seasons of Canada and the United States, injecting more political uncertainty into TPP discussions.
As a result, pressure is growing to wrap up the talks as soon as possible.
The major sticking points
So what are the sticking points holding back the final conclusion of TPP?
Intellectual property (IP) issues are generally among the most controversial in any trade agreement, and this one is no exception. The United States, home to much of the world's drug industry, is pushing for longer pharmaceutical patents than many other countries are willing to stomach. And the US is arguing for longer copyright restrictions – as well as stronger punishment for IP violators – than most of its negotiating partners would prefer.
Another controversial issue has been the inclusion of investor-state dispute settlement (ISDS) mechanisms in the agreement. These mechanisms would allow private corporations to demand compensation from states, through quasi-judicial international panels, for violations of TPP that directly harm their interests.
The panels would not be able to force states to change their regulatory or financial policies, and TPP is hardly the first agreement to include ISDS. Nevertheless, the threat that an international panel could force states to pay compensation to corporations has generated significant backlash in many countries – just as it did in the US during the debate over fast-track. Australia, for example, is demanding a "carve out" for ISDS on environmental and health policies.
Other disputes center on more traditional trade issues. Japan, which sources many of its car parts from outside of countries included in the TPP agreement, is pushing for looser content restrictions on automobile manufacturing. Canada and Mexico oppose this move, arguing that most of a car's content should be produced inside the TPP zone in order for it to qualify under the agreement's more open rules.
And on the agricultural front, Australia is seeking more access to the US sugar market and (with New Zealand) to the Canadian dairy market.
All of these sticking points in the agreement represent only a small proportion of the total issues that have already been resolved. But it is also true that the toughest issues in international diplomacy typically get saved for last.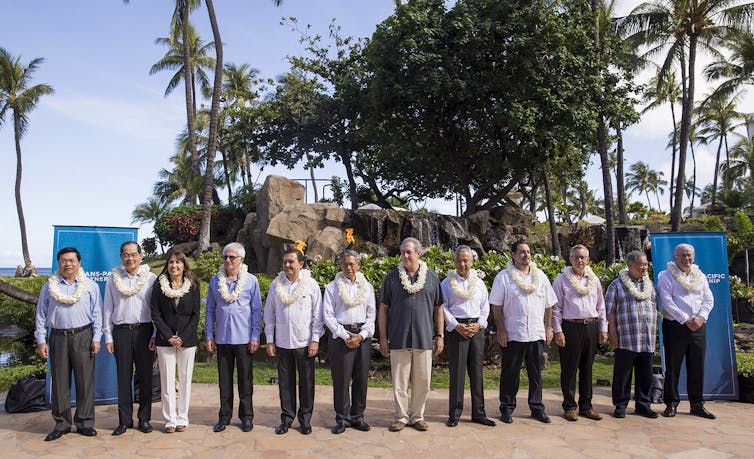 Election season poses a challenge
Now, to these challenges, we can add the upcoming elections in the United States and Canada.
In the US, there is a good chance that TPP, and trade policy more generally, will become an issue in the 2016 presidential election. That said, the extension of fast-track means that it would take a very serious revolt in Congress for TPP to be rejected.
More serious, perhaps, is the situation in Canada, where elections are coming up in October. The current conservative government, which supports TPP, could be replaced by a more skeptical party. Moreover, during election seasons, existing "caretaker governments" are generally expected to refrain from any new policy initiatives (though the Harper government seems intent on completing TPP).
What, then, will be the future of TPP? Will the negotiations come to a successful conclusion, and will the agreement be ratified by all of the signatories?
These are difficult questions to answer, but all 12 countries have already invested significant political capital in the negotiations. In the United States, for example, TPP is one of the planks of President Barack Obama's "Asia pivot" strategy. And the looming presence of China pushing many TPP states together should also not be forgotten.
In the end, then, it seems likely that TPP will be concluded and ratified. In what form and with which stipulations remain to be seen.