A new reconciliation deal between Palestine's two main political parties, Hamas and Fatah, is the first successful attempt to bring the two sides together in years. If implemented, it could see them finally form a single authority to oversee all the Palestinian territories. But anyone who follows the politics of Palestine closely will know not to take the much-ballyhooed accord for granted until it's actually put into practice.
The sheer number of factors at play makes true unity among Palestine's leaders extremely difficult to achieve. Foremost among these is the Israeli occupation and its ever-deepening expansion and belligerence. In practice, Israel controls the entirety of historic Palestine from the Jordan River to the Mediterranean Sea. While it may not control Gaza on the inside, it has total control over its airspace, sea and almost all its borders.
Yet this is not to say that Palestinian leaders themselves are blameless. For 11 years, Palestinians in Gaza and the West Bank have been separately ruled. The two are committed to contradictory political programmes; they have spent too much time locked in damaging squabbles, more than once apparently closing in on a deal and then failing to seal it.
Small wonder then that the current Egyptian-sponsored plan for reconciliation and consolidation of authority has been welcomed by Palestinians in both areas of control. So far, only Israel has objected. Its hawkish prime minister, Benjamin Netanyahu, responded with the usual demands for Hamas to recognise Israel as an exclusively Jewish state – the implication being the acceptance of its prerogative to enforce the status quo.
Locked in
Of the two Palestinian factions, Hamas in particular is in a squeeze. As its popularity ebbs away – its worst fear realised – it seems to be waking up to the need to change tack.
Far from the party of resistance it claims to be, its leaders have spent years accumulating wealth for themselves while their people suffer. But now, its decision to give up some of its authority by striking a deal with Fatah signals that it's willing to retreat to its default resistance movement mode. Isolated without much leverage in a destabilised Middle East, it is apparently ready to relinquish the grinding business of sole authority.
To keep control of Gaza, it needs the financial support of useful Arab allies, but it has very few. Only Egypt has any particular interest in working with it; despite the group's affinity with the Egyptian Muslim Brotherhood, which the Cairo government considers a terrorist organisation, it has a vital role to play in securing Egypt's troubled borders and the violent Sinai region. The Egyptian president, Field Marshal Abdel Fattah al-Sisi is keen to turn Egypt into a regional deal-broker, so despite their mutual distrust, the two parties had an interest in making this new deal happen.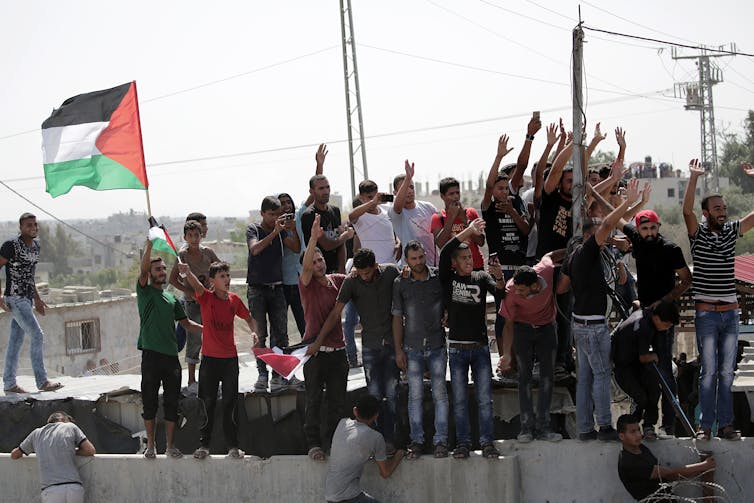 Gaza's challenges are enormous. Its very survival has been in doubt for the 11 years since its siege began, and indeed long before that; alarm bells have been rung by most of the United Nations' aid agencies. It has endured three cruel Israeli wars and several incursions, which killed and destroyed thousands of lives and damaged its weak infrastructure. It still endures severe shortages of electricity, water, medical and basic food supplies.
One of the cruellest aspects of the siege is its impact on Gaza's mostly young population, who are trapped without hope of realising their enormous potential for education and innovation. In this, all the powers concerned – Israel and its paymaster ally the US, Egypt, Palestinian leaders on both sides – are complicit.
And so the newly mooted Palestinian reconciliation is clearly a major step. It's especially reassuring to see Hamas leader Yahiya al-Sinwar, who was imprisoned in Israel for more than 22 years, confirm his movement's commitment to reconciliation.
But it would be naïve to think that Gaza's woes are nearly over. It is still under siege. Egypt has yet to fully open its borders with Gaza and cement its formal relationship with the Hamas leadership. And Hamas realises that Gaza is – however tenuously – still in its hands. If it can only play by the diplomatic rules required to satisfy Egypt and its allies, it might not lose that much after all.