For the past six months, the Philippine Army has been ramping up an offensive against the Abu Sayyaf Group. President Rodrigo Duterte talks about "going full force in all-out operations against it", framing the operation as a crackdown on a group with links to Islamic State. But the connection is tenuous.
Duterte isn't the first to over-egg the group's jihadist links. While you'd struggle to find any mention of this "war" outside of Filipino news outlets, you will find plenty of international stories about a connection between IS and the conflict in the southern Philippines. Regularly describing the Abu Sayyaf Group (ASG) as IS "affiliates" or similar, these scare stories overlook the local dynamics of a complex and protracted conflict. This is an old trick – or rather, an old mistake.
The journalists and "security experts" reporting a "connection" between IS and the ASG generally provide scant evidence for their claims. A picture of armed men in the jungle posing with the IS flag does not a south-east Asian IS network make, and the scaremongering talk of IS creating an exotic island sanctuary-cum-breeding ground is salacious, inaccurate and logically flawed.
It also means that deeply complex conflicts such as the one in Mindanao are being prosecuted on flawed premises. The Filipino authorities have until recently been cautious about adopting a grand global anti-jihadist narrative, but now Duterte's claims of an IS-ASG connection are obscuring the difficult local realities that underpin the very violence his government is fighting.
History repeating
As the recent spate of "untethered" IS-branded attacks in Europe have demonstrated, open-sourced jihad is not bound by physical geography. But while IS has successfully created a sense of global menace, speculation about a global jihadist network expanding into South-East Asia was also common more than a decade ago, when al-Qaeda was the bogeyman of the moment.
As long ago as 2002, South-East Asia was dubbed the "second front" in the so-called "war on terror". It seems this old and flawed al-Qaeda-centric view, which meant Muslim rebellions in the region were understood as "connected" or "networked", has simply been revived and refitted into an IS-centric one.
It's not confined to the Philippines: the August 2016 bombings in Thailand, as well as incidents in Malaysia and Indonesia, have all raised the spectre of IS influence in the region – and all with little in the way of reliable evidence. Although a number of academics challenged the myopic "second front" narrative at the time, the idea was quickly taken up.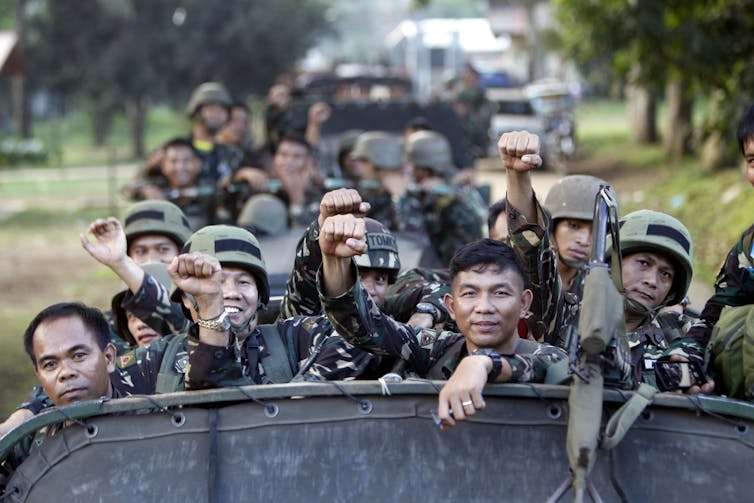 ASG is the group most commonly cited by those who inflate the jihadist threat in the region, but despite its apparent role in a recent Davao night-market bombing, its primary tactic remains kidnapping for ransom. It should be obvious that ASG draws susbstantial propaganda benefit from being conflated with IS, especially given that the reality is rather less impressive when viewed with clearer eyes.
Yes, IS has recognised ASG leader Isnilon Hapilon, but this is far from the "game-changer" some in the West have called it. Hapilon jumped on the IS bandwagon back in 2014, and it took two years for him to win any reciprocal gesture from his ostensible allies.
About-face
As things stand, the war between the government and the ASG is heating up and getting worse. Soon after Duterte apparently hinted at some sort of rapprochement with the ASG, the group beheaded Patrick Almodovar, an 18-year-old Filipino it had taken hostage. Duterte quickly changed tack, threatening to "eat them alive with salt and vinegar".
In April and June, captives Robert Hall, and fellow Canadian John Ridsdel were beheaded when ransom deadlines were not met. Norwegian hostage Kjartan Sekkingstad, meanwhile, was released in September after the ASG was paid a 50m peso (US$1m) ransom.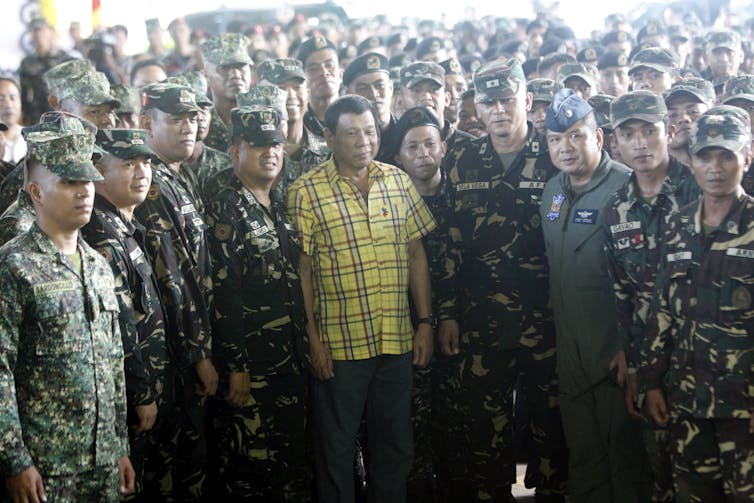 The authorities' seek-and-destroy strategy is simply not working. The military has been vulnerable to deadly attacks, and its losses are mounting; innocent children and peace workers are frequently caught in the crossfire.
In August 2016, Duterte promised that the ASG would be eliminated "in a week" and announced a naval blockade to intercept reinforcements, but evidently the war is set to continue. The ASG has been outgunned and outnumbered for years, and yet its campaign continues.
All the while, this hugely violent and costly conflict remains drastically under-reported. Instead, the media focuses on sensational claims that drug kingpins are joining up with IS affiliates to assassinate Duterte. More scare stories of IS extending its "tentacles" are surely on the way.
For now, the spectre of IS in South-East Asia is a case of an awful lot of smoke and very little fire. And as Duterte joins in the hyperbole, many of the Philippines' same old mistakes are already being repeated.