One of Africa's best-loved global musicians, Papa Wemba, died on Sunday 24 April 2016 after collapsing on stage in Abidjan in Côte d'Ivoire. The 66-year-old father of Congolese rumba rock reportedly died of heart failure before he could be taken to a hospital. The Conversation Africa's arts and culture editor Charles Leonard asked the singer's compatriot, the ethnomusicologist Kazadi wa Mukuna, about Papa Wemba's role in the globalisation of Congolese urban music.
Was there any symbolic significance in Papa Wemba dying on stage?
Papa Wemba's death on stage has no symbolic significance. In Kinshasa, several controversial speculations are being circulated on media about this. The most remarkable of these is the belief held by some that Papa Wemba was poisoned on stage through his microphone. But in an interview held a few months earlier, he stated that his health was not 100% well, and that it was recommended that he should rest and not keep as heavy a work schedule as he was.
Only the autopsy will clarify this speculation.
In the same interview, Papa Wemba said that he felt as though he would die on stage during a performance, because while on stage he always envisioned himself flying. To me, this is an indication of a great artist to whom the stage is another world – one in which he expresses himself freely and fearlessly.
Similar behaviour could be seen with Michael Jackson, who was so shy and could not speak clearly off stage but became a totally different person once on stage. To a certain degree, Papa Wemba was one of these great artists who lived in two worlds – on and off stage.
Of course this happened in Abidjan – what made Papa Wemba influential way beyond his home of Kinshasa?
It is unfortunate that his death occurred away from Kinshasa, but who knows when, where and how anyone of us will die? There is a 1984 song, Affaire Kitikwala, by the poet Simaro Lutumba and members of TPOK Jazz, that says, "mother told me when I was born, but she never said anything about when I am going to die." This is just to underline that here on earth we are all travellers.
Papa Wemba is an international artist whose fame knows no boundary, which made him a citizen of the world. Like that of his contemporary, Papa Wemba's music had a worldwide appeal. He incorporated musical elements of his ethnic group into his works (music and dance). He collaborated with national and international stars as equals while maintaining his individuality. As a citizen of the world, he was also a citizen of Côte d'Ivoire, with Abidjan as its capital.
Although she did not die during a performance, Miriam Makeba, another citizen of the world, passed on November 9 2008 while on a concert tour in Italy. There is nothing symbolic about this, but it is how the Almighty wanted them to go as they lived – as citizens of the world.
How is this reflective of the globalisation of the urban music of the Democratic Republic of Congo (DRC)?
Papa Wemba was probably one of the most active ambassadors of Congolese popular music. He was not afraid to experiment with a new genre or style of music. He explored musical styles from around the world while remaining authentically Congolese in his expression.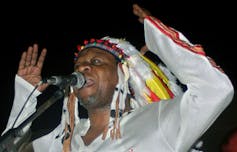 He introduced and popularised the dance "Mokonyonyon" that marked an evolutionary phase of popular music in the DRC. It continues to influence an entire generation of young musicians in the DRC, even their stage presentation.
Who came before Papa Wemba in Congolese music?
According to Simaro Lutumba, Papa Wemba belongs to the seventh generation of musicians that started with the rise to fame of such groups as Zaiko Langa Langa and Empire Bakuba, to name just two.
His band, Viva la Música (1977), shares musical characteristics with the bands of his generation, which shifted the focus of music from educational and social commentaries to the promotion of rhythm and choreographed dance steps performed with the assistance of a musical coordinator known as the Atalaku. The reason for this shift can be attributed in part to the popularity and globalisation of modern Congolese music.
The first generation of bands used music as a medium to record information passed from generation to generation and as a didactic tool. The shift by the new generation of bands eliminated the language barrier (all who previously listened to popular songs had to understand the words sung in one of the Congolese languages). This made it possible for non-Congolese to enjoy and express themselves accordingly through rhythm and dance movement.
And can you give an example of this globalisation?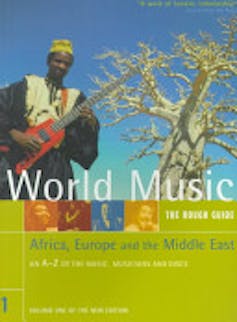 One of the most remarkable examples is the account of a group of Japanese musicians who spent time in Kinshasa in 1984 learning Congolese urban music. What they learnt was more than just the style of playing lead guitar. Papa Wemba told musicologist Graeme Ewens in his chapter on Congolese/Zairean music in "The Rough Guide to World Music: Africa, Europe & The Middle East":
There are Japanese groups who play Zairean music … who sing in Lingala. If you closed your eyes you'd think you were in front of a Zairean band. They were a clone-group, there was a Papa Wemba double and doubles of all the young singers. They dress like us, they do their hair like us, they follow a repertoire of a typical Zairean group.
For me, Papa Wemba was a daring vocalist who was not afraid to perform in any style or collaborate with national and international artists. I recall, while attending a conference in the overseas French region of Martinique, I was watching a late-night television show in which Papa Wemba was being interviewed. He was asked to perform one of his compositions for the audience. Even though he responded to the interview in French, he performed his song in Lingala.
Yes, Papa Wemba was an active and effective ambassador of the globalisation of Congolese popular music.