Car parking matters to Australian business. Restaurateurs in Australian cities often resist parking management regimes and push local government to increase parking spaces in restaurant precincts.
But are restaurateurs' perceptions of the importance of car parking to their trade in line with reality?
Our research compared this perception to what is actually happening. We did this by looking at customers' use of transport modes and their spending habits. Our survey focused on three major restaurant precincts in the city of Brisbane – Boundary Street, West End; Eagle Street in the city centre; and Caxton Street, Petrie Terrace.
To explore this question, restaurant businesses and customers were surveyed in parallel. This enabled us to cross-analyse businesses' perceptions with customers' travel behaviour. We were then able to evaluate the validity of restaurateurs' perceptions about the importance of car travel and parking, along with perceptions about transport infrastructure needs.
The more the better?
The physical location of a restaurant in the competitive landscape of the city has long been known as a major factor in its likely success or failure.
Once restaurants are established in such environments they can do little about their location. All they can do is work to improve customer access to their premises.
Restaurateurs often do this by engaging in battles with local authorities about car parking. This happens particularly when they see themselves as being in competition with out-of-town or suburban centres with ample parking. And this is often provided free to the customer.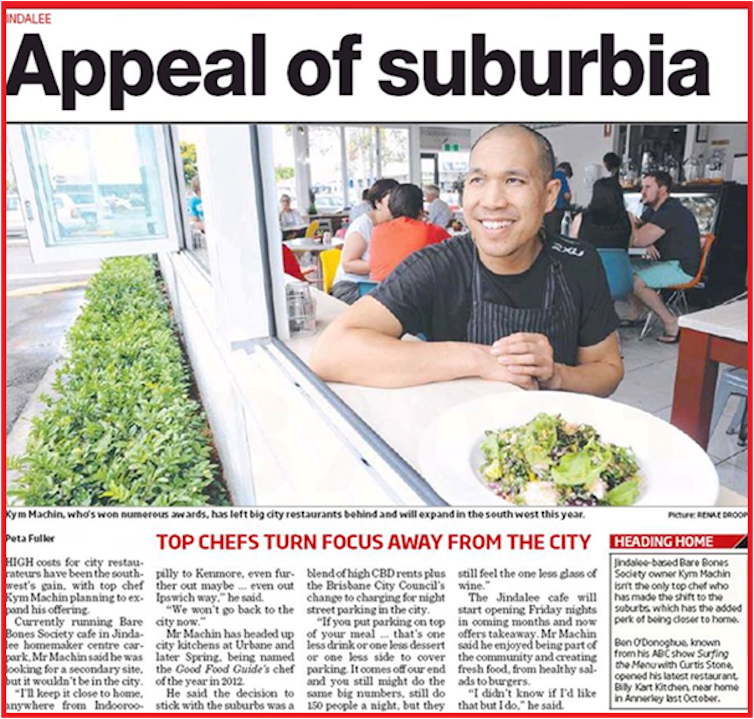 Observing customers' behaviour
One in three customers in our study walked and/or cycled to the restaurant precincts.
This was significantly the case with Boundary Street. That was partly because the precinct has eight hotels within 200 metres that can accommodate more than 700 visitors (equivalent to 10% of West End's resident population).
Almost half the customers arrived by public transport, including bus, train and ferry.
In this case, Eagle Street scored highly. This was mainly due to it having the highest parking fee (A$30-$75 for three hours) of the three restaurant precincts. Even in Caxton Street, which has the cheapest parking ($11 for three hours), more than one in three customers travelled by public transport.
Perception gap
The survey results reveal a gap between the perceptions of restaurateurs and customers' actual transport choices. They also have differing points of view on the importance of supplied parking.
Our study asked customers and restaurateurs to rank parking supply. Rankings range from 1 (always available) to 10 (never available).
Of customers who drive to the restaurant precincts, 26% ranked parking availability lower than 5. This suggests just over one-quarter of customers think they will find parking most of the time.
In contrast, 85.7% of the restaurateur respondents ranked parking availability higher than 6. This suggests they believe parking is often not available for their customers.
The following figure shows the difference between the customers' actual travel mode share and the restaurants' perception of mode share. Restaurateurs over-estimated by more than double the actual importance of customers who came by car. They neglected the contributions of customers who travelled by public transport (by bus and train).
However, the restaurateurs' estimates of walking and cycling customers were close to their actual mode shares.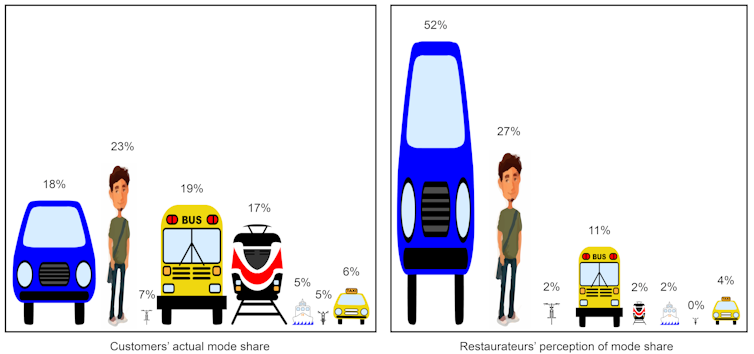 Customers who travel by car also bring in less revenue than the restaurateurs think. Based on our sample, customers who drove provided less than 20% of revenue for the restaurants they were frequenting.
The biggest portion of restaurant income (66%) came from customers who walked (25%) or took public transport (19% for bus, 16% for train and 6% for ferry).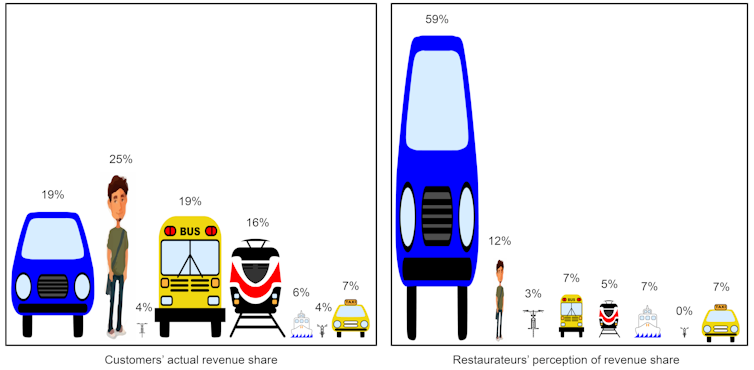 What if customers act as restaurateurs expect?
Our research investigated whether restaurateurs are correct in believing that more parking will deliver them increased profits.
According to the simulation results, the percentage of car customers can be increased to 52% by reducing travel costs by 30%. This would be equivalent to $2.89 per person for customers who travelled by car.
However, if there were to be only 300 customers per day this would lead to a 2% decrease in total restaurant revenue. That is because the mode shift towards car use would come from higher-spending walking, cycling or public transport travellers.
However, making a similar intervention to reduce public transport cost by $2.89 (equal to a 55% cost reduction) would lead instead to an increase of 3% in total restaurant revenue.
The results of this approach at three major restaurant precincts in inner-city Brisbane confirm a real gap between the perceptions of the restaurateurs, as businesses, and what their customers actually do.
The findings also imply that restaurateurs would be better off advocating for improved public transport rather than for more parking. Increasing the share of higher-spending public transport users will ultimately boost total revenues.
Customers who walk, cycle or use public transport to get to the restaurant all contribute significantly more to trade than the business owners and managers realise.