The recently proposed $338 million merger of Australian vet and pet products companies Greencross and Petbarn illustrates something that perhaps we have known for a while now: our pets are becoming more important to us than ever before.
Pets are no longer viewed simply as animals, but have become "humanised" to the point that they are considered by many to be members of the family. Indeed, nearly 90% of Australians polled in a recent survey said they thought of their dog or cat as a member of the family, and even admitted to treating them better than human family members, which has a substantial impact on purchasing behaviours.
Despite a decline in the total number of pets in Australia, a recently released report from IBISWorld showed that owners are tending to spend more on the pets they have, investing in premium products and services for them. The addressable market for a combined Greencross and Petbarn is estimated at A$7 billion.
Pets now have their own health insurance, spa treatments and gourmet dinners. Euromonitor International reports that product categories once considered solely relevant to human consumers, such as health and wellness, are now being expanded to include offerings for pets as well. Similar trends towards humanisation were seen a few years ago in the United Kingdom, where the Pets are Human Too Study found that 32% of dog and cat owners said their pet was a better listener than their human partner and 24% of pet owners said they would rather spend quality time with their companion animals over their husband or wife. Australian businesses are now beginning to take advantage of the humanisation trend.
Consumers that care more about their pets are demonstrating their commitment with their wallets and savvy businesses are grabbing the opportunity.
The merger of Greencross and Petbarn is expected to create of one of Australia's largest pet care companies, with 224 clinics and stores across Australia and New Zealand. The deal is subject to a shareholder vote, expected in late January.
Both businesses are already high-growth companies and the merged business is anticipating a first-year revenue of A$443 million, with profits of over A$21 million. A model that combines retail with service is one example of how companies in the industry might seek to differentiate from competitors and increase customer engagement. But this is not the first time such a model has been created, with similar mergers seen in the United Kingdom, as well as in the United States, where the "vet and pet" combination has resulted in multi-billion dollar companies.
Is pet humanisation here to stay?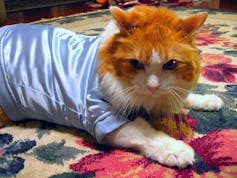 Research shows pet humanisation can stem from a number of reasons, including increased loneliness or a need to control our environments in the face of uncertainty. It could therefore be that the recent increase in single-person households and less time for socialising have increased our need for social support, which we find in our faithful pets. This is in line with the reasons most people cite for having a pet, with the need for companionship being the main reason reported by 70% of pet owners.
There is no sign the trend towards pet humanisation will cease any time soon. Indeed, these kinds of attitudes and behaviours appear to be growing amongst the younger generations, with Generation Y being more likely to hold insurance policies for their pets than their Baby Boomer counterparts.
Pet ownership is therefore likely to have a long-term and wide-ranging impact on businesses in Australia and around the world. MarketLine reports that the global pet care market is expected to reach a total value of US$100,674.2 million by the end of 2017, representing a compound annual growth rate of 3.5% from 2012 to 2017.
Increased competition for market share is likely, as the markets for products once considered human-only are extended to include pets. In order to compete for the "pet dollar", many innovative products and services will continue to emerge. Likewise, a continuation of the consolidation trend may also be seen, with smaller specialist firms merging into larger corporations in order to remain competitive.
One thing is for sure: seeing our pets as family members is not only good for Fido, but also good for business.