PewDiePie is the username of the world's most famous YouTube video blogger, 27-year-old Swede, Felix Kjellberg. PewDiePie's vlogs, centred on his comedic video game commentaries, attract more than 53 million (mostly young) subscribers – more than any other YouTube channel. He was ranked by Forbes in December as the world's highest paid YouTuber, with an income of US$15m in 2016.
But on January 11, a PewDiePie vlog showed two South Asian men holding up a placard proclaiming, "DEATH TO ALL JEWS". The pair danced and laughed while on a separate screen, Kjellberg, who had reportedly paid the men to hold up the sign via the freelance employment site Fiverr, feigned disbelief. "I'm not anti-Semitic or whatever it's called," he said as he watched. "It was a funny meme, and I didn't think it would work."
After the Wall Street Journal reported on the video - a month later - there was an outcry on social media. Soon after, Disney and YouTube severed their business ties with PewDiePie. In a mea culpa last week, he suggested it had been a piece of ironic performance art aimed at demonstrating the kinds of absurd things you could pay people to do online. "I know I offended people and I admit that the joke went too far," he said. He also distanced himself from hate speech and acknowledged that he was a rookie comedian.
Not intending to offend does not mean "jokes" are without consequences, but it's important to draw this distinction: PewDiePie's stunt was clearly a dubious attempt at provocative humour rather than a call to violence against a historically-persecuted cultural group.
Still, amid mounting criticism of PewDiePie, the "alt right" has now heralded him a martyr to free speech and praised him for covertly pushing "Hitlerist magic". The Wall Street Journal also identified eight other videos claiming to contain "wacky" anti-Semitic rhetoric across PewDiePie's enormous body of work. These examples, however, are far from cut and dry - one is merely his describing oppressive YouTube policies as being Nazi-like.
Then in Wired last week, Emma Grey Ellis expanded the indictment by citing instances of PewDiePie's "playful" sexist and homophobic insults. Ellis argues that PewDiePie has "mastered" the art of concealing his bigotry behind the hazy distinctions in online discourse between sincerity and ironic humour. "He uses 'gay', 'retard,' and 'autistic' as playful insults," she wrote. "He makes plenty of rape jokes. And he spews out all kinds of racist stuff, too." But some nuance is needed amid this demonisation in the court of public opinion.
We have recently completed a study of YouTube gaming vloggers and their attitudes towards gender/sexuality. PewDiePie featured as one of three case studies. We selected the ten most popular videos from each vlogger in 2015-2016 and counted and analysed each instance of discussion about gender and sexuality. We chose the top ten videos for that year (out of a total of around 3,000 over PewDiePie's career) as the most influential ones.
On questions of gender and sexuality, PewDiePie was the most inclusive. (The other two, VanossGaming and Sky Does Minecraft, were in no way particularly marginalising figures.) None expressed anything resembling racist views across the 30 videos studied. In terms of gender and sexuality, the overall picture was more complex, but not in PewDiePie's case.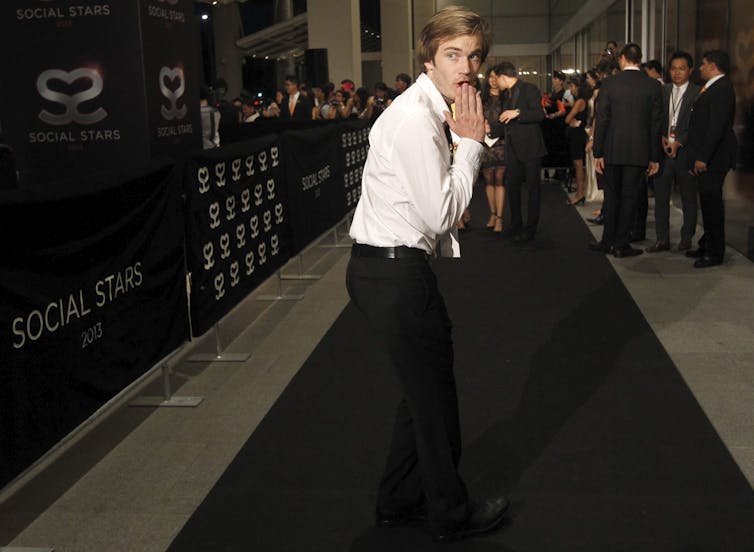 Sexuality was certainly a focus of his humour - homosexuality, specifically - but the attitudes he expressed were of solidarity. To give an example, in one video he sampled a text-based "indie" game that simulates online chat between the user and an offensive 12-year-old boy. The game represented a wry interactive commentary on misogyny and homophobia online. PewDiePie used his typed retorts to highlight the anxieties that can often underpin homophobic statements.
In PewDiePie's most popular videos we found no instances of sexism, nor of the feminising discourse men have traditionally used to dominate other men. The only gendered figure of fun in the videos of all three vloggers was the archetype of hypermasculinity exemplified by contact sporting heroes and action film stars. These vloggers seemed mainly interested in lampooning the tired expectations of their own heteromasculinity.
How do we square our picture with the media's more recent take on PewDiePie? The answer is we probably can't. The difficult truth here is that masculinities are in a state of transition, a phenomenon that is being increasingly identified in a range of contexts – such as in schools, sporting clubs and online.
This transition involves the emergence of distinctly inclusive attitudes in larger numbers of hetero boys and young men, along with freer modes of homosocial affection, and easy friendships between gay and straight males. However, these exist alongside traditional and marginalising forms of masculinity.
Of course online behaviour may elicit heightened forms of expression that one might later come to regret - especially for young people, who are often experimenting with identity at least into their late 20s.
And growing up online is a particular kind of context – the process is often recorded, and then judged by peers and older "moral superiors". PewDiePie might be a privileged celebrity, but he's also one of a crop of young "new amateurs" experiencing a form of fame as unprecedented as rock stardom was to Elvis or The Beatles.
We don't want to diminish the impact of PewDiePie's actions, and we absolutely don't want to play apologists. And it is possible to be progressive in relation to gender or sexuality but still be racist or anti-Semitic. However, in the interests of social change, it's better that we try to understand and educate, rather than simply and quickly demonise.