A government review has recommended pharmacists explain to consumers the limited evidence for effectiveness of complementary medicines, and keep them in a separate area to regulated medications with proven effectiveness. The review also recommended any pharmacy that receives Commonwealth government approval to dispense PBS medicines should not be able to sell homeopathic medicines.
This review was commissioned by the Commonwealth government to examine the efficiency and value for money of pharmacy services and also the regulations under which pharmacies work.
Complementary and alternative medicines are products such as herbal medicines, dietary supplements and multivitamins, and they're big business. A 2014 survey found the revenue from complementary medicines in Australia exceeded A$3.5 billion and was projected to reach $4.6 billion in 2017-18. Pharmacies are a major player in sales of these products, but the exact percentage of total sales in pharmacies, compared to supermarkets and health food stores, is unclear.
The Pharmaceutical Society of Australia (PSA) issued a position statement on complementary medicines in 2015. It highlighted the variable evidence and encourages pharmacists to assist consumers' decision making by discussing the relevant evidence.
The PSA position statement says they do not support the sale of homeopathic products, but stops short of recommending pharmacists do not sell them. Homeopathic products are different from regular medicines. Homeopathy follows a principal of extreme dilution: a substance is chosen to cure an ill, and then the substance is diluted. The vessel containing the substance is then physically hit against a book or other object. There is no reputable evidence for effect from these products.
The Royal Australian College of General Practitioners (RACGP) was stronger in their 2015 position statement to their members, which said medical practitioners should not recommend these products and pharmacists should not sell them.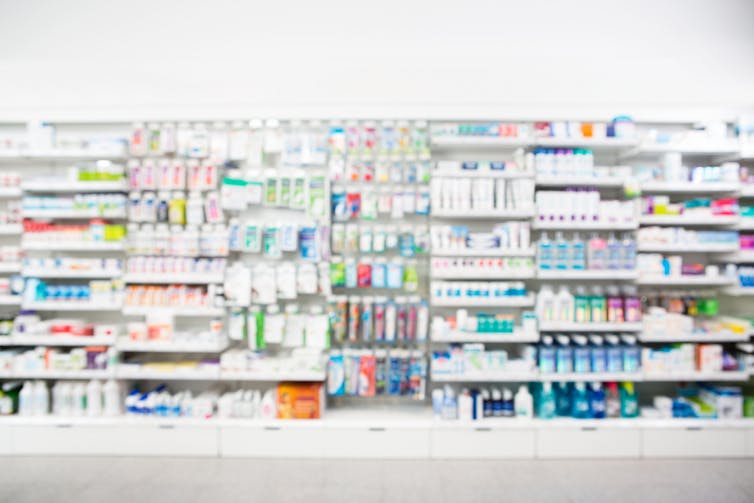 What these mean for consumers
The review's recommendations should increase the information available to consumers to assist them in making an informed purchase. The changes should also educate consumers about the process by which complementary medicine products are assessed by the Therapeutics Goods Administration (TGA) before they can be sold on the Australian market.
Just like any other medicine, consumers should ask at the point of purchase about the evidence for the claims made and any potential side effects and interactions. If these questions cannot be answered (or there is no one to ask), go to another store where they are willing to provide answers and even written information to support those answers.
A ban on homeopathic products would be a positive change for the pharmacy profession. For too long pharmacists have claimed "health professional" status while functioning more like shopkeepers, primarily chasing profits. Some people claim homeopathic products are an expensive placebo and do no harm. But if the person taking the homeopathic remedy delays treatment, they can be causing harm and increasing medical costs if the condition progresses while being "treated".
The PSA has not been strong enough on homeopathic products, perhaps because it is are a member-based organisation and some of its members would sell these.
If a product is sold by a health professional it means consumers have faith it will work. These products don't deserve this trust, and health professionals who endorse them are putting profit before reputation. Pharmacists should only stock products with a strong evidence base.
Other review recommendations include:
removing the $1 allowable discount on the PBS patient co-payment, increasing equity in PBS prices for consumers no matter where they live

changing the current paper Safety Net scheme (where patients have to collect a sticker for every script) into an automatic electronic recording and alert system.
It's important to note the review is not yet finalised – this release is an interim report and is available for public comment until 23 July 2017. There are almost 50 "options" on which comments are sought.