Like many, I was shocked to learn of novelist Philip Roth's death.
Just a few months ago he was writing to me, making all sorts of snarky comments on the Dictionary of Literary Biography entry I had written about him.
For example, I had noted similarities between Henry Miller's so-sexual-it-was-banned "Tropic of Cancer" and Roth's 1995 novel, "Sabbath's Theater."
In the margins of the proofs, Roth penned the snide remark: "I read Tropic of Cancer in 1959 or 58. It was hardly on my mind almost 40 years later."
These kinds of sharp comments were typical of Roth. While I was conducting research for "Jewish Anxiety and the Novels of Philip Roth" at the Roth manuscript collection in the Library of Congress, I was able to see many of his handwritten comments back to his editor. "Keep it to yourself!" he'd write in rebuke to a critique or suggestion.
Roth's stubbornness wasn't isolated to these small events. Early in his career, Jewish community members loudly critiqued his work, arguing that, if not openly anti-Semitic, his fiction at least catalyzed anti-Semitic thought. Yet Roth refused to capitulate, staying true to artistic vision. Though he would eventually be mostly embraced by many Jews – including Jewish women like me – it took decades for widespread acceptance to take place.
Roth, the Jewish anti-Semite?
Much of the early criticism of Roth's work was related to the way he depicted his Jewish characters.
Published in 1959, the collection "Goodbye, Columbus" was Roth's first major work.
The title novella traces a summer romance between Neil Klugman and Brenda Patimkin. The problem, especially for Brenda's family, is class. Neil, a librarian and the son of Jewish immigrants, just can't quite seem to fit in with the country club clique that surrounds the Patimkins.
At the time, some Jewish leaders and parents, especially those that wanted to assimilate into American culture, balked at "Goodbye, Columbus." The Jews in Roth's stories were not depicted as beacons of good taste – as literary, educated, tasteful and well-disciplined representatives of the assimilated mainstream. Instead they were either crass – like Neil's Aunt Gladys – or ostentatiously wealthy, like Brenda's father.
The rebukes were swift, and often hyperbolic.
For example, Rabbi Theodore Lewis said that Roth "depicts the Jewish characters in his short stories and novels as depraved and lecherous creatures."
But if Lewis thought "Goodbye, Columbus" was "lecherous," he was in for an unpleasant surprise.
Roth's smash hit, "Portnoy's Complaint," published 10 years later, features a young Jewish bachelor, Alexander Portnoy, who is consumed with sexual longing and frustration. Portnoy narrates the whole novel, in monologic form, to his therapist, Dr. Spielvogel, telling him that he is the "Raskolnikov of jerking off – the sticky evidence is everywhere!" Portnoy describes himself as a "sex maniac" who will not "control the fires in his putz, the fevers in his brain."
Jewish philosopher Gershom Scholem, writing in Haaretz soon after the publication of "Portnoy's Complaint," argued that Roth "revels in obscenity" and claimed that "this is just the book the anti-Semites have been waiting for."
The Holocaust looms large
It is easy to forget now, but many of the rabbis and other Jewish community members who denounced Roth's prose had lived through World War II. They'd seen all the Nazi propaganda portraying overly sexual Jewish men raping or taking "pure" Aryan women.
As historian Dagmar Herzog points out in her study "Sex After Fascism," "Sexual demonization of Jews was a pervasive feature of antisemitism."
But by populating novels with hypersexual Jewish men who lusted after "shiksas," or non-Jews, Roth was actually flipping Nazi propaganda on its head. Rather than suppress this lust, Roth sought to normalize and celebrate it: Jews, just like everyone else, could want to have massive amounts of sex and not be ashamed.
Yet because some of his Jewish readers were so close to the anti-Semitism that ultimately culminated in the Holocaust, they were unable to comprehend this reversal; they could only perceive the similarity between Roth's depictions and those of Nazi propagandist Joseph Goebbels.
While Roth could have easily ignored this censure, he engaged his detractors head-on by including their attacks in his work. Nathan Zuckerman, who appears as the narrator of many of Roth's novels, has often been described as one of Roth's alter-egos.
In Roth's 1979 novel "The Ghost Writer," the character Judge Wapter asks Nathan Zuckerman, "Can you honestly say that there is anything in your short story that would not warm the heart of a Julius Streicher or a Joseph Goebbels?"
In "Zuckerman Unbound" (1981), Nathan, who had recently published "Carnovsky" – a fictional version of "Portnoy's Complaint" – is considered the "enemy of the Jews." He is told that it would be "hardly possible to write of Jews with more bile and contempt and hatred."
By including the controversy in his novels, Roth was able to both air his rage at being unjustly labeled anti-Semitic, while responding to – and, in some cases, lampooning – his detractors.
The tide turns
For years, Roth remained a polarizing figure in the literary world: Reviewers either loved him or hated him.
But a turning point came with the publication of his prescient novel "The Plot Against America" in 2004.
In it, he imagines a counterhistory in which aviator Charles Lindbergh has become a fascist, anti-Semitic president, and Newark, New Jersey's Jews are sent to assimilation camps in the Midwest.
With Roth explicitly exploring – and condemning – anti-Semitism in America, critics could no longer claim that Roth was lending anti-Semites a hand. The question of negative stereotyping of his Jewish characters had largely been forgotten by 2004, but this novel was Roth's most sustained focus on the deep terrors of anti-Semitism in America.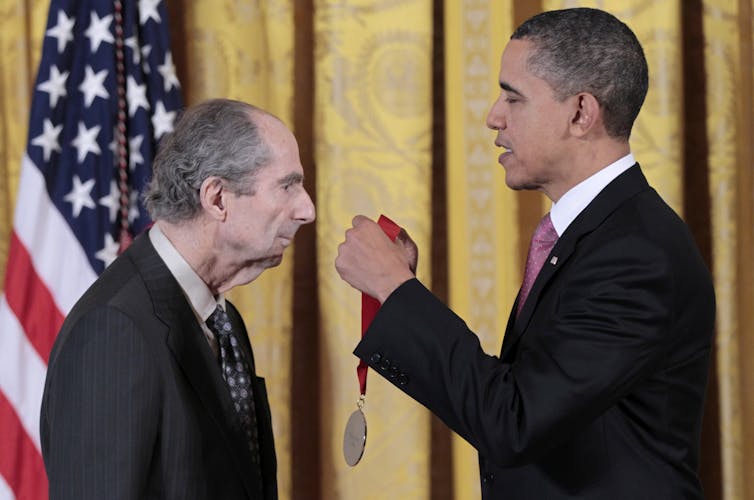 Roth was likely thrilled that, in the results of a New York Times poll asking "What is the best work of American fiction in the last 25 years?" six of Roth's novels were included among the 21 runners-up. In 2013, when Vulture asked 30 literary figures "Is Roth the greatest living American novelist?" 77 percent voted yes.
Roth lived to see his canonization as a great American writer – a great Jewish-American writer at that – something unforeseeable in the old days when he was supposedly bad for the Jews.
Many Roth scholars, myself included, were in Newark five years ago to celebrate the author's 80th birthday. He seemed utterly hale and hearty as he read out passages from "Sabbath's Theater," and a parade of literary stars – many of them Jewish – sang his praises and toasted his stunning prose.
As the character Sabbath reflects, "The dead were anything other than dead."
Olav ha-sholom, Roth.