Prime Minister Malcolm Turnbull has announced a series of measures to help end domestic violence. He says it will aim to:
… improve frontline support and services, leverage innovative technologies to keep women safe, and provide education resources to help change community attitudes to violence and abuse.
But has the discussion been framed correctly? Is it excluding other victims of domestic violence? Will the package make a difference, and why are we seemingly so reluctant to recognise family violence for the serious issue it is?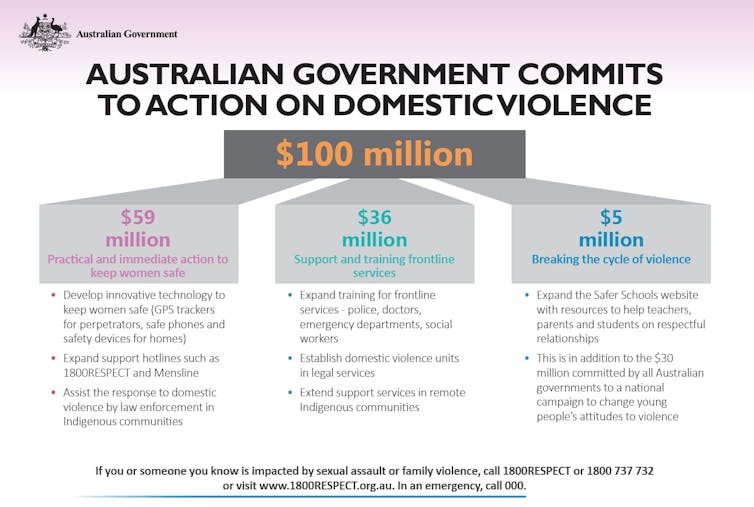 Framing the discussion correctly
While the initiatives contained in Turnbull's announcement were positive, it was disappointing to see the use of gender to frame the issue. Yes, statistics tell us that women are the most prominent victims. But it almost seemed that Turnbull was talking specifically to domestic violence between intimate partners to the exclusion of other forms of family violence.
For this article I take domestic violence to include all forms of family violence and to include all types of family relationships.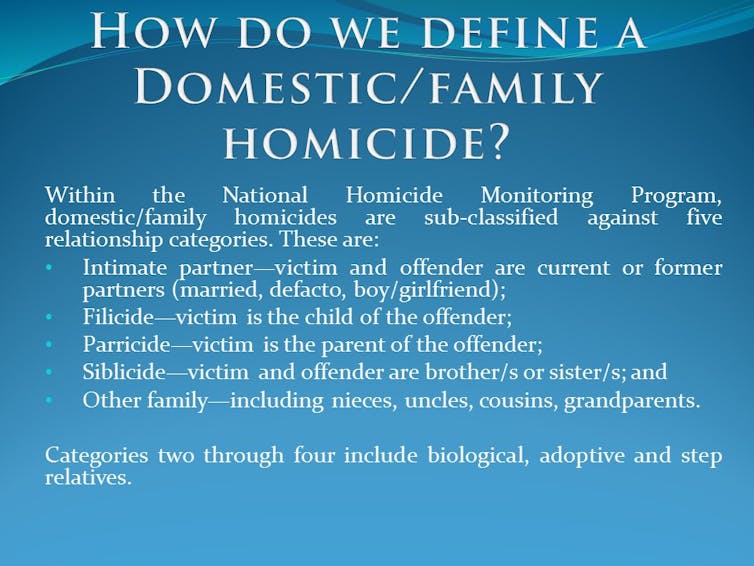 Since its recognition in Australia in the 1980s, the concept of domestic violence and its associated harms has evolved into a complex criminal justice issue. From its basic origin of being physical violence between married couples, the definition of relationships covered is now wide and varied.
I disagree with the comments of domestic violence campaigner and Australian of the Year Rosie Batty when she said society has to "acknowledge this is a gender issue". As former prime minister Tony Abbott said when announcing the award for Batty:
… family violence can happen to anyone.
The notion that domestic violence is limited to physical violence committed only between a male and female in an intimate relationship marginalises many other forms and victims of domestic violence – such as elder abuse, child victims and same-sex relationships.
In Victoria, children form the single largest category of protected persons in domestic violence matters. There has been a 295.4% increase in children being named in matters between 2004-05 and 2011-12. In 2014, an Australian Institute of Criminology study found that 2% of intimate partner homicides were committed in same-sex relationships.
This is why framing the discussion purely in terms of gender is not productive. It is not a case of absolutes when talking about perpetrators and victims of domestic violence. As a detective, I investigated domestic homicides involving the wife killing the husband, the husband killing the wife, the parent killing the child and the child killing the parent.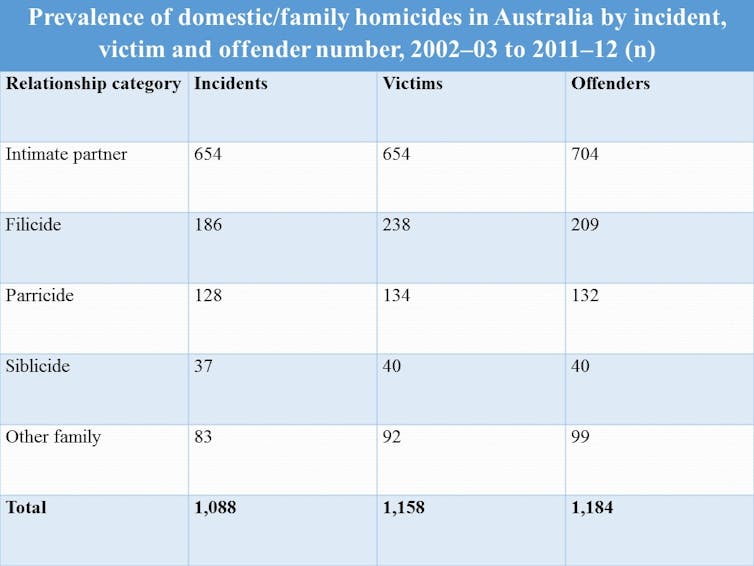 The moment you make it a gender issue you run the risk of alienating many of the gender you are targeting with a broad brush. A much more productive and inclusive discussion would be had by framing the issue in terms of victims and perpetrators, and what is appropriate behaviour for anyone, regardless of gender.
The scope of the threat
There is no doubt that domestic violence crime is increasing, and has been doing so for years. The problem is not new.
But do we see it as a core crime-fighting issue? Or does it only become this when a victim of domestic violence dies or is seriously injured? In response to three recent deaths of women in Queensland, the state government announced measures that seemed to tinker around the edges of the problem.
Compare this to when bikie gang members brawled on the Gold Coast in 2013. Within days Queensland enacted new laws and assigned 200 police to investigate nothing but bikie crime, with a budget that went to millions of dollars. New criminal offences were created with lengthy prison terms attached to them.
In addressing bikie crime, the reaction was instant and overwhelming. But on domestic violence, action could be described as marginal.
Data obtained from the Queensland government under Right to Information shows that bikie gang members were found guilty of 4323 criminal charges between April 2008 and April 2014. This means that bikie gang members were found guilty of 0.17% of reported Queensland offences.
In the same period there were some 65,994 breaches of domestic violence orders. This equates to 2.6% of reported crime for the period. This figure does not account for the thousands of associated criminal charges that would no doubt be linked to the breaches of domestic violence orders.
In the same six-year period, bikies were found guilty of three murders in Queensland. Yet for a similar six-year period, Queensland alone had more than 140 domestic homicides. Domestic violence costs the community billions of dollars a year, a level similar to that estimated for the cost of organised crime.
Despite this, there is still the perception that Australia's courts do not treat breaches of domestic violence orders seriously. In 2011, Legal Aid NSW noted that, in many cases, the criminal matter associated with the breach of a restraining order – for example, an assault – received a greater penalty than the breach, thus not reflecting the breach's seriousness.
Recent moves in Queensland to increase the maximum penalty for a breach of a domestic violence order from two years jail to three hardly seems to reflect the gravity of the situation.
What we really need to be doing
We need to ensure that the culture of frontline responders, especially the police, is one that treats domestic violence as the serious crime threat it is. Queensland's Domestic Violence Taskforce noted this in its report:
… the taskforce heard many stories about the shortcomings of police responses. Many of these shortcomings stem from processes and procedures that inhibit police responses, but many also come from a culture in some areas that does not give sufficient weight to what is seen as "just a domestic".
Former Victoria Police chief commissioner Ken Lay has echoed this.
Australia needs a National Domestic Homicide Review Panel to break down cross-jurisdictional boundaries and identify best practice and failings in the protection of victims. It needs a national intelligence centre, similar to the Australian Gangs Intelligence Co-ordination Centre, to provide timely intelligence and co-ordination in relation to serious and recidivist domestic violence offenders.
In other words, Australia needs to treat and respond to domestic violence as a serious crime threat with risk-mitigation and crime-management strategies. It should create dedicated taskforces in each state to investigate domestic violence-related crime. If Australia can do it for drug crime, why can't it do it for domestic violence?
Victoria has shown the way in this regard – it created a Family Violence Command in its police service.
Australia should also be seriously considering a national domestic violence order system that means a victim does not have to be concerned by jurisdictional boundaries.
The package the Turnbull government announced this week is a step in the right direction. But Australia needs more than a culture shift and training – much, much more.
---
The National Sexual Assault, Family & Domestic Violence Counselling Line – 1800 RESPECT (1800 737 732) – is available 24 hours a day, seven days a week for any Australian who has experienced, or is at risk of, family and domestic violence and/or sexual assault.