Poldark returned to our screens in true swashbuckling style, much to the delight of its fans. A BBC adaptation of Winston Graham's historical novels, the first series was broadcast last year and proved a hit with Sunday evening audiences, pulling in more than 8m viewers an episode. The drama soon became associated with a single image of lead actor, Aidan Turner, about to film a scene in which a shirtless Ross Poldark scythes a field. But there is more to Poldark than good looks – I have particular reason to know as historical consultant to the series.
My research specialism is in 18th-century British history and given the popularity of Georgian drama I've acted as historical consultant to film, television and theatre regularly over the past decade. But Poldark has given me a unique set of experiences. The size of the audience outstrips any other productions I have contributed to previously, including feature films. With eight to ten episodes a series, the filmed content is also far more substantial. I've now consulted on three series for Poldark, equating to around 1,600 pages of Debbie Horsfield's effervescent scripts.
Certainly, the characters are highly fictionalised and romanticised. Poldark himself is by no means a real historical figure. But the historical context behind the drama is carefully construed in the original novels by Winston Graham and treated with equal respect in the production process of the BBC's adaptation. Set against a background of the American Revolutionary War and then the French Revolution, Graham opened his novels in 1780s Cornwall, exploiting its dramatic local history of mining, smuggling, banking and a dominant gentry class as the springboard for the personal experiences of his fictional characters.
From script to set
I am often asked what the work of an historical adviser involves. In truth, there is no single answer because the role is determined by the different needs of each production.
For Poldark, I've settled into a fairly regular pattern of involvement that begins with reading drafts of the scripts prior to filming. The script is not just the story, it is the blueprint for the entire production. I try to read each episode as closely as possible, checking the historical content from every angle, looking not just for the occasional anachronistic term, but for character development, locations, scene and prop details and context. I send back to the production team all the historical commentary I can think of – however significant or potentially pedantic – and leave the judgement calls to them.
When the scripts are finished and the production prepares for filming, questions start to come in from the various departments as they prepare locations, sets and costumes. And once the cameras start rolling, attention turns to many of the smallest details: manuscripts seen on a desk or broadsides handed out in the street. During the filming of the second series, some of my favourite moments came from conversations with the graphic artist, Richard Wells, as we bounced emails around discussing the appearance of 18th-century pamphlets, advertisements, military commission letters, polling books and more. Many of these details might not be captured in the final shots, but each and every one was inspired by original artefacts and painstakingly recreated by the art department.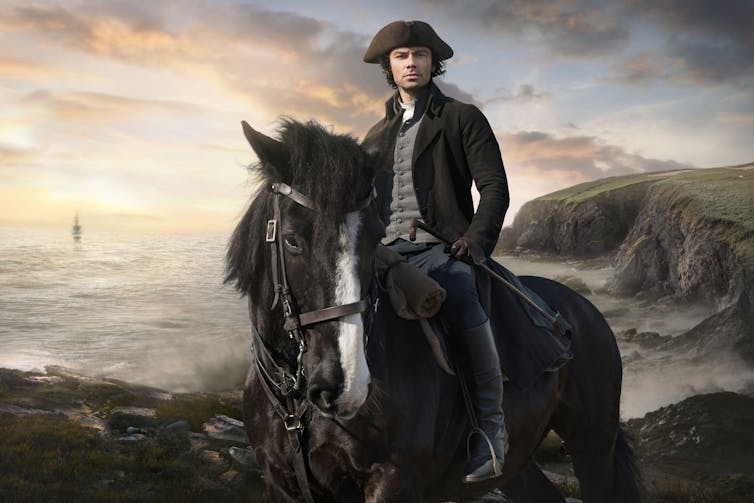 Much of my academic research has focused on ideas of status and hierarchy in 18th-century Britain, and working with the Poldark production has given me the chance to consider how preoccupations with hierarchy and deference might be enacted in the most ordinary of ways – through words, greetings, gestures, emotional responses, motivations and aggressions.
What might a flashy middle class man serve at a dinner party? How would a politician sign a letter? Would everyone know how to curtsy? How would a gentleman or lady meet an acquaintance on the street? What does a footman actually do? Would a woman get drunk in a tavern? What games might you see children playing? These are the kinds of questions that need answers in order to put period drama on to the screen.
Reading Rousseau
Over time I have become deeply invested in the characters, contextualising their worlds as I read a script to preempt later questions or to add in details that might otherwise be missed. In series one, for example, Elizabeth Poldark is seen reading Rousseau. Such a detail can create a raft of knock on considerations at any point in filming. Is Rousseau the right choice for her? Might it influence her choices? If we see a shelf of books in the background what else should be there? If the director wants a close up shot, which pages should be selected and why?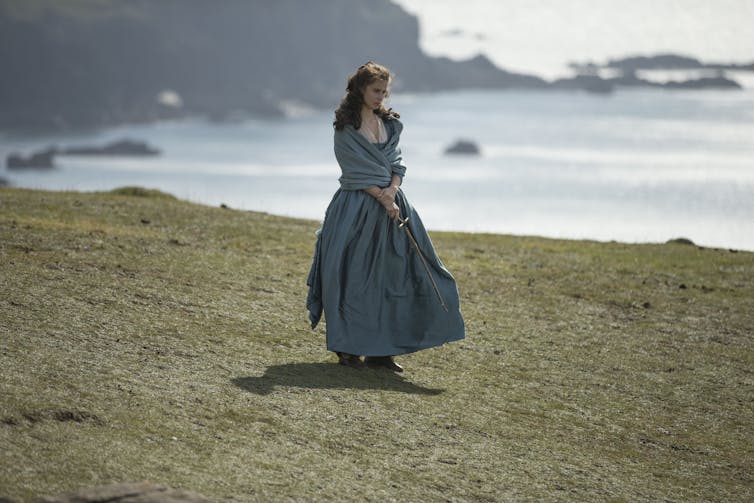 One essential aspect of the storylines that I find particularly fascinating is the complexities of credit networks, local banking systems and the history of finance. We routinely see money changing hands, both paper and coins, in markets, private meetings, and at the gaming table. Surviving artefacts are, of course, key to the creation of the props required. Notes from 18th-century local banks provide the blueprint for the art department to produce replica money for the Pascoe and Warleggan banks featured in the Poldark plot.
But what about the other details? I've used previous research into 18th-century account books to determine how much cash someone might carry in their pocket and to consider what everyday items might cost. Trying to establish what the interior of an 18th-century local bank might look like was a harder task, and for this I turned to archivists and other historians to canvas opinion. While images survive for 19th-century banks, 18th-century images are, by and large, restricted to the newly established Bank of England (hardly a model for an ad hoc regional bank in 1780s Cornwall). Sometimes even the most expert opinion can only offer a well-informed guess, rather than concrete evidence.
Over the past two and a half years, I've considered the history behind each word, line, scene, character and context. Of course, as with any period production, it is impossible to create a perfect recreation of the past (and how can we ever know what that "perfect" recreation should be anyway?). Choices are always made for the purposes of plot, character, budget and schedule.
The role of the historical adviser is to ensure that those choices are well informed and that they are just that: choices, rather than mistakes.