Hundreds of thousands of people will be drawn to Sydney's Mardi Gras festival this weekend. This world-famous event celebrates gay, bisexual, transgendered, queer, intersex (LGBTQI) and other sexually diverse people. But several police-related incidents last year cast a pall over the celebration and raised old questions about the complex relationship between police and LGBTQI communities.
In 2013, a widely circulated video captured graphic and frightening images of police aggressively arresting a young man at Mardi Gras. Although police representatives were quick to point out that it was hard to interpret the video without context, recent court rulings found that in this case – and in one other incident that night – police used excessive force.
There were also allegations of illegal body and cavity searches performed on those attending the party that followed the Mardi Gras parade.
Incidents such as these are jarring not just because of their violence, but because they remind us of a not-so-distant past when LGBTQI people in Australia were openly harassed and persecuted by police. Until the 1980s, for example, it was illegal to have sex with someone of the same gender. Some men still bear these charges as part of their permanent record, which recent work in Victoria has sought to erase.
Police are a cornerstone of how governments enforce order and legislation. As such, police are the immediate public faces of a country's laws. Although laws and society have changed dramatically, it is through a historical lens that we must view the present-day relationship between law enforcement and LGBTQI people.
Stonewall riots and early Mardi Gras
In June 1969, a police raid of a New York City gay bar sparked the start of what came to be known as the "Stonewall riots". Raids of gay bars were standard practice during this period. At that moment, patrons and eventually other LGBTQI people in the community decided to stand firm against bullying and harassment by police officers.
Many have identified Stonewall as a starting point for the so-called "gay rights movement". It signified a major turning point in the relationship between LGBTQI people and police, which reverberated around the world. This contributed to the establishment of associated rights groups in Australia.
The first Sydney Mardi Gras in 1978 was held, in part, to commemorate the ninth anniversary of the Stonewall Riots and to protest police harassment and anti-gay laws. As police moved to block the dancing and marching from Taylor Square to Hyde Park, violence broke out.
The LGBTQI communities in Sydney experienced their own police-community confrontation. The violent arrests of 53 protest participants were an aggressive beginning to what is now Australia's largest annual festival.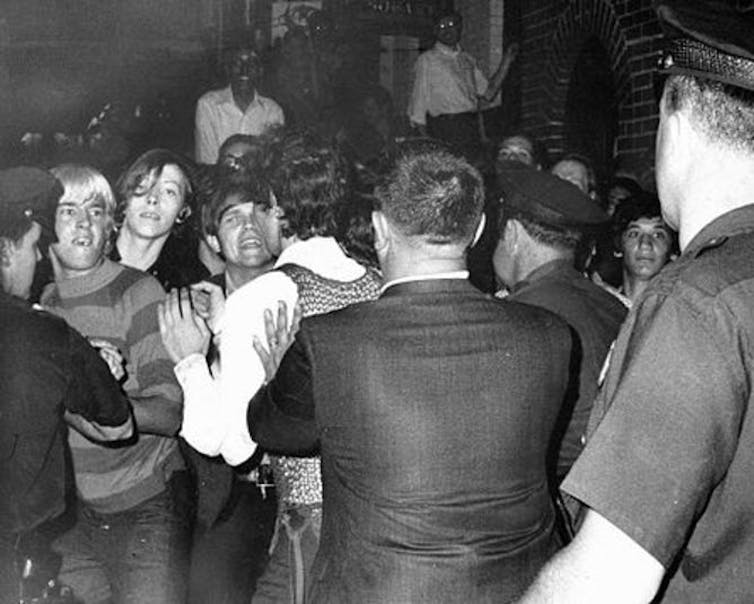 Of course, the type of intolerance perpetrated against LGBTQI protesters in 1978 was reflective of and legitimised by the broader legal and social structures of the time.
As Australian sociologist Angela Dwyer argues, policing LGBTQI people can be seen as the enforcement of sex and gender norms. As LGBTQI people, by definition, challenge such norms, they may be subject to disproportionate scrutiny or harassment, even in a contemporary society that prohibits sexuality-based discrimination. The challenge with prejudice and intolerance is that these are social forces that run deep and can linger for generations.
What's changed?
Today, many Australian police forces have made efforts to improve the treatment of LGBTQI people. NSW Police has developed a specific policy, which positions itself as:
… a strong public statement of the NSW Police Force commitment to working with GLBTI people and communities.
Other forces across Australia have made similar attempts to overcome mistrust. The forces have installed special police liaison officers, held sensitivity training and participated in LGBTQI community events. This progress, however, has not been entirely uniform, as demonstrated by an announcement in 2012 that the Victoria Police Gay and Lesbian Advisory Unit was being disbanded.
With respect to LGBTQI communities and police, Angela Dwyer challenges the idea of a "lineal progression from a painful past to a more productive present". The events of last year took place in a state where the police force has, arguably, taken the greatest strides of any jurisdiction in Australia to improve its approach to LGBTQI peoples. For that reason, Mardi Gras 2013 is a special reminder of the inconsistent and frustrating nature of social change.
Encouragingly, media and community reaction to this violence reignited discussion of these issues. It also led to an agreement enshrining the promise that policing will be handled differently for future Mardi Gras.
In spite of this promise, several LGBTQI publications have prepared guides for being safe during the festival. The advice includes how to handle interactions with police. Decades of mistrust do not vanish overnight and the type of violence perpetrated last year raises old fears anew.
While more time is needed to know if the promises made will result in actual change, the big-picture message to be drawn across the history of policing and LGBTQI communities is, generally, optimistic. This is never a perfectly progressive journey, but it is ultimately a forward-moving one.