With more than 338,000 tickets sold, more than $1 million in box office, and two months of sold-out screenings, the Brazilian film Aquarius is a megahit by Latin American independent cinema standards. It has finished its run at the Viennale Film Festival in Vienna, Austria, and it will compete next month at Mexico's Premios Fenix, where it's nominated for best actress and best director, among other awards.
But don't expect to see this critics' darling at the Oscars. Beyond its international acclaim, Aquarius is the cause of a vitriolic political dispute within the Brazilian arts.
The country's decision not to send the film to the Oscars as a contender for Best Foreign Film has led to accusations of censorship, putting the brand-new administration of Michel Temer in the uncomfortable position of being the first government to interfere with Brazilian artistic production since the end of military dictatorship in 1985.
What's so political about Aquarius, anyway?
Directed by Kleber Mendonça Filho, Aquarius centres on a retired journalist, Clara (Brazilian film legend Sonia Braga), dealing with property speculation that threatens the beachside building where she has lived for decades, raised her children, and become a widow. Along the way, this thriller touches on issues of economic inequality, race, gender, family, and tradition.
Aquarius was nominated for a Palme d'Or at the Cannes Film Festival (the first Brazilian film to compete for top prize since 2008), and praised by Brazilian and international critics. AO Scott of the New York Times called it "a marvellous and surprising act of portraiture".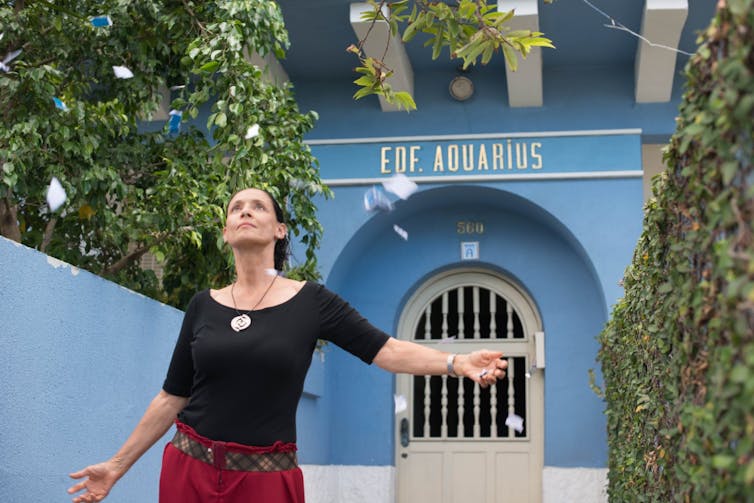 For a movie made with the modest budget of $950,000 USD, the positive reception by critics has been spectacular. Any negative reviews have come largely from Temer-allied government officials.
Their complaints are not related to the film's content, which is only quietly political in its indictment of the elite business class (though some critics have also seen echoes of president Dilma Rousseff's impeachment in Clara's struggle to keep her home).
Rather, the criticism stems from what happened in Cannes, when the director and his stars walked the red carpet, they unexpectedly pulled out signs denouncing a coup in Brazil. Given its high-profile setting, the coordinated act – reflecting much national unease with the seeming witch-hunt of then-president Dilma Rousseff – was widely photographed and publicised. Rousseff was summarily removed from office in August.
'Brazil is experiencing a coup'
Kleber and his crew were far from alone in protesting Brazil's political proceedings. The attempt to impeach a democratically elected leader sent hundreds of thousands of Brazilians, including artists from the film industry, to the streets and onto social media.
Because of the visibility it gives to films and the discourse surrounding them, Cannes was a strategic place for the Aquarius cast to sound warnings that "Brazil is experiencing a coup d'etat" and "the world cannot accept this illegitimate government".
But this action garnered the antipathy of the country's political right wing, who were supporting Michel Temer (then vice president) to assume the presidency. Statements by the Minister of Culture, among other high-level officials, also argued that because the director holds a position in a publicly funded cultural foundation, his political statements were inappropriate.
A week before its Brazilian debut in September 2016 as opener of Brazil's popular 44th Festival of Gramado, Aquarius was already embroiled in controversy. The scandal was made noisier the fact that the feature had received a rating of "18+" (mature audiences only) due to several scenes of a "complex sexual" nature.
Social networks lit up with protest, as did the Brazilian media and the foreign press. The French newspaper Libération used the word "censorship", connecting the restrictive rating to the Cannes red carpet protest. Many Brazilians also interpreted the 18+ guidance as political retaliation.
In the end, this classification was eased, to a 16+ rating. But it took a lot of fighting and increased the Brazilian film association's antipathy towards Aquarius.
Film crew 'ridiculed Brazil'
Even with its 18+ age rating, Aquarius could still have been submitted as the Brazil's entry for Best Foreign Film at Oscars 2017 (parental guidance has no impact on a film's ability to compete internationally, only on the potential audience it can reach). But on September 12, the announcement was made by a delegation of the Audiovisual Secretariat that the country would instead send Little Secret (Peqeuno Segredo), a little-known, barely discussed film.
Why send this saccharine family drama to the Oscars, where it will surely lose? Politics, say many. The legitimacy of Brazil's Oscars selection process was not just perplexing but fundamentally undermined by political comments that one of the group's members, the critic Mark Petrucelli, had previously made on Facebook about Kleber's actions in Cannes.
On May 17, 2016, Petrucelli wrote, "Shame is the least I can say about the team and the cast of 'Aquarius,'".
Five days later, he posted:
So it was like this: A movie made with public money goes to Cannes to represent Brazil and does not win any awards. Therefore, the lie about the alleged coup d'etat in the country through sentences on pieces of paper on the red carpet did not do anything but ridicule Brazil.
Echoes of the dictatorship
Artistically speaking, the 18+ rating puts the film in good company. In the past 20 years, other Brazilian films whose maturity ratings raised controversy were Up Against Them All (2004), by Roberto Moreira, and Cat's Cradle (2002), by Alexander Stockler.
But those films were given restrictive ratings due to violence, bad language, and sex. Aquarius is a mild David versus Goliath story, with sex.
To Brazilians, the suspect decision not to send Aquarius to the Oscars has echoes of an earlier, harsher era of restrictions on the Brazilian arts: our military dictatorship (1964 to 1985), when censorship was common.
In 1981, for example, authorities prevented Pixote, by director Hector Babenco, from making the international festival rounds. That story of the hard-knock life of the street would have exposed to the world Brazil's social ills, poverty, and the plight of homeless children. In the end, the film was able to make it to the Locarno Festival in Switzerland, but only with the title changed.
Previously, in 1966, during the early years of the dictatorship, the classic O Menino de Engenho by Walter Lima Jr received a mild parental guidance of "10 years or older" from the junta in Brasilia. But when a general's wife saw the film on its first weekend and found it hard to watch, the government issued a decree the next day, changing its rating of 18+.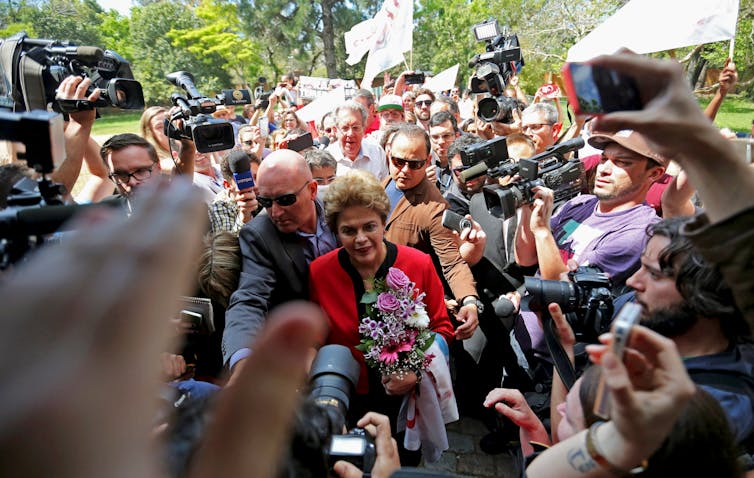 No such thing as bad publicity
Speculation, conspiracy theories, and cries of censorship aren't able to obviate a basic fact: since May 2016, Aquarius has gained international visibility that's rare for a Latin American production. Most Brazilian art house films sell 15,000 tickets at most; Aquarius is at 338,000 and counting.
It has brought Sonia Braga (whom non-Brazilians may recognise from a stint as Samantha's girlfriend on the HBO series Sex and the City) a fame she hasn't enjoyed since she starred in Kiss of the Spider Woman (1986).
Kleber took his film to various prestigious festivals, winning over critics and judges. Aquarius has garnered multiple Best Actress awards (Sonia Braga) and Special Jury prizes. And, Oscars snub aside, it's been submitted for Best Foreign Film at January 2017's Golden Globes.
If the political right was trying to stand in the way of this movie's success, that effort now seems risible. Aquarius has opened a window to the world for Brazilian film, confirming the old showbiz adage: there really is no such thing as bad publicity.