President-elect Trump has recently tweet-shamed several companies. This sort of attack has a real impact on the company and its shareholders, sending shares nosediving and discouraging investment. So perhaps politicians should think twice before releasing critiques into the twittersphere.
The most recent Trump tweet attacked security tech multinational Lockheed, stating its "F-35 program and cost is out of control". After this tweet Lockheed shares fell around 2.5%.
This is not the first of his tweets directed at companies. He also attacked aerospace company Boeing over claims about an overly expensive US$4 billion Air Force One contract. According to fact checkers this claim was only "half-true". Boeing's share price fell around 1% immediately after Trump's tweet, recovering after Boeing could refute it. While Boeing's price has risen to above its pre-Tweet level, this is in spite of (not because of) the tweet and does not lessen the harm to investors in its immediate aftermath.
Trump has also attacked Rexnord and Ford, thereafter falsely claiming credit for preventing Ford closing a plant.
It seems that tweet-shaming is a bipartisan affliction. Former presidential candidate Hillary Clinton attacked pharmaceutical company's Mylan's epipen price increases, sending its share price 5% lower. In 2015, before she secured the Democratic nomination, Clinton also attacked the pharmaceutical industry over prices. Afterwards the index composed of biotechnology and pharmaceutical equities listed on the NASDAQ (the IBB) fell nearly 5%.
This is not isolated to the US either. In Australia, Bill Shorten tweeted that Australia's big four banks were "calling the shots" over the government establishing a banking ombudsman, despite such an ombudsman being recommended by an expert report.
These tweets can pose direct threats to the value the public and shareholders see in these companies.
When the government directs investment
Government directed investment tends to generate less value for a company. This is one of the reasons state-owned enterprises tend to underperform. These problems extend to private companies when politicians direct the investments of these companies.
Such government-directed investment can encourage firms to maintain unviable projects, such as facilities that are unprofitable and uncompetitive. This is arguably the case with United Technologies Corp's Carrier plant in Indiana in the US: the associated jobs were retained only with the help of up to US$7 million in tax breaks.
Politicians, increasingly via tweet shaming, implicitly exert pressure on companies to maintain such unviable investments. They do this by turning public opinion (and thus sales) against companies.
In doing so, they also raise the threat of regulatory intervention. This inhibits legitimate business decisions that are necessary to maintain profitability and are in investors' and employees' long term interests.
This drains the capital that companies would otherwise spend on innovation and value creation. This, in turn, hampers economic growth.
Risk the government will rip up contracts
Tweet shaming raises the risk that governments will not uphold their end of a contract with a business, or will seek to amend it. Trump specifically stated that he could cancel a contract with Boeing.
The risk of governments cancelling, or renegotiating, contracts makes them less reliable. This causes firms to charge more for government work by pricing in the costs of contract failure. These include both the work done and the opportunity cost of foregoing other contracts. This could raise prices in the long term.
This could be a risk in Australia too, although Australian governments have not so far used social media in the same way to strong-arm companies. Australian state governments have abandoned infrastructure contracts at huge cost.
The Victorian Labor government abandoned the East-West road project at a cost of A$339 million. The then NSW Labor government backed out of conditions on the Cross-City Tunnel project. This makes contract-related tweets especially sensitive.
Tweets that discourage investment
The above problems have follow-on consequences for investment. If a politician turns public sentiment against the company, or coerces suppliers into less profitable arrangements, it affects investment.
The companies who are the targets of these tweets face stiff competition. In the case of US company Carrier, it responded to overseas competition by reducing labour costs and offshoring production to Mexico while retaining higher skilled jobs in the US. If companies must absorb higher labour costs, then they become less profitable and have less cash to reinvest in expansion and innovation. Firms shouldn't be forced into similar situations because of tweets.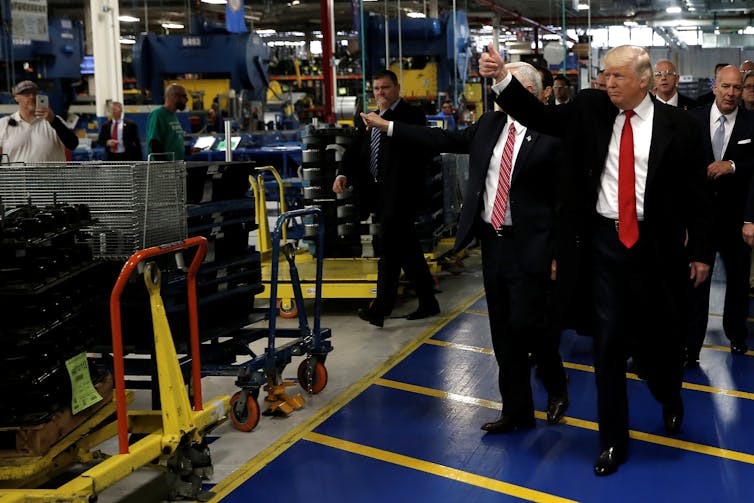 These tweets could also discourage or reduce investment from international businesses. Overseas firms will be less likely to invest in countries that face high degrees of political risk. Alternatively, they will factor in government risk when making investment decisions, causing them to value the project less.
Tweets are not the best way to discipline and monitor companies
One argued advantage of such political tweets is that they might help to hold companies to their contracts, or to discipline companies for malfeasance.
This advantage is an illusion. In countries like the US, regulators and (where relevant) private citizens, can discipline companies.
This can come in the form of SEC enforcement actions and securities class actions. The US government can sue for breaches of contract much as any citizen. It can also pursue firms for breaching regulations through the courts or through penalty mechanisms.
Tweets are arbitrary. Indeed, as some of Trump's Boeing tweet indicates, they can rest on half truths.
They involve castigating companies even if there is no actual legal wrongdoing. Tweets also constitute an arbitrary form of surveillance.
The pattern of tweet shaming has serious repercussions for the economy. It deters companies form investing. It raises risks for investors in those companies, and is an arbitrary way of disciplining companies.
This is in addition to the latent unfairness of such attacks. It constitutes both an attack on investors and on employees and politicians should avoid it.