"Oh, Jeremy Corbyn" was one of the popular memes at this year's Glastonbury festival after the Labour leader took to the Pyramid stage to introduce Run the Jewels – the rap duo who openly endorsed him at London's Field Day festival in early June. Corbyn addressed an adoring crowd about the power of ideas, music and art for achieving change.
Because what festivals, what this festival is about, are about coming together. This festival was envisaged as being for music yes, but also for the environment and for peace.
And that is when the line between music and politics blurs.
It's easy to see music as a means of profound political expression in compositions of Beethoven (Eroica), Wagner (the Ring Cycle), or Verdi (Nabucco) all of which were used in building of national movements. But music was also a force that helped in the political education of a young Billy Bragg via Rock Against Racism in 1976. It was an important force in 1985 when the Red Wedge music collective encouraged young people to engage with politics. And in 1999 when Rage Against the Machines sang Sleep Now in the Fire in front of the New York Stock Exchange to highlight inequality.
Those performances were part of a cultural revolution and had "unapologetic gravitas", as pointed out to me recently by Michael Conroy, a sound engineer with whom I have collaborated on articles about music in the past. Music was a cause of political participation, it mobilised people to action.
We are now facing a decline in overtly political music. We have moved from pop activism of 1970s, to celebrity endorsement in the 2000s – and finally to political music that is either uncommercial or deliberately marginalised by an industry that favours conformism over risk-taking. The suggestion by John Street, the esteemed music and politics analyst, that the mainstream is composed of predictable and standardised products that neither offend or shock applies now even more than when he wrote those words in 2012.
Jacques Attali, the French economist and journalist, put it brilliantly – the commercialisation and commodification of music has resulted in its "banalisation": "Popular music and rock have been recaptured, colonised, sanitised." Music stopped being a filter through which change is mapped and expressed. It is not enough to occasionally scream from the stage "F**k the Tories" or use props that refer to politics. These are tiny forms of rebellion.
Apathy in the UK?
These days the only overtly political voices in the music industry seem to come from smaller grassroots bands that are not yet bound by the "banalisation" of music. For bands like this, a lack of mainstream commercial success allows them a freedom of expression not enjoyed by most of the big name artists. Their audience are already on their side. According to an analysis of "grassroots" music venues – with a capacity of up to 1,500 people – participants tend to range between 19 and 29 years of age.
And analysis of voting in the June 8 general election tells us that of the roughly 72% of young people who voted, between 63% and 66% supported Labour. So it's often a case of preaching to the choir.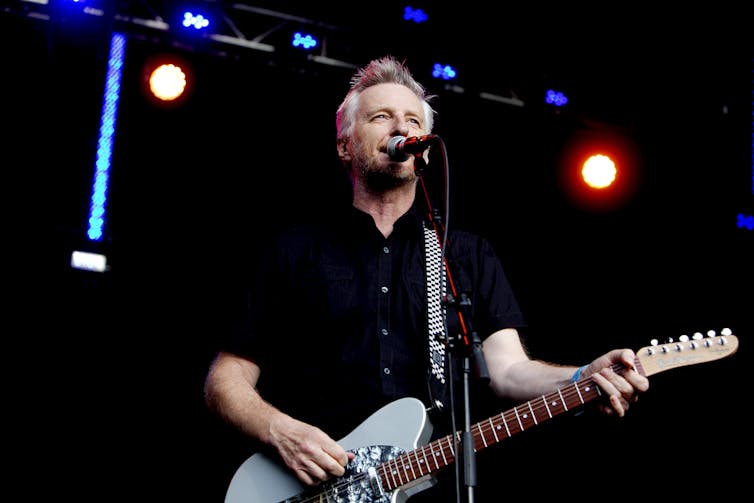 These grassroots musicians lack a larger platform to influence politics – and when they move to the next level they start to become bound by market rules to moderate their politics. As Greg Smith from Ghosts of Dead Airplanes told me when I interviewed him: these artists are "trying to play the capitalist game while wearing a socialist overcoat".
Light at the end of the tunnel
Will music ever be as political as it was in the 1970s? I think we can be optimistic. Take the Glastonbury festival, attracting a crowd of between 175,000 and 200,000, mainly young people. In 2016, festival-goers woke up on the Friday to the news that Britain had voted to leave the EU. The "Brexit blues" hit the festival camp hard and many bands used the stage as a platform to speak against the result: Matt Healy from The 1975, Bastille, Damon Albarn from the Blur, or Billy Bragg. A year down the line and the Glastonbury 2017 had post-Brexit debates scheduled in the Left Field asking questions about effects of Brexit in the society and on youngsters in particular.
The other thing that makes me optimistic is social media and the networks they create which allow people to pool resources and reduce the risks and costs of participation. Music is capable of linking people both socially and politically – and these communities can be the framework to allow music to become a more political experience, as could be seen by the number of artists urging young people to vote at the 2017 general election.
As Connor Hemming from Bad Girlfriend told me when I interviewed him recently: "It is all about band members and the community" that encourage their members and supporters to vote. It also has a certain crowd logic – If members of your community vote, that's bound to influence you to do likewise. There are signs that this logic and these communities are beginning to mobilise young people in a way that we haven't seen before.