For many Americans, it seems, politics is the ultimate sport, the true national pastime.
Like athletes, political candidates are written about and widely seen as heated rivals – for popularity, power, and prestige. Debates are opportunities to score points with pundits and the public.
And in the end, after a long, tough political season, and after the polls have closed and the ballots have been counted, we have clearly delineated winners and losers, hopefully. At this point the newly elected or re-elected sing the praises of his or her campaign managers, teammates, and supporters and, in a gesture of good sportsmanship, usually try to mend fences with the opposition and its partisans.
Presidential politics in the US, in particular, draw on the rhetoric and iconography of sport.
On this very website, Luke Freedman began his commentary on the second presidential debate by using sports metaphors. "The president probably wished he could have taken the shot again after his listless debate performance two weeks ago," Freedman wrote. "There are no do-overs in politics. But then, in the second debate in New York, he just about managed to hit a pretty good one out of the rough."
Putting aside Freedman's political analysis (which seems correct to me), President Barack Obama does in fact golf, like many of his predecessors, Democrats and Republicans alike. Indeed, according to Golf Digest, President Dwight Eisenhower played some 800 rounds of golf during his two terms in office.
It's probably even better known that Obama truly loves basketball. He played the game as a boy (in 1971, his father gave him a basketball for Christmas), as a student at Occidental College, and he still does. His regular pickup game often attracts former college players and, on special occasions, like the president's birthday, some NBA stars. Since one's Basketball Jones might strike at any moment, the White House reports that:
Shortly after taking office, President Obama had the White House tennis court adapted so it could be used for both tennis and basketball.
A Chicago sports fan (he roots for the Bulls, Bears, and the South Side White Sox, not the Cubs), Obama regularly meets with championship teams at the White House - continuing a long-standing tradition - and has also appeared on ESPN to explain his college basketball "March Madness" bracket choices.
In all these and other ways, Obama is enacting a presidential tradition: public displays of athleticism, as a participant or as a fan.
In his engaging history, The Games President's Play: Sports and the Presidency, John Sayle Watterson traces this phenomenon back to the eighteenth century. But it was only in the last century that "presidents generally showed more interest in sports and used their sports - and games - for personal and political purposes," Watterson notes.
"Sports and political character might be more intimately connected than is commonly acknowledged," Watterson argues.
He continues:
Presidential sports might even influence a president's career and his approach to foreign and domestic policy. Furthermore, through sports and games, presidents can create a positive image and schmooze with those who can be of use. And, of course, presidents use games and sports for rest and recreation.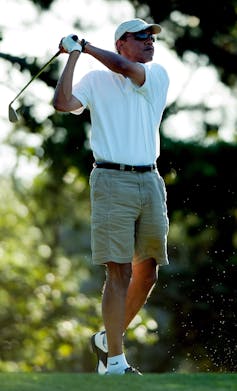 From Teddy Roosevelt's well-publicised big game hunts and mountain climbing adventures, to Woodrow Wilson's hours on the links, to JFK's famous touch football games, to Gerald Ford's gridiron success at the University of Michigan, and George H. W. Bush's exploits as a baseball player at Yale, virtually every American president has emphasised his athletic skills or at least his interest in sports.
Doing so is good public relations, to be sure, and hence good politics, as it accentuates one's fitness, strength, stamina, and virility. Sometimes, it seems like the president's masculinity and athleticism are intertwined. When the president is engaged in a salutary physical activity, it presumably enriches not just him, but also the nation and its citizens. It also makes him more accessible and likable to many sports-loving voters.
Obama clearly understand this, as does his Republican opponent, former Massachusetts Governor Mitt Romney.
In The Real Romney, journalists Michael Kranish and Scott Helman report that, while Romney ran cross-country track in high school, "like his father, Mitt was never much of an athlete". Be that as it may, Romney plays tennis, snow and water skis, and enjoys taking his boat out. He also apparently has done some hunting.
A more important sport bona fide is how Romney successfully administered the 2002 Winter Olympics in Salt Lake City, after the games had become embroiled in a bribery scandal. Under Romney's leadership, the Salt Lake Organizing Committee restored integrity, enthusiasm, and fiscal responsibility to the games. According to the New York Times:
In rescuing the 2002 Salt Lake City Winter Games, which had been tarnished by scandal, Mr. Romney learned the ways of Washington and the hurly-burly of politics, mastered the news media, built a staff of loyalists and made fund-raising connections in Utah that have proven vital to his presidential campaign.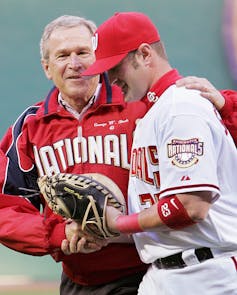 Not all of Romney's associations with sports have been as successful. The son of former auto industry executive, Romney attempted to connect with NASCAR fans when he visited the Daytona International Speedway back in February. While there, he was asked if he follows stock car racing. Romney replied, "Not as closely as some of the most ardent fans, but I have some friends who are NASCAR team owners," the Associated Press reported.
A few months later, in April, Romney was at Fenway Park in Boston on Patriots' Day. At the time, one sportswriter noted: "maybe he's trying to win some brownie points with members of Red Sox Nation, or maybe he just wanted to enjoy the nice weather". Either way, it doesn't seem to have helped Romney with Massachusetts voters, who currently prefer President Obama as a candidate, 54.7 to 39.7.
Pick your metaphor. Here in the US, we're approaching the ninth inning, the fourth quarter, or the final round, and thus we'll soon find out who will be wearing the presidential laurel crown.