The reaction of most of the world's press and the British public to the marriage of HRH Princess Eugenie of York, ninth in line to the British throne has been at best lukewarm. But this indifference is not really extraordinary –the second daughter of the second son of Elizabeth II has never featured prominently in international media.
Since her birth in 1990, Eugenie – who is marrying drinks executive Jack Brooksbank – has never formed part of the actively working monarchy in the same manner as her cousins, princes William and Harry. While she does support some public charities in keeping with the roles and duties of her family – most recently in the fight against human trafficking – she is not on the Civil List, and has pursued an independent career in fine art sales, making use of a degree in the history of art from Newcastle University.
But it was not always so easy for a princess so far down the royal pecking order to stay out of the spotlight – and history has shown that sometimes unexpected heirs turn out to have important roles to play.
A recent trend in historical research has been to look beyond the dominant central characters of the history of monarchy and investigate peripheral members of royal dynasties – the princely satellites to royal suns, as I explored in a previous piece for The Conversation. In extending this story one step further, to the second daughters of second sons, we can see that the history of monarchy in Europe was in fact a much wider affair, embracing not just kings and queens, but even those members of their families who were fairly remote from the expected succession to the throne.
Anne the survivor
Princess Anne of York, who was born in 1665, was expected to play a fairly peripheral role in the British monarchy. The daughter of James, Duke of York, and niece to Charles II – a second daughter of a second son – she was fodder, you may have thought, for a marriage to secure a diplomatic alliance for the Stuart monarchy. But Anne had a couple of things going for her: none of her brothers had survived infancy and it was clear by the time of her birth that her uncle Charles was not going to produce an heir. Most importantly, neither England or Scotland barred female succession to the throne.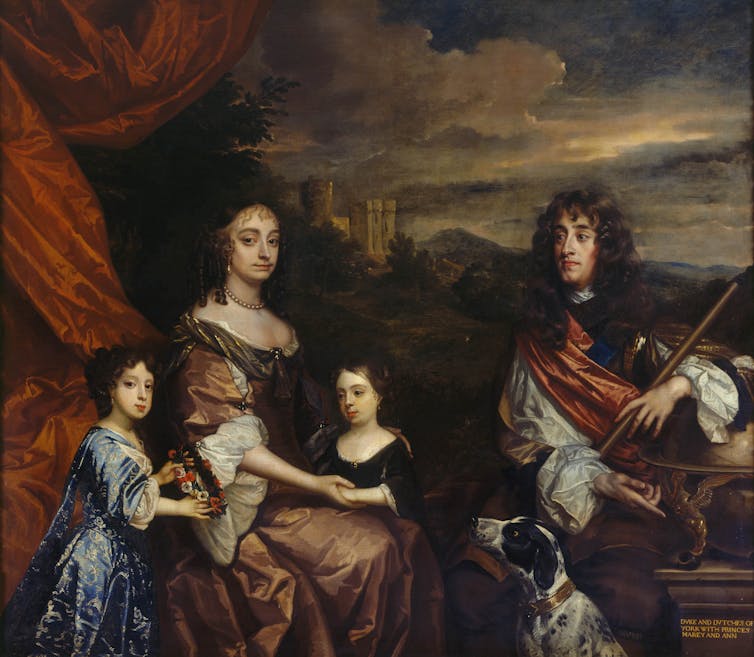 James' first wife, Anne Hyde, died in 1671 and the Duke of York remarried the Italian princess Mary Beatrice of Modena in 1673 – and hoped for a male heir. Daughter Anne was married off, therefore, in 1683, to Prince George of Denmark, the younger brother of King Christian V. Christian was a protestant – but also an ally of France's catholic king, Louis XIV – and so a good counterbalance to Dutch power in the North Sea, which was represented dynastically by William of Orange. William had been married a few years before to Anne's older sister, Princess Mary.
In 1685, Charles II died and his brother became James II of England (and James VII of Scotland). But he was only to reign for a few years before being chased off the throne by the "Glorious Revolution" of 1688. His daughter Mary was proclaimed queen alongside her husband William III. Anne became their heir.
So, when William died in 1702, Anne succeeded as queen – and reigned for 12 years. Finally emerging from the shadows, she surprised many by proving herself a capable ruler, overseeing the transformation of England and Scotland into a united Great Britain. It was during her reign that the two-party system of government largely evolved.
Changing roles
As junior royal daughters go, Anne was atypical in her rise to the top – as many similarly situated younger daughters of younger sons faded into obscurity. But the nature of the British monarchy regarding female succession has meant that, while still limited, there were more opportunities for royal women than in neighbouring France or Germany where women were still banned from the throne. Queen Victoria was the daughter of a fourth son and Queen Elizabeth II is the daughter of a second son, George VI, another duke of York, who succeeded to the throne after his brother's abdication in 1936.
The role of junior princesses marrying to aid royal diplomacy did of course continued: royal daughters and grand-daughters – even those fairly remote from the throne – were directed by Queen Victoria to solidify alliances through marriage, resulting in several members of her extended family being on opposite sides in World War I.
One of these, Princess Victoria Melita, another second daughter of a second son (Prince Alfred, Duke of Edinburgh), defied royal tradition and started off the 20th century with a shocking new idea, divorcing her first husband in 1901 and marrying for love the Grand Duke Cyril of Russia, against the family's wishes. Another second daughter would attempt to do the same in the 1950s, as seen in the recent television documentary Princess Margaret: the Rebel Royal.
In today's world, Princess Eugenie's choice of husband has caused no royal ripples, and it is extremely unlikely that – barring some kind of bizarre disaster that removed the eight people who are ahead of her in succession – she will ever rise to greater prominence in the history of monarchy of the United Kingdom. But history has shown, sometimes we can expect the unexpected.