Public support for action on climate change is rebounding despite political uncertainty, according to survey results released today by The Climate Institute.
According to the poll, 65% of Australians think the nation should take a leadership position and 77% agree that climate change is happening, up from 70% in 2015.
The Climate Institute's chief executive, John Connor, said that "public support on renewable energy and climate change is the strongest it's been since 2008".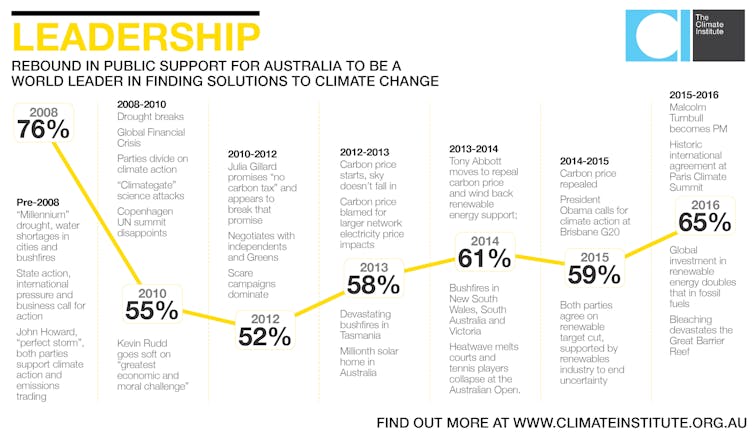 Before then, a combination of drought, international action and bipartisan support for emissions trading had driven climate support to its highest level.
But the end of the drought, the global financial crisis and a disappointing outcome from the 2009 Copenhagen climate talks sent support crashing.
In Australia, the replacement of former opposition leader Malcolm Turnbull with Tony Abbott ended bipartisan climate ambition. This was soon followed by concerns about electricity prices under Labor's carbon "tax".
Connor attributed the recent upswing to people realising that "there's no way Australia is out there by itself". While only 50% of those surveyed knew about the Paris climate agreement, other issues such as renewable energy and electric vehicles are increasingly affecting people's day-to-day lives.
When it comes to government performance, only 19% think the federal government is doing a good job on climate policy, while 90% believe the Commonwealth should play some role in climate mitigation.
When asked for their top three preferred energy sources, 86% included solar, while 70% included wind, 20% gas and only 12% chose coal. Support for solar and wind is growing, and support for coal and gas is declining.
Bleaching on the Great Barrier Reef this year seems to have increased concern over climate change's impact on the reef, up from 75% in 2014 to 82% in the new survey.
Of the 77% who agree climate change is happening, some 90% agree that people are at least partly to blame, although only 39% think humans are the main cause.
The survey featured 2,000 participants and focus groups in major cities.
Will Grant, a science communications expert at the Australian National University, said the report "seems to show we've perhaps come out the dark days of climate politicisation".
From a climate science communications perspective, everything was going in a good direction, he said. More people were supporting the consensus scientific position of the Intergovernmental Panel on Climate Change, and more were calling for further action.
However, while government is a significant player in climate action, Grant said there needs to be a shift in focus towards new business leaders. People need to realise that "futures can be made in climate resolutions", he said.
Matt McDonald, an international relations expert at the University of Queensland, said the report continues a trend of an "inverse relationship between public concern about climate change and government action".
"Essentially, when they perceive that their government is doing little, Australians increasingly support strong action. When governments indicate an intention to commit Australia to substantive climate action, as the Rudd and Gillard governments experienced, public support seems less robust," he said.
The difficult position Malcolm Turnbull is in with his own party would make it hard to make big changes, McDonald added. "Increasing public support for strong climate action that this report confirms may change those calculations, but after the last election we're probably not there yet."