The United States had already seen its share of disasters, from back-to-back hurricanes that devastated Texas, Florida and the U.S. Virgin Islands to roaring wildfires in the West.
Then, after battering the rest of the Caribbean, Hurricane Maria left the island of Puerto Rico facing a humanitarian crisis. About a dozen people died in the Sept. 21 storm and the island was plunged into darkness.
Now, some 3.4 million Puerto Ricans – which is to say, 3.4 million American citizens – are confronting life without electricity, gas, cellular service and, in many cases, a home.
After a decade of fiscal decline and a May 2017 bankruptcy, Puerto Rico has become exceptionally vulnerable to disasters like Maria. As both a policy analyst and the daughter of Puerto Rican immigrants, I'm concerned about how austerity-related reforms are now threatening the survival of not just my family there but everyone on the island.
Though food insecurity, poor health care and resource-starved public transit all predate the hurricane, the result of both damaging U.S. policy and deepening financial crisis, these three problems will dramatically complicate Puerto Rico's recovery.
Food insecurity
Because Puerto Rico imports over 85 percent of its food, food security on the island has always been fragile. The U.S. territory has been rationing supplies since Hurricane Irma in early September, but according to Puerto Rico's former secretary of agriculture, it may have just one month's worth of food on hand.
Puerto Rico's main port reopened Sept. 23, allowing 11 ships to begin arriving with aid and resources, including clean water and food. Even so, distributing supplies across the 3,515-square-mile island will prove difficult on roadways damaged by flooding, debris and downed power lines.
Puerto Rico's food supply is also uncertain given that several islands from which it imports food, including the Dominican Republic, Dominica and St. Martin, were also hit hard. And if the island goes without power for up to six months, the shelf life of the meat, vegetables, fruit and other staples of the traditionally fresh Puerto Rican diet will be awfully short.
This is the U.S. territory's second food shortage in recent years. When a Puerto Rico-bound cargo vessel, El Faro, sank during Hurricane Joaquin in 2015, residents spent months in strife as the government struggled to develop a plan that ensured everyone had enough to eat.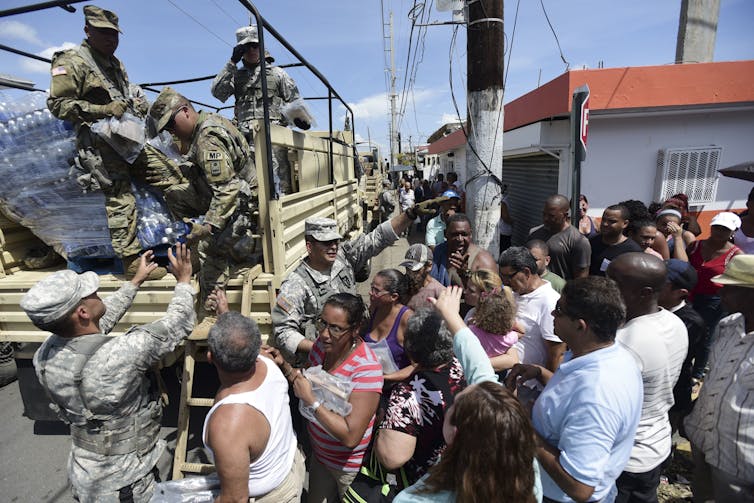 Prior to World War II, Puerto Rico actually had an agricultural economy, producing and exporting sugar cane, tobacco and citrus fruits. But, post-war industrialization and growing stigma around farm work led to a downturn. Today, the island can't feed its populace or compete with developed countries' agribusiness and cheap prices.
In response, Puerto Rico has made an effort to grow domestic food production, which has increased 24 percent in the past five years. But Maria's winds and floodwaters demolished these gains in bananas, plantains, coffee, dairy and corn production. Roughly 80 percent of Puerto Rico's crop value just vanished over night, a loss of approximately US$780 million.
Poor health care
Puerto Rico had poor health care before Hurricanes Irma and Maria, but the storms will exacerbate this desperate situation, too. Ravaged by austerity, hospitals and other health care facilities saw their budgets cut by 15 percent from 2011 to 2015. Countless public clinics across the island closed during the past year, while four hospitals have filed for bankruptcy.
The island is also short on health care professionals, with 72 percent of Puerto Rico's 78 municipalities deemed "medically underserved."
This deficient system will face grave challenges in providing medical care to Puerto Ricans injured during and after the storm. Serious cuts and broken bones are extremely common following hurricanes, as are heat-related and infectious illnesses.
Loss of power may also lead to the worsening of illnesses for residents with such chronic conditions as diabetes, heart disease, psychiatric disorders and HIV whose medications require refrigeration. My own abuela (grandmother), a diabetic who began having mild cardiac episodes last year, is one Puerto Rican among thousands in this situation.
These domestic barriers to medical care are magnified by the ongoing debate around health care in the U.S. Even though Puerto Rico residents are more likely to be poor, elderly and diagnosed with a chronic illness than the general population, caps to Medicaid reimbursements have forced several hospitals on the island to cut services, close wings, leave positions unfilled and reduce employee hours and pay.
In the wake of this natural disaster, experts expect Puerto Rico's hospitals to be overburdened, especially in San Juan and other metropolitan areas, where most medical facilities are located. In recent days, Gov. Ricardo Roselló has resorted to retweeting information about which hospitals are open and receiving patients.
Transportation shortages
Many Puerto Ricans will not be able to reach help, though. Upwards of 45 percent of the population lives in poverty and an estimated 35,000 riders depend daily on public transit to get around.
With a limited budget, an aging infrastructure and too few vehicles to support the island's population, however, the transit authority has been struggling to meet needs. The agency underwent austerity-related budget cuts in 2015, operating at a deficit until, finally, in May 2017, it filed for bankruptcy.
This history has complicated evacuation efforts. Locals were puzzled at the "leave or die" warnings sent to Isabela residents on Sept. 23 when a large crack in the Guajataca dam threatened to flood surrounding areas. How, exactly, were they supposed to leave? And how could they get out on roadways long since rendered impassable?
As rescue and recovery efforts continue, transportation shortages have effectively left many residents reachable only by helicopter.
People across the island are already suffering the consequences. One family – Irees Gonzalez Collazo, 74, and her two sisters, Carmen, 73, and Sara, 72, of Utaudo municipality – exemplifies the cascading effect of this tragedy. All three women had immobilizing health complications and, unable to evacuate, were killed on Sept. 24 when a mudslide buried the home where they rested.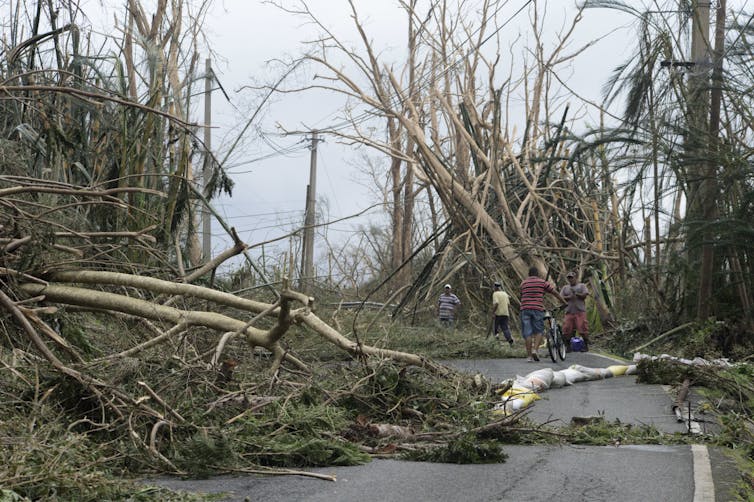 An American humanitarian crisis
If the situation in Puerto Rico seems dire, that's because it is. People on the island will face seemingly insurmountable problems in nearly every aspect of their lives for months to come.
The Trump administration, which has thus far demonstrated a notable lack of concern for the island, could provide some urgent disaster relief by responding Gov. Rosselló's request for increased aid for law enforcement and transportation, among other basic needs.
The U.S. Congress could also play a role in the territory's longer-term recovery. Increasing the island's Medicaid funding, for example, would save lives in this critical time and free up some of the territory's scarce funds for other purposes.
While FEMA picked up the pace of aid five days after the storm, few Puerto Ricans anticipate that they'll see the kind of "historic" federal disaster relief sent to Texas and Florida after hurricanes Harvey and Irma.
Fortunately, Puerto Rico has a culture of resilience. Since the storm, residents have stepped up to help, feed and shelter one another. If the U.S. federal government won't save Puerto Rico, we Puerto Ricans will.