Paul Manafort, one time head of the campaign to elect Donald Trump as president, is about to stand trial on charges arising from the investigation being led by Robert Mueller into potential Russian meddling in US politics. The outcome could be highly significant for the president.
Who is Paul Manafort?
After becoming involved with the Trump campaign in spring 2016, political operative Paul Manafort took over from Corey Lewandowski as campaign manager in June the same year. Formerly a Washington insider (his lobbying firm Black, Manafort and Stone was a mainstay of 1980s US politics and was labelled the "ultimate supermarket of influence peddling" by Time Magazine), Manafort's presence partially undermined Trump's claims that he was the insurgent candidate.
He was replaced by Steve Bannon in August 2016 after questions arose about his prior work in Ukraine. Trump had also begun to slide in the polls against Hillary Clinton.
What are the charges against him?
Manafort, currently held in custody, is due to stand trial twice in the next few months on charges arising from the investigation of special counsel Robert Mueller.
The first trial in Virginia relates to charges of tax evasion and bank fraud. The second is a federal trial due to take place in Washington DC in September. This relates to charges that Manafort failed to register as a foreign agent when conducting political work in the Ukraine and that he laundered millions of dollars. He did ultimately register his work, but not until June 2017.
Manafort was originally indicted in October 2017, along with Richard Gates, his former assistant. Gates has since signed a plea deal with Mueller. In doing so, Gates pleaded guilty to conspiracy, deliberately failing to register foreign political work and making false statements to the FBI at Mueller's office about a 2013 meeting involving Manafort, a member of congress, and a lobbying firm by erroneously claiming that Ukraine was not discussed. Manafort, however, has consistently denied the charges against him.
Originally granted bail, Manafort was taken into custody in June for violating the terms of his bail by contacting trial witnesses.
How does all this relate to Trump?
Besides the fact that the charges against Manafort arose from a special counsel investigating the work of the Trump campaign, it seems likely that the trials themselves will provide testimony and evidence that could feed back into the Mueller investigation. Such testimony and evidence could, for example, relate to what Manafort and others knew about any inappropriate behaviour by members of the Trump campaign and the alleged Russian attempt to influence the 2016 presidential election.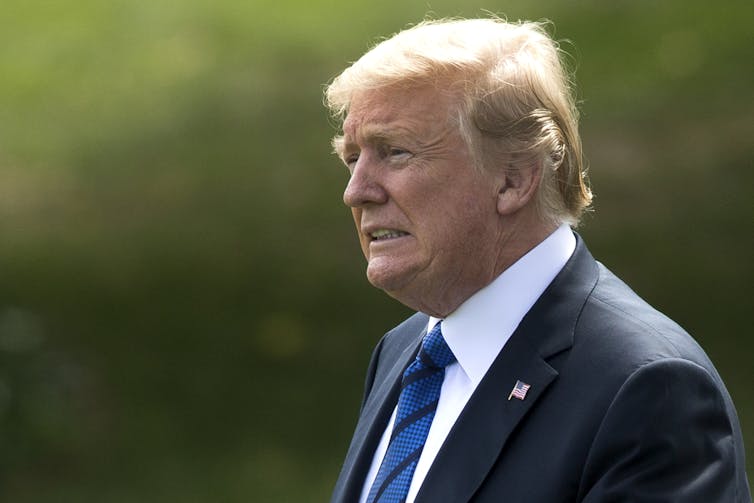 Moreover, there is the possibility (although the time available for this is obviously receding as the trials draw closer) that Manafort could strike a plea deal, which could be detrimental to Trump and those around him. Potentially crucial in this regard is what occurred during a meeting attended by Manafort, a Russian lawyer with alleged links to the Kremlin, Jared Kushner, Trump's son-in-law, and Trump's son Donald Trump Jr., and others in Trump Tower on June 9, 2016.
Manafort is said to have attended the meeting after being forwarded an email chain by Trump Jr. that contained an offer, whether officially sanctioned or not, of "documents and information that would incriminate" Clinton from a Russian official. Responding to the offer, Trump Jr. said "if it's what you say it is I love it". Manafort has been quiet about the meeting, but Trump Jr. has continually denied the meeting was significant. Kushner, and others have said the meeting was focused on the issue of US citizens adopting Russian children.
Regardless of the tenor of the meeting itself, the emails that led to it seem to show Trump Jr.'s willingness to take possession of damaging material on Clinton from the Russian state. As such, any awareness Manafort may have of the meeting's broader context is likely to interest Mueller, who has shown curiosity about the exchange.
Why does it matter?
Most obviously, Manafort's trials are the first to arise from Mueller's investigation. That means at least parts of the process set in motion by the firing of FBI head James Comey in May 2017 are starting to move to some kind of end game.
Regardless of whether Manafort strikes a plea deal, there is always the chance that Trump could issue a presidential pardon. This could solve an immediate problem for Trump and Manafort. However, there would surely be further questions about the rationale for a pardon and it could provide significant ammunition for Trump's opponents to deploy in the court of public opinion. The president may also decide to fire Mueller himself, triggering a new crisis.
Finally, the timing of the trials is significant. One of the most important mid-term elections in recent times is just months away, meaning that any damaging information that comes could directly impact how votes are cast in November. Given that the Democrats are desperately trying to retake the House of Representatives, they are unlikely to miss any opportunity to exploit the trials for their own advantage in their attempt to dent Trump's power.
Similarly, if Manafort is successful in defending himself and the trials lead to little new evidence coming to light, Trump and his supporters are likely to use it to their own advantage. This would feed into their narrative that the Russia story is overplayed and that nothing untoward occurred during the 2016 campaign. That narrative may enable them to defend their congressional majorities and entrench Republican power.