Australian prime minister Tony Abbott is joining in a big party in Indonesia. Indonesia's new president and vice-president are being inaugurated today. Joko "Jokowi" Widodo and Jusuf "JK" Kalla are being sworn in at the People's Consultative Assembly building in Senayan, Jakarta.
The celebrations start at noon West Indonesia time. Jokowi and Kalla will be paraded aboard a horse-drawn carriage from the Hotel Indonesia roundabout to the State Palace.
Free food and drinks will be served. Thousands of supporters will join the parade, which features traditional Reog Ponorogo dance, Chinese barongsai dances and traditional Betawi effigies, the ondel-ondel. More than 20,000 police officers are being deployed to safeguard the rally.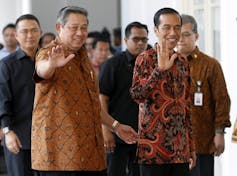 At the State Palace, outgoing president Susilo Bambang Yudhoyono and vice-president Boediono will welcome their successors. The organising committee has made 7000 seats available for the public.
Jokowi and Kalla will attend a concert at 5pm organised by supporters at the National Monument in front of the State Palace and address the public for the first time as president.
Abbott joins other foreign dignitaries attending the inauguration. They include leaders of southeast Asian countries such as Malaysia's Najib Tun Razak, Singapore's Lee Hsien Loong, Thailand's Prayuth Chan-ocha and Sultan of Brunei Hassanal Bolkiah. Iranian president Hassan Rouhani reportedly will attend as will US Secretary of State John Kerry and US Senator John McCain.
The Conversation spoke with Yohanes Sulaiman on the significance of Abbott's attendance and what Indonesia's foreign policy would look like under Jokowi.
What does Tony Abbott's attendance at Jokowi's inauguration mean for the Indo-Australian bilateral relationship?
There are some interesting signals being given by both countries. In Jokowi's case, he gave a very blunt warning that Australia has to take Indonesia seriously. At the same time, this also signals his willingness to work with Australia on many issues.
I think the warning is mostly for domestic Indonesian consumption – it is quoted a lot in local media. The latter is more for Australia's own consumption: that he will not rock the boat and will continue many of outgoing president Susilo Bambang Yudhoyono's policies.
In Australia's case, Abbott's attendance at Jokowi's inauguration shows that Australia does take this relationship very seriously.
This might also be an opportunity to ask Jokowi to pay a visit to Brisbane for the G20. There is talk that Jokowi may skip the G20 meeting in Brisbane because he wants to focus on domestic affairs first. This might also be Abbott's way to politely nudge Jokowi, given he is there for the inauguration. Surely Jokowi can spare a couple of hours or days to reciprocate this visit?
Analysts have said that Jokowi would prioritise domestic issues more than foreign policy. How would this affect the relationship with Australia?
I doubt this will have a significant impact, especially if Jokowi puts up a competent person as his foreign minister.
The ties between Indonesia and Australia have been growing nicely in spite of the Snowden affair [which revealed Australian spying on SBY's family]. Both countries seem to be more interested in improving the relationship – and this can be done without presidential involvement. There are still some things that need Jokowi's attention, but the majority of issues concerning the Indo-Australia relationship can be negotiated by the foreign ministry, and Jokowi seems to be willing to let the foreign minister to do their work without interventions.
Jokowi might stick to the current foreign minister, Marty Natalegawa. If he does so, it will demonstrate that he is comfortable with Yudhoyono's foreign policy.
There are other names floating around as candidates for foreign minister, and it is surprisingly difficult to predict who Jokowi will appoint. Jokowi's team is very secretive compared to Yudhoyono's administration. We knew Marty would be foreign minister weeks before Yudhoyono's inauguration in 2009.
But, in general, I don't think there will be much change in foreign policy for now.
Jokowi has said that he would be tougher than his predecessor on Australia's 'turn back the boats' policy. What is the reported 'tougher' rhetoric likely to mean in practice for asylum seekers and for bilateral relations?
I don't think Jokowi will take a hardline policy with Australia. He will continue the entire current arrangement between Australia and Indonesia on asylum seekers. I haven't heard of any refugee boats reaching Australia in the past couple of months. The last boast was in December last year, which is kind of amazing if you think about it. And this is due to Indonesia being more co-operative and doing a lot of crackdowns.
Jokowi is not someone who wants confrontation with Australia, especially if Australia is able to invest in Indonesia economically.
Granted, it is rhetoric. There is a perception in Indonesia that Jokowi is weak and his opponent, Prabowo Subianto, is the strong, decisive man. Jokowi has to say it to improve his image so nobody can accuse him of being beholden to Australia's interests or too weak to face Abbott. Basically, it is a way to "assure" Indonesians that whatever his policy is vis-a-vis Australia, the Australia-Indonesia relationship is a relationship between equals.