Up to 700 people are believed to have drowned after a fishing boat smuggling migrants capsized off the coast of Libya, in what could be the worst disaster of its kind in the region. It comes just days after the UN refugee agency heavily criticised efforts to tackle the number of migrants crossing the Mediterranean into Europe following the death of around 400 in a similar capsizing.
Nando Sigona from Birmingham University, who studies patterns in migration and refugees, explains what is being done to tackle this deadly problem.
Why are migrants risking their lives?
Syrians and Eritreans make up the bulk of those attempting such desperate and dangerous journeys. Years of civil war in Syria means that those who initially moved to neighbouring countries are losing hope of being able to return to Syria in the near future and are looking for a place to rebuild their future. Hopelessness and desperation are very powerful drivers for migration.
What has been done to try to tackle the problem?
Italy's operation Mare Nostrum brought more than 100,000 people to safety in roughly the year following the drowning of 366 migrants off the shore of the isle of Lampedusa in early October 2013. The operation led by the Italian Navy and Guardia Costiera was commended by the UN and EU as a great humanitarian success, but also a costly one for many Italian politicians.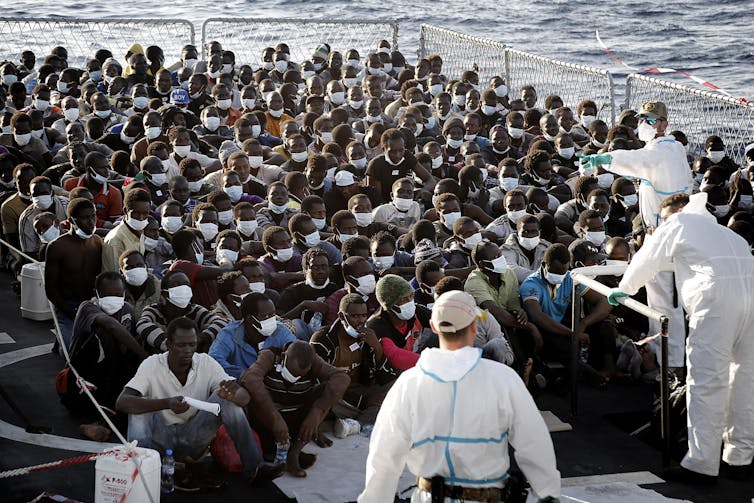 Mare Nostrum was wound up in late last year and replaced by Triton, an EU mission led by Frontex, which was much smaller in scale with a narrower mandate – to police and monitor sea borders rather than carry out rescue operations.
Why hasn't it worked?
The political volatility of Libya has arguably increased lately and control over the ports is highly contested as smuggling is a lucrative business in a country that has undergone years of civil war.
The Italian government tried to use the Italian presidency of the European Council to "Europeanise" the issue and to get political, financial and logistic support for the EU-led mission to replace the Italian one. Italy was only partly successful in this attempt.
The UK government controversially distanced itself from supporting an EU rescue mission because, as the UK Foreign Office claimed, it would create an "unintended pull factor" and encourage more people to attempt the dangerous crossing. This position was reaffirmed recently by David Cameron who incorrectly stated that "more people died during that operation than when it was brought to an end".
Do rescue operations encourage crossings?
Migration flows result from multiple drivers and there is no evidence to support a causal relationship between border and rescue missions and the size of irregular crossings. One thing that the missions such as Mare Nostrum and Frontex have brought is more visibility to this route, including the availability of statistics of intercepted boats and migrants, but this is certainly not the only route into Europe for irregular migrants. Land crossings are still pursued and to some extent harder to control.
Are there other hotspots?
Migration routes, particularly at sea, are not static. They can be highly responsive to changing political circumstances, both in the countries of transit and destination. A more forceful patrolling of the central Mediterranean route inevitably leads to the emergence of new routes. The arrival of two cargo ships (able to cope with worse weather conditions) packed with migrants from Turkey via Cyprus earlier in the year is example of how smugglers can respond to migration routes.
Is the situation getting worse?
Sea crossings are highly dependent on the weather conditions at sea. Spring and summer are therefore traditionally the period of great mobility along the central Mediterranean route. So yes, we are likely to see a pick up in arrivals, but it is within long-established seasonal trends. The introduction of Triton and initiatives for the political stabilisation of Libya haven't changed the conditions producing pressure to migrate so there is little reason for migration flows to decrease.
What can be done to minimise the risk of further deaths?
The EU has tried to rebuild pre-Arab Spring diplomatic relations with North African states, including repatriation agreements, logistics support and immigration policing training. However, widespread political instability, particularly in Libya – a very large territory with a relatively small population – has made such attempts less successful than in the past.
This article was updated on April 19 to include the latest developments.