The likely defeat of the Bligh Labor government in this weekend's Queensland elections may not have the negative implications for the Gillard government that many commentators might expect.
The presence of one more non-Labor premier at COAG meeting is not likely to add much difficulty for the prime minister. Nor will the defeat of the Bligh government necessarily hurt federal Labor's prospects in Queensland. In fact were it to continue, the unpopularity of a Queensland Labor government could hurt federal Labor even more.
But there are also negatives resulting from a Liberal National party (LNP) win. As long as Newman is elected to parliament, his likely popularity will give the federal coalition an extra boost. This happened to the Hawke Government with the "Goss gloss" in 1990.
But the main damage for the Labor Party will be in the form of the loss of state seats in areas that overlap with marginal federal seats. Losses in these areas would mean a loss of resources and troops on the ground for Labor, and a corresponding rise in LNP resources.
Seats of little consequence
Some of Labor's losses will be in areas that are inconsequential in a federal context. Labor is likely to lose all its Gold Coast seats, but Labor holds no seats in this region at federal level, and has no hope of winning any in 2013.
Similarly, the Bligh government is likely to lose its Cairns-based seats (Barron River, Cairns and Mulgrave), but this would have little federal importance as the Liberal party's Warren Entsch will certainly win the corresponding federal seat of Leichhardt next election.
Queensland Labor could lose all its Townsville-based seats (Mundingburra, Thuringowa and Townsville), which would mean no representation in the federal seat of Herbert (LNP 2.2%). But given the fact that Labor was unable to win the seat at the 2010 election in spite of a strong candidate, former Townsville Mayor Tony Mooney, it is probably not a seat Labor would hope to win anyway.
Federal battlegrounds
So which seats matter?
At the next federal election, the key battleground seats are likely to be Labor's five most marginal seats, namely Moreton (1.2%), Petrie (2.5%), Lilley (3.2%), Capricornia (3.7%) and Blair (4.3%).
The federal Coalition would be keen to win Moreton and Petrie, as both have been won by the party winning government at every election since 1990.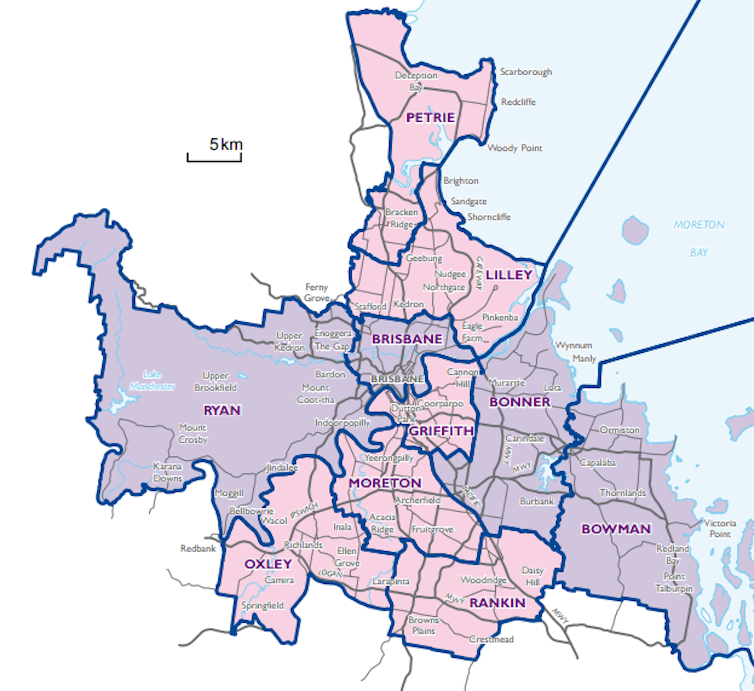 Labor is likely to retain at least one overlapping state seat in all these electorates. The same applies to the three federal Labor seats with bigger margins, namely Rankin (5.5%), Oxley (5.8%) and Griffith (8.5%).
Both Moreton and Petrie contain parts of state seats that are likely or possible LNP wins in the Queensland election, Mount Ommaney, Stretton, Springwood and Yeerongpilly in the case of Moreton and Murrumba in the case of Petrie.
Wayne Swan's federal seat of Lilley includes parts of Everton and Stafford, both likely LNP gains, although the four other seats contained within are either likely Labor holds or already held by the LNP.
Brisbane and Ashgrove
If Labor's federal position were to improve, its best prospect of gaining a seat would be Brisbane (Liberal, 1.2%). This is the most marginal conservative seat in Queensland.
There are several battleground state seats contained within it, including Ashgrove, the seat being contested by LNP leader Campbell Newman. There is no certainty that Labor will hold any of its seats in the area, which would make an already difficult task (winning back Brisbane) even more so.
Labor chances
With recent opinion polls suggesting state Labor in Queensland is likely to be reduced to less than 20 seats (they currently have 51), federal Labor would be severely damaged by the loss of resources available from state sitting members.
But as luck would have it, the few Queensland Labor MPs that will be left are mainly in areas that lie within existing Labor-held federal seats. Victories by the LNP in seats lying within Labor's marginal federal Labor seats will give them a boost in Labor's two most marginal seats of Moreton and Petrie. However, the prospects for gains that stretch into the next line of marginal Labor seats are limited.
The damage then will not be as bad as many believe for federal Labor, but even under the best case scenario in Queensland, the Labor government in Canberra has other serious issues to deal with before the next election.