With the Queensland election result still too close to call, Speaker Fiona Simpson is the first Liberal National MP to put her hand up to lead the party – and she immediately won praise from a crucial crossbench MP.
But it's unclear when the LNP will elect its next leader, after a meeting called for Tuesday was cancelled.
Simpson's entry into the leadership race on Monday came with votes still being counted and reports of possible recounts in several seats.
Labor, led by Annastacia Palaszczuk, is ahead on seats and looks more likely to either form a minority government or perhaps govern in its own right.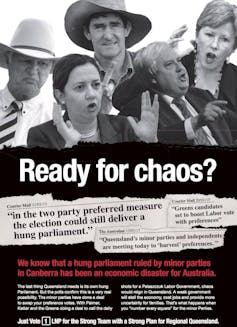 But there is still a slim chance the LNP could be returned with a minority government, although the LNP promised not to be part of one during the election, and campaigned hard against the "chaos" of hung parliaments.
On Monday, deputy leader Jeff Seeney predicted the LNP would dump its A$37 billion "Strong Choices" privatisation plan. If privatisation is ruled out, it would boost the LNP's chances of negotiating a minority government with two Katter's Australian Party (KAP) MPs and independent Peter Wellington.
Wooing the crossbenchers
Griffith University lecturer Paul Williams say while there are several other strong LNP leadership contenders, Simpson – the party's most senior woman – would be "a very sound choice", who could help with negotiating with the crossbenchers.
KAP MP Shane Knuth praised Simpson on ABC radio on Monday for conducting herself "very well over the years" – in contrast to his experiences with some of the most senior Newman ministers. Knuth said:
We will be talking with the ALP [and] … we're happy to negotiate with the LNP, but we don't want to see the negotiations with the same leadership team, because I'm just saying that they're basically wasting their time."
Simpson told 612 ABC Brisbane that the LNP had "stuffed up" and needed a more consultative approach.
Despite Simpson polling well with voters, before the January 31 election she was not one of the MPs being touted as a likely replacement for Premier Campbell Newman. Until the election, Treasurer Tim Nicholls and Health Minister Lawrence Springborg were widely seen as the strongest leadership contenders.
Since the LNP's electoral drubbing, state president Bruce McIver has said the party would be looking for "some fresh ideas, fresh start, fresh leadership team".
Experts react
Griffith University politics lecturer Tracey Arklay said if Simpson did become LNP leader, it would set up a fascinating contest with Labor's leader.
"Simpson, like Anastasia Palaszczuk, followed her father into the parliament, with each of them claiming their father's former seat. She is the most senior female member of the LNP and is a former National Party member who served as deputy leader of the opposition parties before the LNP merger.
Dr Arklay said Simpson's bid for the leadership was "somewhat surprising".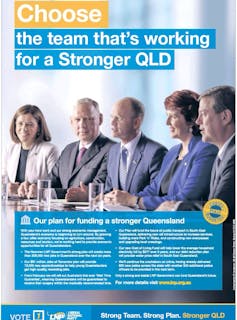 "As Speaker she managed the parliament reasonably, although decisions such as her 2012 banning of television cameras from the gallery, after a breach in media policy saw footage of gay rights activists protesting the repeal of same-sex civil unions, raised some criticism by some liberal-minded members of parliament.
"Never a minister despite her length of tenure, she was given what some would regard as a consolation prize of the speakership upon the landslide election of the Newman government three short years ago. Recent polls indicate that she is a popular choice as leader, perhaps because as Speaker she was removed from the more controversial hard-line decisions of the government."
Simpson is a committed Christian and before entering politics was a journalist. When elected to parliament in her mid-20s, she noted in her 1992 maiden speech that she was "probably one of the few – if not the only – speaker to present a true maiden speech in these hallowed halls".
'A steady pair of hands'
Dr Williams said he thought Scott Emerson was "the narrow favourite" to become the LNP leader, but that "the LNP is spoilt for choice", with a number of contenders including former leader John-Paul Langbroek and Simpson.
"Queenslanders have rejected the masculine, crash-through-or-crash style of Newman, and they're clearly doing that with Abbott too. They want a more consensual, conciliatory, consultative leader, and that's always been Fiona Simpson's approach.
"Simpson would be a steady pair of hands and more moderate voice, which is exactly what her party colleagues, the party faithful and the electorate generally is looking for … But Langbroek or Emerson would be equally safe hands and equally inclusive as leaders."
Dr Williams said Simpson was an experienced MP, who had "has acquitted herself very well as speaker, despite the lopsided nature of the last parliament. You don't really hear a bad word about her."
On Monday, Seeney announced he was standing down as deputy leader and predicted the LNP would dump its privatisation plans.
I think it is very clear to me and the other senior members I have spoken with, that we went to the people of Queensland seeking a mandate for asset leases. We didn't get that mandate … So whichever scenario plays out in the next few days, whoever forms minority government, I don't think asset leases will be part of the agenda going forward.
Dr Williams said if that happened, it would boost the LNP's chances of negotiating a minority government in the short term, but it could also open up the party to attack on its economic strategy.
"They'd be starting off on a pretty weak foot. Because they'd have to ask, 'What do we stand for? We harped on about the terrible debt – so without asset leases, what would our plan be to tackle that?'"