Do you value the ABC's Radio National? I would argue you should.
Over the course of 80 years, Radio National (RN) has demonstrated it is more than just a broadcaster. From its earliest emanation as the national network of the first ABC (1932), to RN's precursor Radio 2 (1947-1985) it has established itself as one of our most significant, albeit critically overlooked, cultural institutions.
RN offers a peculiarly Australian variant of the well-established "cultural radio" form of programming and production culture which is foundational to public service broadcasting (PSB) – first established in the 1920s by the BBC.
Cultural radio can be distinguished by its reliance on "built programming" – feature , specialist and "magazine" programs – and in employing producers who cross professional boundaries: journalists, documentarians, intellectuals and authors.
Having survived multiple crises, RN today continues to support a diversity of forms (online and broadcast), through which it evolves and sustains a national conversation around in-depth public discussion of ideas, politics, the arts, science, indigenous affairs, history and religion.
RN's type of specialist and feature programming is rarely found on commercial radio stations, nor are they typical of any other network of the ABC. But what exactly is the significance of this frequently underestimated cultural institution with its unique "rich-mix" approach to broadcasting?
It has been strange to discover how unexamined this distinctive broadcaster is, and how easily this form of radio seems to have been neglected even by those who have critically and historically addressed PSB.
Core PSB values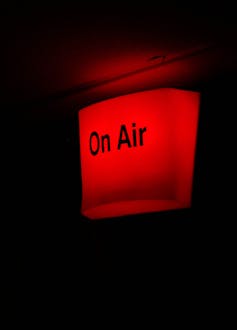 In his book Public Service Broadcasting (2013), English media historian David Hendy explains the core PSB values which include: working for the public good, furthering democracy, and encouraging the free and open sharing and continual remaking of culture in the broadest sense – a key part of the ongoing educative Enlightenment project.
These values are regarded by some critics as old-fashioned, unnecessary or diminished in an environment of digital plenty, but Hendy argues it is crucial the PSB "project" be re-visited and re-assessed in its historical evolution.
A network such as RN is a place, a site, unlike any other in broadcast media: here original "creation" is possible as is in-depth "research" over a huge range of subjects. The institution's function and role is assertively "cultural" and goes far beyond the simple transmission of talk, music or news.
Uniquely in terms of the medium, this model of radio offers the curious listener (not defined as an elite) an entry point and a space for listening, exploration and participation within what we might still describe as the public sphere.
The rise of the podcast
The traditional cultural "rich mix" variety of PSB dating from the 1930s and 40s, did not disappear with television or even with media convergence, and is certainly not dying as many commentators or even those within radio organisations might have expected as little as 15 years ago.
Instead, audiences have expanded as output increasingly mixes innovative ideas with those older forms developed in the golden age. The resulting mix of traditional and new hybrid forms with enhanced opportunities for their dissemination online is instead creating renewed excitement around the audio medium, and in particular for those distinctive kinds of more intensive listening. Convergence is proving to be this type of radio's greatest friend.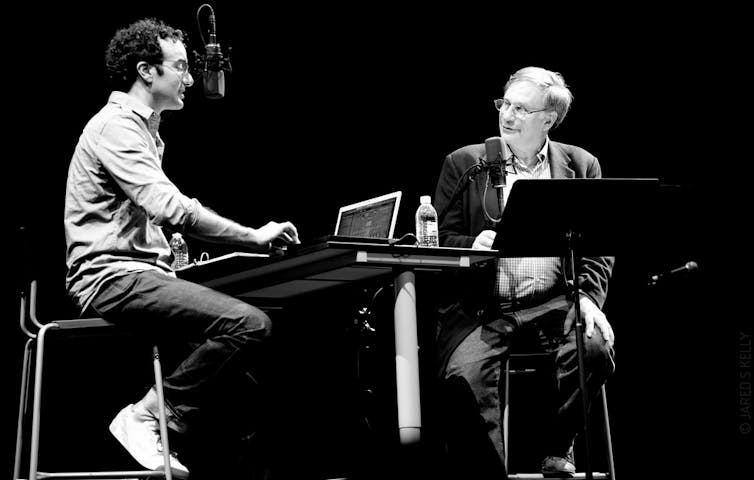 Evidence of the relatively new (since 2000s) but continuing growth in this type of programming and channels can be seen with BBC's Radio 4, which produced record figures for the last quarter of 2013 with a weekly reach of 11.2 million listeners, as was noted by Mia Lindgren on The Conversation earlier this month. Radio 4's huge podcasting/streaming download numbers appear to be the highest for any outlet in the UK.
Not surprisingly, given RN's output of specialist and feature styled programming, the station has continued to have the highest podcast downloads overall within the ABC since 2005, even as its average quarterly ratings have stayed lower than other ABC networks such as Local Radio or Triple J. In 2012, RN recorded a total of 22.9 million downloads for its programs according to the ABC's 2013 Annual Report.
In the US, the cult "public radio" program and podcast Radiolab enjoyed more than 2 million downloads a month in 223 countries in 2012. This American Life – also broadcast on RN – garnered huge audiences internationally for a canny re-invention of a narrator-driven documentary show.
From these hybrid, sometimes experimental yet highly popular new radio/podcast/online "shows", we might begin to understand how there is really something very interesting happening in the neglected precincts of this old-but-revitalising variety of media.
A new golden era or radio's "new wave"
How is it then that against all the odds, apparent "relics" from the "golden era" of radio appear to be undergoing transformation and renewal?
In part, the answer lies in the fact that this kind of radio is ideally suited to time-shifted digital distribution, part of what American scholar Lewis Hyde has called a "gift culture" of "the creative commons".
Indeed without this kind of radio model to build on, to be renovated and hybridised, could we have expected such exponential rises associated with podcasting? "Flow programming" models, the dominant radio form worldwide, do not present themselves well for time-shifted mobile listening, yet the intensive production and specialist cultures and defined formats associated with cultural "rich-mix" outlets do.
And there seems to be a rising demand for this kind of "quality" programming as produced and curated by PSBs.
Issues of financial stability remain critical for the ABC, especially with this month's federal budget announcement of a further 1% funding cut. As the ABC considers its response, it's an appropriate time to contribute to the public discussion about the particular value of RN in the overall mix of ABC activities.
Like BBC Radio 4 and National Public Radio (NPR) in the US, RN contributes significantly with its programs, expertise and research to multi-platform innovations in media communications, as well as to podcasting and diverse collaborative cultural projects. This points to its hidden value to the wider culture and media of Australia; and that's why documenting it within its historical evolution is so important to understanding the emerging radio/audio "new wave".
The success of cultural radio within the digital domain also fits with the original PSB ethos to lead, not merely to follow.