We're calling it a blind date between radio and comics.
Radio With Pictures, to be performed this Sunday at the Sydney Opera House as part of the Graphic 2013 festival of comics, animation and music, is an hour of audio-visual storytelling.
What the audience will see is a stage set up with microphones, musical instruments and a Foley sound desk, where performers will narrate a tale, accompanied by a two-storey screen displaying images crafted specially for the story.
What they will experience, we hope, is the sensation of hearing a live radio broadcast and reading a comic, all at once.
For a taste of what that's like, have a look at this clip from last year's Radio With Pictures, a collaboration by radio producer Jon Tjhia and comic artist Lachlan Conn called Disorient Express, about being lost in translation in earthquake-torn Japan.
It's not a new form of storytelling, but in fact a very old one.
In the 12th century, Japanese monks hit upon the power of combining illustrated scrolls with narrated messages to educate and inform their often illiterate communities.
A direct pre-cursor to the manga tradition, the marriage of image and story eventually developed into kamishibai – literally 'paper drama' – in which a practitioner would combine a story with rapidly changing images framed through a small wooden stage.
It was used as recently as the Depression and the post-war period in Japan to entertain and educate children, disseminate health and safety messages and spread propaganda.
Comic historians can trace a direct link between kamishibai and manga comics, which evolved to cut the narrator out of the picture but retain the power of telling stories through sequential images.
Radio With Pictures also harks back to the vaudeville tradition of chalk talk in the United States, a late 1800s form of visual storytelling where a speaker would quickly sketch images to match a tale told in monologue. Think of it as a live Mr Squiggle.
The most famous of these chalk talk artists was comics pioneer Winsor McCay, who created Little Nemo in Slumberland, one of the most influential comic strips in the world.
More recently, Sketch the Rhyme has seen visual artists collaborate with hip hop MCs, the artists drawing at a furious pace to keep up with the imagery in the rappers' lyrics.
In a sense, the last PowerPoint presentation you were subjected to was a live comic storytelling experience.
Now in its second year, Radio With Pictures is harking back to these audio visual experiences that have existed across different cultures.
The illustrators involved this year include fine artists like painter Gria Shead, whose work accompanies actor Claudia Karvan's re-telling of Patti Miller's autobiographical work, The Mind of a Thief, which examines the relationship between missionaries, settlers and the Wiradjuri people in the Wellington Valley.
Comic artist and academic Pat Grant will read and show his heart-rending work, Toormina Video, a humorous, bitter sweet and ultimately forgiving autobiographical story of a kid who watches his father succumb to alcohol.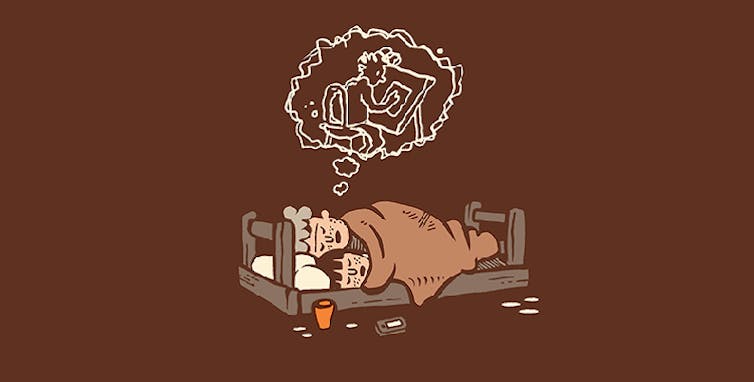 Don Walker, the legendary song writer from Cold Chisel, is collaborating with Marieka Walsh, on his autobiography Shots. Marieka's images are beautifully textured illustrations that match Walker's powerful voice and beat poetry-style prose.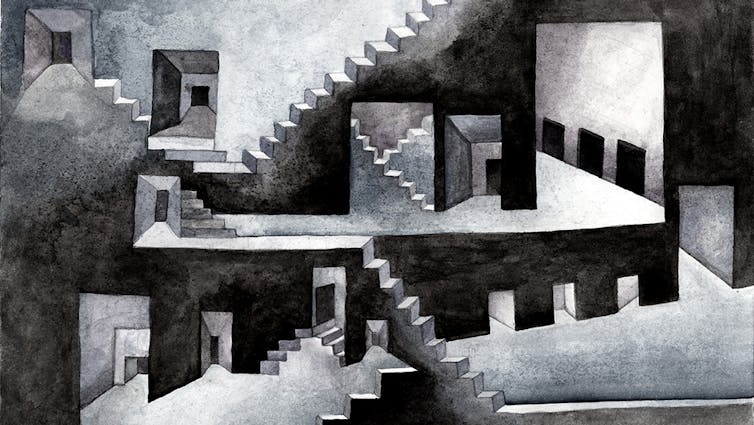 Activist and academic Senthorun Raj joins forces with Walkley award winning radio maker Gina McKeon and Sam Wallman, a comic artist whose work is very much in the line of Joe Sacco, to tell the story of an asylum seeker escaping persecution based on his sexuality and the process of proving his "gayness" to Australian authorities.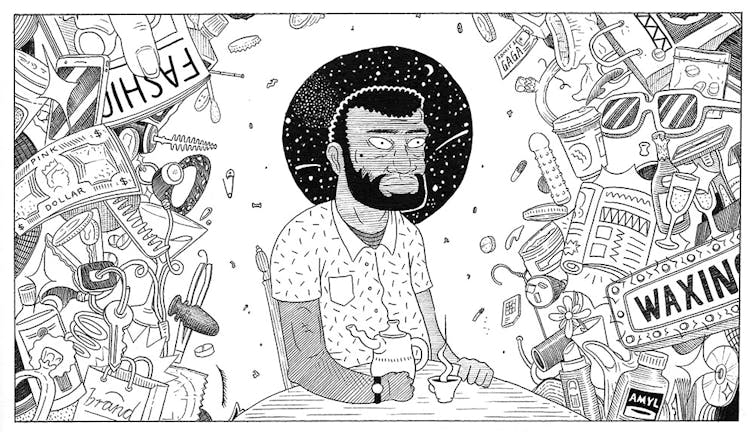 What we wanted was to create a space where the image makers are more than just a hired illustrator. It's a much more collaborative approach that aims to bring comics back to where they began: live on stage.
---
Radio with Pictures is happening at The Studio at the Sydney Opera House as part of the Graphic Festival, on Sunday October 6 at 3.30pm and 7.15pm. It will be broadcast on Radio National on October 27.